Best gifts for tweens
November 3, 2022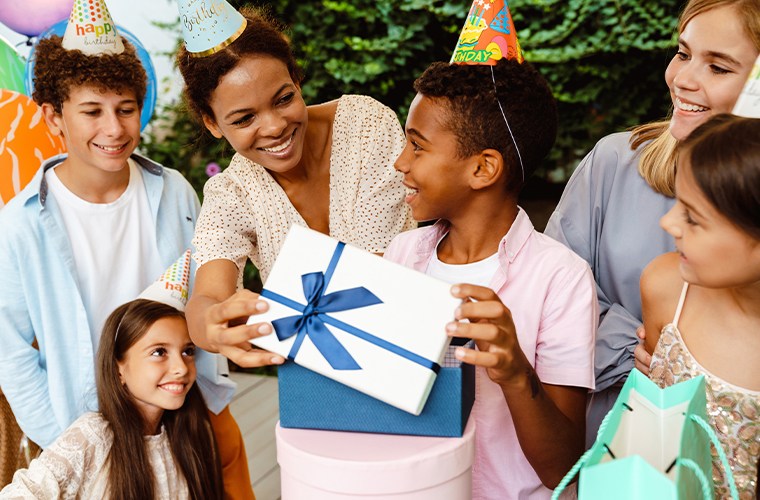 The older kids get, the harder it can be to shop for them. Tweens in particular are tricky — they don't want to be treated like little kids anymore but they aren't quite full-fledged teenagers. They like toys, but not as much as before, and they're also getting into more specific areas of interest. Whether you're considering clothing, games, or something educational, you want just the right gift that is sure to impress.
In this article: Sphero Mini App-Enabled Programmable Robot Ball, Fujifilm Instax Mini 9 Instant Camera, and Squishmallows Aqua Sloth Plush Toy.
Toys for tweens
For the gamer
Available in five colors, this four-wheel remote control car is double-sided and moves in all directions. It has two motors and anti-slip tires. Batteries are included.
Sold by Amazon
Hasbro Gaming Simon Optix Game
This wearable headset game is a major upgrade from the original board game parents know and love. The player watches the colors and repeats each pattern either solo or with a friend (a second headset is not included). AAA batteries are sold separately.
Sold by Amazon
Avialogic Mini Drone With Camera
There's an adjustable built-in HD Wi-Fi camera with this mini drone. It flies at three speeds for up to 20 minutes at a time and comes with rechargeable batteries.
Sold by Amazon
Sphero Mini App-Enabled Programmable Robot Ball
Available in several colors, this rechargeable robotic sphere plays three different games powered by the Sphero Play app. Tweens can create and customize games by drawing in the app, moving coding blocks, or writing JavaScript on their own.
Sold by Amazon
Nintendo is a classic when it comes to handheld video games, and the Switch Lite offers compact, lightweight play for gamers on the go. It comes in seven colors and is compatible with all Nintendo Switch games that support handheld mode.
Sold by Amazon
Let's Start Coding Code Lab All-Inclusive Coding Kit
Tweens can learn how to code with this starter kit. It features LED lights, arcade-inspired buttons, and sound sensors all designed to promote critical thinking. It requires a computer or laptop and an internet connection.
Sold by Amazon
For the crafter
This three- to eight-player card game is great for creative thinkers looking for silly fun. It's fast-paced, funny, and easy for the whole family to learn.
Sold by Amazon
Squishmallows Aqua Sloth Plush Toy
Plenty of tweens love a good plush toy, even if they feel like they're too old to play with one, and sloths have become a favorite with young people over the last decade. Squishmallows are trendy and cuddly, and this one comes in three sizes.
Sold by Amazon
GenCrafts Watercolor Brush Pens
A young painter can take that passion on the go with this refillable paint pen set. It includes 20 watercolor pens in assorted colors with fine, flexible tips.
Sold by Amazon
The Woobles Beginners Felix The Fox Crochet Kit
This fox set comes with everything needed to get into crocheting including pre-started yarn, stuffing, eyes, a needle, and a crochet hook. There are step-by-step videos for instruction that accommodate both left- and right-handed users.
Sold by Amazon
MYNT3D Professional Printing 3D Pen
3D pen users can bring their own three-dimensional creations to life whenever they want. This pen set features a large OLED screen to monitor temperature and comes with three plastic filament colors.
Sold by Amazon
Fujifilm Instax Mini 9 Instant Camera
This mini instant camera comes in 10 bold colors and has all kinds of fun features, including automatic light adjustment and a macro lens adapter. Batteries are included, but don't forget to get film.
Sold by Amazon
For the athlete
This 18- by 12-inch indoor mini basketball hoop has a clear, shatterproof backboard that mounts easily over a door. It comes with a five-inch basketball.
Sold by Amazon
Nightmatch Light-Up LED Football
Tweens can play football outside even in the dark with this full-size football with a built-in LED light that sets the whole ball aglow on impact. An air pump and battery-replacement kit come included.
Sold by Amazon
This 28-inch blue and orange Nerf bow comes with 48 foam darts and can fire off 15 in a row before reloading. It can shoot up to 85 feet in the air.
Sold by Kohl's
Available in nine color schemes, this aluminum scooter is lightweight, durable, and requires minimal assembly. It has a durable grip handlebar and a brake pedal in the back.
Sold by Amazon
ArmoGear Laser Battle Multiplayer Laser Tag Set
Up to four people can play with this complete laser tag set that's suited for indoor or outdoor use. It comes with four laser guns and four vests, as well as adaptable game features including invisible mode, a built-in flashlight, and a 150-foot shooting range.
Sold by Amazon
Hover-1 Helix Electric Hoverboard
This lightweight hoverboard comes in four colors and moves at a maximum speed of seven miles per hour. The balancing system makes it easy to use, and there's a built-in Bluetooth speaker.
Sold by Amazon
For the builder
Hasbro Gaming Jenga Classic Game
The classic stacking Jenga game comes with 54 wooden blocks and is all about skill and strategy. It's timeless, easy to learn, and can be played solo or in a large group.
Sold by Amazon, Kohl's, Staples, and Macy's
Discovery Mindblown Solar Vehicle Construction Set
This 197-piece set comes with everything your STEM-loving tween needs to build one of 12 different solar-powered robots. It's mobile, engaging, and promotes hands-on learning in a fun way.
Sold by Kohl's
Discovery Mindblown Kids Model Engine Kit
Tweens can build their own model motor engine with this DIY STEM set. It has valve motors, spark plugs, and a crankshaft. AA batteries are not included.
Sold by Amazon, Kohl's, and Macy's
LEGO Marvel I Am Groot Building Kit
This LEGO set comes with 476 pieces so your tween can build their own baby Groot from the movie Guardians of the Galaxy: Vol. 2. The figure stands about 10.5 inches tall fully constructed and can be moved into different poses.
Ravensburger Gravitrax Marble Run Starter Set
This set comes with 122 pieces and track instructions to build a customizable gravity-based marble run. It provides opportunities for tricks, stunts, and educational play.
Sold by Amazon
LEGO Star Wars Millennium Falcon Set
There are 1,351 pieces in this elaborate, collectible LEGO Star Wars set. It provides everything needed to recreate the iconic Millennium Falcon ship and comes with six LEGO character figurines.
Sold by Kohl's
Other top toys for tweens
Gifts for tween girls
For her room
Newcosplay Super Soft Faux Fur Throw Blanket
Everyone loves a soft blanket worthy of cuddling, and this throw blanket is designed with cozy faux fur and soft sherpa. It comes in over 30 designs to match anyone's style, including rainbow, tie-dye, and multi-purple. Sizes range from throw blanket to queen.
Sold by Amazon
Nothing is more exciting than a life-size teddy bear, and this bear is four feet tall. The brand makes its giant teddy bears in Vermont, with recycled stuffing and quality backstitching. Use it as a backrest, cuddling partner, pillow, or friend.
Sold by Amazon
Light up this personalized cinema box with any phrase, saying, or question using the included 220 letters and 180 emojis. Use the remote control to choose between 16 light colors or modify the intensity. It also comes with transparent cards that can be used to write a message.
Sold by Amazon
For creativity
Budding young artists need new supplies to create their masterpieces. These premium alcohol-based markers have a medium broad nib on one end and a super brush nib on the other. Plus, the ink is refillable.
Sold by Amazon
3Doodler Start+ Essentials 3D Pen Set
This 3D printing pen allows tweens to design their own creations and see them come to life. It's an excellent alternative to screens and teaches a variety of STEM concepts through hands-on visual learning. Since there are no hot parts, the entire pen is safe for kids.
Sold by Amazon
HP Sprocket Portable Photo Printer
Instantly print photos on the go with this handheld photo printer and bring memorable moments to life. It's convenient to take on vacation, school, or any exciting event. Pictures print on two- by three-inch photo paper with a sticky back so they'll stay anywhere.
Sold by Amazon
For fun and entertainment
From listening to their favorite song to working out, AirPods are a splurge for any kid. These have active noise cancellation that reduces background noise and adaptive transparency to let the outside sounds in. Plus, they're controlled by touch, such as a swipe to control the volume.
Sold by Amazon
Sillbird STEM 12-in-1 Educational Solar Robot
Tweens will feel capable after building a robot powered entirely by the sun. There are 12 designs to choose from with two levels of complexity, so kids can start small and work their way up. STEM toys are a superb way to improve logical thinking and problem-solving.
Sold by Amazon
Dan & Darci Professional Rock Tumbler Kit
With this rock tumbler machine, anyone can effortlessly turn rough rocks into beautiful polished gems. In addition to the tumbler, the kit comes with a low-noise barrel, four grit packets, half a pound of assorted rough rocks, a gem storage bag, and more supplies.
Sold by Amazon
The Complete Wreck: A Series of Unfortunate Events Series
Whether they're an avid reader or are looking for an adventure, this series is packed full of misadventures, devious plans, and disguises. This book set comes with all 13 volumes in A Series of Unfortunate Events, so they never have to stop reading.
Sold by Amazon
For beauty and style
There's a reason this trio of lip balms is a highly sought-after cult favorite. Not only are they formulated with antioxidants and emollients to nourish and hydrate chapped lips, but they're also flavored like mango, birthday cake, or coconut.
Sold by Amazon
Pillow slides are trending on TikTok and all over social media due to their cloud-like texture that offers instant relief to sore feet. They're embossed with massage acupoints and acupressure stimulators to relax your muscles and stimulate blood circulation.
Sold by Amazon
Pura Vida Charli D'Amelio Bracelet Style Pack
This Pura Vida style pack comes with five bright bracelets that will brighten any mood, including a beaded bracelet, happy face bracelet, and smile-ready ID bar bracelet. The brand aims to provide sustainable jobs to artisans worldwide and give back to meaningful causes.
Sold by Amazon
Revlon One-Step Volumizer Hot Air Brush
Thanks to this hot air brush, getting ready has never been easier. In addition to drying hair, it volumizes and styles in a single step. It's designed to dry hair with 30% less frizz and reduce hair damage from hot tools.
Sold by Amazon
IHayner Girls Bowknot Leather Backpack
This adorable mini backpack is ideal for shopping, hanging out with friends, or carrying makeup. It features adjustable shoulder straps, a zipper closure, and two side pockets.
Sold by Amazon
Dr. Jart+ Shake & Shot Rubber Luminous Mask
While this mask is formulated with amazing ingredients to moisturize and revitalize the complexion, it's even more fun to prepare the mask. After adding the included packets to the cup, close it up and shake until you can't shake anymore.
Sold by Amazon
Most tween girls can't leave the house without ensuring they smell divine, and this perfume features notes of sugared petals, creamy vanilla, and warm musks. Plus, the bottle has a unique shape in a gold color.
Sold by Ulta
Other top gifts for tween girls
Gifts for boys
For sports
Adidas Defender IV Medium Duffel Bag
This duffel bag is made with durable fabric and has a water-resistant base, making it ideal for rainy weather sports. It has dual carry handles with padded grip, an adjustable shoulder strap, and two exterior pockets for holding personal items.
Sold by Dick's Sporting Goods
Lifetime 50-Inch All-Star Portable Basketball Hoop
Young basketball enthusiasts will love this portable basketball hoop. The backboard is three millimeters thick, and the height can be adjusted in increments of six inches between eight and 10 feet, making it suitable for beginners and experienced players.
Sold by Dick's Sporting Goods
Yes4All Premium Surf Balance Board Trainer
This balance board trainer can help improve strength, balance, and coordination for sports such as surfing, snowboarding, skiing, and skateboarding. It can support up to 350 pounds and has adjustable stoppers and three distance options of 11, 16, and 22 inches.
Sold by Amazon
For gaming
Effective communication can make or break a gamer's performance, so they'll need a high-quality gaming headset like this one. The driver delivers a crystal-clear sound field and deep bass, and it has a 360-degree noise-canceling microphone.
Sold by Amazon
Nintendo Switch Super Mario 3D World + Bowser's Fury
Super Mario 3D World was one of the most popular games for the Nintendo Wii U and is now available as an updated and faster game on the Nintendo Switch. Plus, this bundle includes Bowser's Fury, so players get to have twice the fun for the price of one.
Sold by Amazon
Oivo PS5 Controller Charging Station
A controller charging station is handy for charging two controllers simultaneously and clearing the clutter for a more organized gaming area. This charging station easily cradles controllers onto the dock and juices them up to full power in under two hours.
Sold by Amazon
This ergonomic gaming chair provides comfort throughout the most prolonged gaming sessions. The seat is made with a thick, high-density sponge, and the high back has a hugging shape that offers gamers extra lumbar support.
Sold by Amazon
For leisure
Theodore Boone Complete Six-Book Boxed Set
John Grisham is one of the most revered authors of all time, and he delivers on all fronts with the thrilling Theodore Boone novels. They're geared toward older tweens and tell gripping stories of an aspiring lawyer who gets exposed to a world of crime and mystery sooner than he had hoped.
Sold by Amazon
This mini drone can take pictures and record video in a high-definition 720p resolution and provides a live video feed you can follow from the smartphone app. It has a low-power alarm, four propeller guards for improved safety, and an emergency stop function.
Sold by Amazon
Plunder: A Pirate's Life Family Board Game
This pirate-themed strategy board game is all about conquering the seas and being the last swashbuckler standing in the end. It's easy to learn, suitable for children ages 10 and up, and offers six replayable map configurations.
Sold by Amazon
LEGO Technic McLaren Senna GTR Toy Car Model Building Kit
This supercar toy model kit consists of 830 pieces and has several neat features, including a detailed V8 engine with moving pistons and dihedral doors that open up and out. It has a stylish blue and black color palette and can be steered with the wheel on top.
Sold by Amazon
Haiboxing All-Terrain Remote Control Car
This remote control car has a durable build and a powerful motor that lets it go as fast as 22 miles per hour. It's suitable for rugged terrains such as grassy hills and rocky trails thanks to an independent suspension and oversized off-road tires.
Sold by Amazon
Redwall Series Books 1-6 Collection Set
The Redwall series of novels by Brian Jacques is popular among tweens. This complete paperback set of all six makes for a thoughtful gift for fans or if you want to introduce someone to the series.
Sold by Amazon
Essential gear
Victorinox Classic SD 7-Function Pocket Knife
This compact pocket knife is made of stainless steel and has a slim profile. It's perfect for on-the-fly fixes and solutions thanks to its multiple functions, including a small blade, scissors, nail file, 2.5-millimeter screwdriver, key ring, toothpick, and tweezers.
Sold by Amazon
Anker Soundcore Liberty Neo True Wireless Earbuds
These wireless earbuds are an excellent gift for any kid who enjoys listening to their favorite tunes on the go. They're water-resistant, have a noise isolation feature, and BassUp technology increases bass output by up to 43%.
Sold by Amazon
This pullover hoodie is comfortable enough to wear all day and is suitable for cool spring and fall days. It has side pockets for storing small items, and the ribbed hem and cuffs help retain heat for prolonged warmth.
Sold by Dick's Sporting Goods
Nike Kids' Grade School Air Force 1 Shoes
The classic Air Force 1 shoes never go out of style, and this all-white pair makes for comfy everyday wear, but they're also available in white with a colored trim in up to 12 different styles. They have plenty of cushioning in the midsole and perforations along the upper for increased airflow.
Sold by Dick's Sporting Goods
Most tweens love playing around with the decor in their bedroom to give it a personal touch, and you can help them by gifting them these nifty LED strip lights. They're 50 feet long, and the smartphone app offers a 44-key configuration for adjusting colors and brightness levels.
Sold by Amazon
Other top gifts for boys
Contributing authors: Emily Verona, Bre Richey, and Kevin Luna.
Want to shop the best products at the best prices? Check out Daily Deals from BestReviews.
Sign up here to receive the BestReviews weekly newsletter for useful advice on new products and noteworthy deals.
BestReviews spends thousands of hours researching, analyzing, and testing products to recommend the best picks for most consumers.