Best gifts for sports lovers
September 14, 2022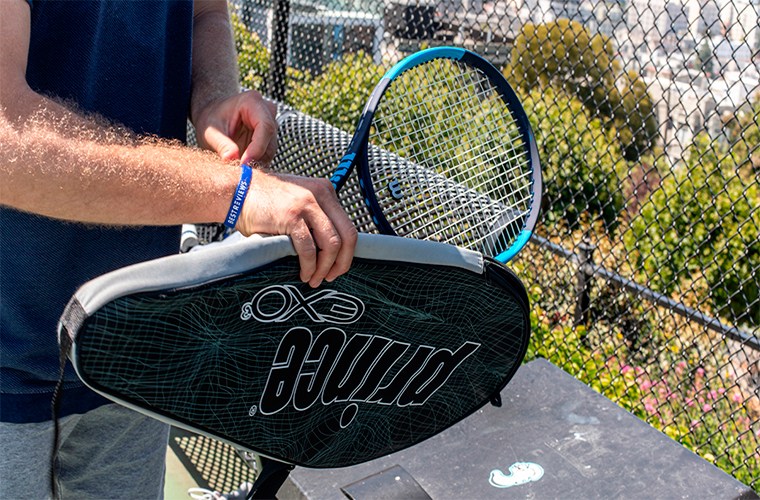 One of the best types of people to buy a gift for is the sports lover. Whether you want to get them something to watch the game or new gear to play it, there are plenty of quality options to choose from. If you know a sports lover with kids, their children likely love sports, too; gifts for young sports enthusiasts can range from new bats and balls to interactive family sport sets. Whatever they're into, you're sure to score big points with one of these recommendations.
Gifts for people who watch sports
For watching at home
When it comes to watching sports at home, it all starts with the best TV. Samsung's QLED display technology leads the market in terms of picture quality and color accuracy. This model is available in sizes from 55 to 85 inches.
Sold by Amazon
VIZIO M-Series 5.1 Premium Sound Bar System
To enhance the feeling like they are at the game, a surround sound system is a must-have for watching sports at home. This model is easy to install and also works for streaming music over Bluetooth.
Sold by Amazon
iRest SL Track Massage Chair Recliner
Watching sports at home can be a stressful process for the sports fan — especially when their favorite team is losing. But they won't care if their team is down by four touchdowns in the third quarter when they're watching from this massage reclining chair.
BLACK+DECKER BCRK32B Compact Refrigerator
For those watching the game at home, it's crucial to have beverages close by. A mini fridge doesn't require much room, yet it can hold dozens of cans or bottles.
HOST Freezer Gel 16-ounce Craft Beer Glass
For those who prefer to drink their favorite beverage during the game from a traditional beer glass, these glasses are ideal. They go in the freezer before the game. At game time, take them out, add a beverage, and the frozen gel in the glass will keep the drink chilled longer.
Sold by Home Depot, Wayfair, and Amazon
Anchor Hocking 8-Ounce Heavy Base Whiskey Glasses
If your special sports fan prefer whiskey as their beverage of choice while watching the game at home, this traditional-style whiskey glass delivers stability, so they don't knock it over while celebrating a big play.
Sold by Amazon
Mantello Cigars Large Glass-Top Cigar Humidor
When their team wins the game and they want to light up a victory cigar, having their favorite cigars available in a small humidor is a great idea. This humidor looks amazing with a mahogany finish.
Sold by Amazon
Rawlings NFL Signature Series Team Football
After the game ends or during halftime, it's always fun to head outdoors and throw the football around with friends and family. Why not select a football that also has the logo of their favorite team on it, so they can display it proudly during the game?
Sold by Amazon and Dick's Sporting Goods
FOCO Double-Sided Team Logo Garden Flag
When it's time to watch the game at home, your favorite sports lover can hang the flag of their favorite team in front of their home. These double-sided flags have some nontraditional designs that look great.
Sold by Amazon
Gejoy 8-Piece Novelty Penalty and Challenge Flags
When watching the game on TV, it's natural to become frustrated with the referees. Rather than throwing something dangerous at your TV, they can try these novelty yellow penalty flags that are safe to throw. And when the coach fails to challenge a poor call, this set includes red challenge flags for them to throw safely, too.
Sold by Amazon
For watching at the stadium
Bagail Stadium-Approved Clear Tote Bag
Many stadiums and arenas no longer allow traditional purses and backpacks. Instead, you must place all your items in a clear plastic bag, so security personnel can easily see what you are carrying.
Sold by Amazon
Ultra Game NFL Lace-Up T-Shirt
When your sports enthusiast is traveling to the game, they will want to look the part by wearing their favorite team's colors. This T-shirt uses laces at the neckline to provide a sharper design than a traditional T-shirt.
Sold by Amazon
Unfortunately, the weather may not always be perfect on game day. This sports logo hoodie is warm and machine washable. It has a full-length zip-up front, so they can put it on and take it off easily in the tight seating at the stadium.
Sold by Amazon
Cascade Mountain Tech Stadium Seat
When attending a game at a stadium with metal or wooden bleachers, it can be uncomfortable to sit for the entire game. With their own padded stadium seat, though, they can watch the game in comfort. For an extra personal touch, choose a seat that matches their team's colors.
Sold by Amazon
Occer 12x25 Compact Binoculars
Even when the seats at the stadium or arena aren't great, they can keep a close eye on the action with binoculars. These binoculars are compact, making them easy to carry into the game.
Sold by Amazon
If they are going to be tailgating before the game at the stadium, or if they need to bring their own seating to watch a child's game at the local field, having a comfortable camping chair is a must. This chair folds down to a small size for transport.
Sold by Amazon and Home Depot
Weber Q1200 Liquid Propane Grill
To take their tailgate gathering to a new level, a portable grill is ideal to bring to the parking lot and start cooking brats and burgers. To keep cleanup as easy as possible, this grill makes use of a portable propane tank.
Sold by Home Depot and Amazon
When tailgating at the stadium or arena, keeping the drinks cold is an easy process with this high-quality cooler. Just fill it with ice, and the drinks will remain cold before the game, during the game, and after the game.
Sold by Amazon and Home Depot
Westinghouse iGen2200 Portable Inverter Generator
For the ultimate in tailgating, a portable generator gives them power for all kinds of activities, including cooking or watching other games on TV before it's time to attend the game.
Sold by Amazon and Home Depot
Other top deals
Gifts for people who play sports
For all athletes and sports lovers
Nike Unisex Nike Pro Elite Sleeve 2.0
This compression sleeve is an excellent gift for any athlete looking for extra joint and muscle support on their dominant arm. It's made with breathable, moisture-wicking Dri-Fit material and is perfect for cycling, volleyball, and basketball.
Sold by Amazon
Help a friend stay hydrated during their most vigorous training sessions and competitions with this ergonomic sports water bottle. It's lightweight, stylish, easy to hold while running, and has nonslip rubber for improved grip.
Sold by Amazon
Shoes, cleats, and skates
New Balance Women's Fresh Foam Velo 2 Metal Fastpitch Softball Cleats
These breathable softball cleats provide excellent traction on the diamond, thanks to a metal eight-spike plate. They have full-length foam cushioning in the midsole for added comfort and stability and come in 10 colors.
Sold by Dick's Sporting Goods
Nike Men's Pegasus Trail 3 Gore-Tex Trail Running Shoes
These shoes are expertly designed to provide excellent comfort and durability for outdoor trail runners. They have a water-resistant Gore-Tex layer, a gaiter at the collar for keeping debris out, and a heel pull tab.
Sold by Dick's Sporting Goods
Adidas Women's Crazyflight X 3 Volleyball Shoes
These are excellent if you want to gift someone a pair of shoes to help them improve their game on the volleyball court. They have a mesh upper for air ventilation, a durable rubber outsole, and abrasion resistance.
Sold by Amazon
Bauer Intermediate Vapor Volt Ice Hockey Skates
These skates have a classic look and are the perfect gift for anybody looking to take up hockey or improve their skating skills. They're designed for beginners and have a fleece liner for superior protection and comfort.
Sold by Dick's Sporting Goods
These shoes have a sleek design and are versatile enough for running errands, weight lifting, and jogging. They have a bootie construction for a secure fit, soft foam cushioning for superior comfort, and a flex groove for better responsiveness.
Sold by Dick's Sporting Goods
Hockey sticks, tennis rackets, golf clubs, and baseball bats
DeMarini Voodoo One BBCOR Bat 2022 (-3)
With a lightweight build, this one-piece baseball bat is excellent for intermediate players who want a stylish bat that delivers maximum pop. It has a tracer end cap for enhanced swing speed and is great for players used to wood bats.
Sold by Dick's Sporting Goods
Even if you know a golf lover with a high-end set of clubs, they'll appreciate this premium driver. It offers excellent stability, a mid-high launch, and spin, and is forgiving, letting players hit the ball consistently with power and accuracy.
Sold by Dick's Sporting Goods
CCM Intermediate Jet Speed 455 Ice Hockey Stick
This is an excellent stick for players of all skill levels. It has a lightweight build and is engineered to reduce vibrations for improved control. The round shape and reinforced construction make it durable and increase impact resistance.
Sold by Dick's Sporting Goods
Wilson Pro Staff Team V13 Tennis Racket
An excellent gift for a budding tennis star, this racket provides elite performance and has a durable string mapping design for a stiff feel and improved accuracy. Also, it has a similar design to the classic Pro Staff '97 V13 racket.
Sold by Dick's Sporting Goods
Balls
Adidas FIFA World Cup Qatar 2022 Al Rihla Pro Official Match Ball
Do you know somebody who can't wait for the World Cup? The big soccer tournament is still months away, but this ball is pro-certified, thermally bonded, and is a fantastic gift for any soccer fan.
Sold by Dick's Sporting Goods
Wilson NFL Super Grip Composite Football
If your child aspires to be the next great NFL quarterback, this football is an excellent gift to help their dreams come true. It's suitable for children ages 9 and up, and has a multilayered lining for extra durability.
Sold by Amazon
Other sports gear
Speedo Vanquisher 2.0 Plus Mirrored Swim Goggles
These goggles are made for competitive swimmers and feature mirrored coating for reducing glare and panoramic lenses for a broad field of vision with maximum visibility. They have a rigid frame that helps keep out water and cushioned silicone eye seals for a comfortable fit.
Sold by Dick's Sporting Goods
TaylorMade Men's Stratus Tech Golf Glove
Help a friend improve their grip and prevent painful blisters with this high-quality golf glove. It's water-resistant, works well in hot or humid weather, and the micro-perforations along the fingers help maximize airflow and breathability.
Sold by Amazon
Rawlings 11.75-inch GG Elite Series Baseball Glove
Excellent for any fielding position, this glove is made with premium leather and has a reinforced palm pad for increased protection and shock absorption. It has leather lacing for durability, and the padded finger lining offers long-lasting performance.
Sold by Dick's Sporting Goods
Champion Women's The Infinity Racerback Sports Bra
This racerback sports bra provides excellent support for any sport. It's made with breathable, moisture-wicking material and has a broad bottom band for additional support. Also, the seamless design helps prevent chaffing.
Sold by Amazon
Easton Walk-Off NX Elite Bat Backpack
Help a friend or family member keep their baseball gear organized with this multi-pocket bag. It has a large main compartment for holding shoes and gloves, an external helmet holder, and two full-length sleeves for keeping bats secure.
Sold by Dick's Sporting Goods
Xenith Flyte Youth Football Shoulder Pads
These football pads featuring varsity protection technology will help keep your child safe on the field. They're lightweight, don't limit mobility, and are easy to clean. Also, the buckle straps make them easy to put on.
Sold by Amazon
Other top deals
Gifts for kids who love sports
Sports toys for ages 2 to 5
This is a set of soft, foam sports balls that includes a baseball, tennis ball, soccer ball, basketball, and football. Keep all balls organized and ready for your toddler to play with in the included carry bag.
Sold by Amazon
Franklin Sports Kids Tee Ball Set
The ideal tee ball set for young children to start practicing their swing and learning to hit a moving target. It functions as a tee ball stand or a pop-a-pitch machine that includes a bat and three balls.
Sold by Amazon
This golf set can be played by one or multiple kids as it comes with four golf clubs, two putting holes, a mat, and six balls. Kids can play either inside or outside and take everything with them in the wheeled golf cart carrier.
Sold by Amazon
VTech Smart Shots Sports Center
Young children can enjoy multiple opportunities for sport with this soccer and basketball combination toy. Watch them learn a variety of skills as they learn to play with this interactive toy that teaches kids how to make free throws and kick soccer goals.
Sold by Amazon
iPlay, iLearn Kids Bowling Friends Play Set
This is an ideal bowling set for small children to practice their aim without breaking anything. Each of the six pins is a different colorful animal and the bowling balls are soft but indented like a bowling ball.
Sold by Amazon
If you are looking for a set of wheels for your child to learn to balance safely, this bike is ideal. It is for children 18 months old to 5 years old and comes in seven colors including black and pink.
Sold by Amazon
Gdaytao Dart Board Set for Kids
Kids ages 3 years old and up can all enjoy this dartboard with darts that don't hurt. It is a velcro target board with scoring numbers, six blue sticky balls, and six red sticky balls to play teams.
Sold by Amazon
Little Tikes Easy Score Basketball Set
This is a traditional plastic basketball hoop set with an adjustable height for kids from 18 months to 5 years old. It weighs 3 pounds, includes three junior-sized plastic balls, and can be used inside or outside.
Sold by Amazon
Toyvelt Bow and Arrow Set for Kids
If you want to start your kid off with a safe set of arrows instead of a youth archery set, this one's for you. It comes with six suction cup arrows, a target, a quiver, and a bow that includes a light for nighttime play.
Sold by Amazon
Gear for their first sport
Tee ball is a popular children's sport. This bat is best for young players ages 8 years old and younger. Its lightweight design lets your child have more control and power.
Sold by Amazon
Rawlings Youth Tee Ball and Baseball Glove
This is the perfect gift set for a young baseball lover just getting started on a team or catching a ball in the backyard. It is 9 inches long, durable, lightweight, and has a snug, fitted feel.
Sold by Amazon
Crocodile Creek Unicorn Soccer Ball
Ideal for young soccer players, this size 3 ball featuring unicorns and rainbows is sure to get them motivated to play. It arrives inflated, so no pumping is required.
Sold by Amazon
Wilson Minions Youth Tennis Racket
To help them stand out on the court, this racket from trusted brand Wilson features a fun Minions design in bright yellow.
Sold by Amazon
PreciseGolf Co. Precise X7 Junior Complete Golf Club Set
If you know a kid who is ready to hit around real golf balls, it's time for their first set of junior golf clubs. This set comes in three stages with age groups ranging from 3 years old up to 12 years old.
Sold by Amazon
Adidas Unisex-Child Goletto VII Fg J Football Shoe
Kids starting on their first soccer team need a great set of soccer cleats to grip the ground. This pair has a rubber sole and low-top style that comes in black with blue, pink, or white accents.
Sold by Amazon
Pro-Tec Black Street Kids Skateboarding Protection Set
Protecting your kids from scrapes while they learn to skate is made easier with skating pad sets. These are elbow, wrist, and knee pads for youth from 3 years old to 15 years old to safely glide over the street.
Sold by Amazon
These are great all-sport gloves to keep your kid's hands safe from injury during climbing, cycling, fishing, or other outdoor sport. The gloves are easy to put on with a hook and loop closure.
Sold by Amazon
Outdoormaster Skateboard Cycling Helmet
This is a youth's durable, multisport helmet that can be used for skateboarding, rollerblading, biking, or any other roadway sport. It comes in 11 colors and has two removable liners to adjust the head size.
Sold by Amazon
Franklin Sports NHL Kids Folding Hockey Goal Set
Kids can use this hockey set inside or outside to practice shooting goals. It comes with two adjustable hockey sticks, one street puck, two foam knee pucks, and two foldable hockey goals.
Sold by Amazon
Oral Mart SportsYouth Mouth Guard for Kids
If you want to give a kid the gift of keeping their adorable smile, a mouth guard helps. This mouthguard is BPA free and works for football, rugby, boxing, and any other contact sport.
Sold by Amazon
Other top deals

Contributing authors: Kyle Schurman, Kevin Luna, and Erica Redding
 
Want to shop the best products at the best prices? Check out Daily Deals from BestReviews.
 
Sign up here to receive the BestReviews weekly newsletter for useful advice on new products and noteworthy deals.
 
BestReviews spends thousands of hours researching, analyzing, and testing products to recommend the best picks for most consumers.