Gift Guides
A gift for every occasion, reviewed by BestReviews experts and testers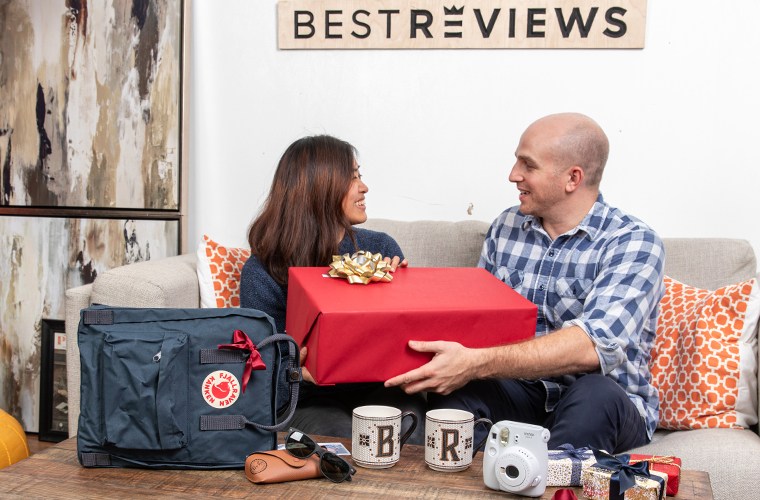 November 29, 2022
Best white elephant gift deals
Holiday parties usually guarantee a good time, but they can be even more fun if they include a white elephant gift exchange. Figuring out the best gift to bring for this party game isn't always easy, though.
You might want a "safe" gift that will please nearly anyone at the party, or you may prefer a funny gift that earns big laughs. You can even become the hero of the night and bring a gift that's so fabulous everyone will fight over it.
If you're stuck on what to bring to your gift exchange, check out these fabulous white elephant gifts that can work for an office party, a get-together with friends or a fun holiday dinner with family.
Unisex gift ideas
Fun and games
"Calvin and Hobbes: Sunday Pages 1985-1995" 24% OFF
Fans of the classic "Calvin and Hobbes" comic strip will love this paperback book that celebrates a boy and his beloved stuffed tiger. It contains 10 years' worth of the comic, so it will bring back great memories for anyone who read it when it was in publication.
Sold by Amazon
Casofu Burritos Blanket 62% OFF
This fun blanket is a perfect gift for anyone who enjoys getting cozy and is a fan of burritos and tacos. It's made of warm, soft fleece and has a round shape, so it's easy to wrap around the body snugly. It's machine-washable, too.
Sold by Amazon
Color-Changing Constellation Mug
This lovely mug is a perfect gift for stargazers because it's decorated with all the stars in the galaxy. They can pour their favorite hot beverage into the mug and watch as the stars transform into constellations.
Sold by Amazon
Jelly Belly Bean Boozled Spinner Tinner
This fun game features 10 strange — and usually gross — jelly bean flavors that resemble 10 classic, delicious bean flavors. Daring players spin the wheel for a color and eat one of the corresponding jelly beans, not knowing whether it's the tasty bean or the unpleasant flavor.
This set of five dice can help foodies spice up their usual meal rotation. Each die stands for a certain ingredient and cooking category, such as protein, cooking method, carb, and herb, so you can roll them for endless combinations. It also includes four seasonal veggie dice.
Sold by Amazon
There's Been a Murder Collaborative Card Game 18% OFF
Fans of murder mysteries will get a kick out of this card game that allows you to deduce whodunit with the help of the other players. It's suitable for three to eight players and comes in a compact box that makes it easy to take on trips.
Sold by Amazon
Practical gifts
Anker PowerWave Wireless Charger 20% OFF
This convenient wireless charger can charge a range of iPhones, Androids and other devices without any cables. It also has anti-slip silicone rings on the top and bottom to keep your device secure even when vibrating.
Sold by Amazon
Under Armour Adult Truckstop Beanie 11% OFF
This stylish ribbed knit beanie can ward off any chill while still providing a comfortable fit. The acrylic material is also moisture-wicking and machine-washable. Best of all, it comes in more than 16 colors.
Sold by Amazon and Dick's Sporting Goods
Sony SRS-XB01 Compact Portable Bluetooth Speaker 31% OFF
This mini Bluetooth speaker offers clear stereo sound on the go and has a carrying strap for portability. The casing is also splash-proof, so it's safe for use around the pool or at the beach. It has a built-in microphone for phone calls, too.
Sold by Amazon
BeeGreen Reusable Grocery Bags
Eco-minded folks will love these reusable bags for grocery shopping and more. Each set includes six bags with fun animal patterns. They're also made of durable nylon, so they're rip-resistant and waterproof.
Sold by Amazon
Lenovo Laptop Carrying Case 20% OFF
This sleek laptop bag can fit computers up to 15.6 inches and offers several internal pockets for other belongings. It also features water-repellent fabric to keep the computer safe even in inclement weather. The neutral gray color works with most wardrobes, too.
Sold by Amazon
Adidas Originals National Waist Fanny Pack 12% OFF
This comfortable travel pack provides a convenient way to carry essentials on the go. It has a zippered main compartment and a small front pocket with a key fob. It also features the classic Adidas logo in front and comes in more than 10 colors and designs.
Sold by Amazon
Food and drinks
Nostalgia MyMini Indoor Electric S'mores Maker
Anyone who enjoys making s'mores over the campfire will get a kick out of this electric heater that makes these tasty treats indoors. It includes two roasting forks and a base tray with compartments for all the ingredients.
Sold by Amazon
Hydro Flask Standard Mouth Bottle with Flex Cap 25% OFF
This durable 18/8 pro-grade stainless steel bottle can keep beverages cold for up to 24 hours and warm for up to 12. It has a leakproof cap and a flexible strap for easy carrying. It's also dishwasher-safe.
Sold by Amazon
Bentoheaven Premium Bento Lunch Box
The bento-inspired lunch box makes it easy to take homemade meals to work or school. It includes two stackable compartments with adjustable dividers, so food can easily be separated. It's microwave- and dishwasher-safe, too.
Sold by Amazon
Dash Hot Air Popcorn Popper 40% OFF
This compact air popcorn maker can pop up to 16 cups of popcorn quickly and efficiently. It has a tray for melting butter to flavor the popcorn after popping and comes with a measuring cup and recipe book. It's also easy to clean.
Inbooze Spicy Margarita Cocktail Infusion Kit 35% OFF
This tasty kit makes it easy to infuse a classic margarita with a hint of spicy jalapeno to make the beverage stand out. The kit has simple instructions and includes enough ingredients for up to 10 cocktails.
Sold by Macy's
Melinda's Habanero Hot Sauce Variety Pack
This hot sauce variety pack is an ideal gift for anyone who enjoys spicy foods. It contains five sauces in varying heat levels and features whole, fresh ingredients. The 5-ounce bottles are compact enough to carry in a purse or other bag for meals out.
Sold by Amazon
Other top unisex gift ideas
Funny white elephant gifts
Fun and games
Nalakuvara Golf Pen Gift Set 7% OFF
Even a gift recipient who is not a golf enthusiast will enjoy this pen set. This clever multipurpose gift comes with working pens shaped like mini golf clubs. The carrying case features tiny holes, balls, and a flag so the giftee can spend free time attempting to get a tabletop hole-in-one.
Sold by Amazon
Exploding Kittens Throw Throw Burrito Game 33% OFF
This exciting and crazy game gets kids and adults active while hurling soft toy burritos at each other. Giftees will love playing this with family and friends, and they may even want to open it up at the exchange party.
Sold by Amazon
Agore Ring Toss Game 7% OFF
This is a fun and challenging game that can be played individually or against competitors. It has a stylish wooden construction that all ages can use. Your gift recipient can even turn this into a drinking game with a space for shot glasses.
Sold by Amazon
Pranks and jokes
Ridley's 100 Single Cheesy Joke Cards
Giftees will have a good time sharing silly jokes with friends from this pack of cards shaped like cheese singles. This gift works well for kids and adults and is small enough to bring along to events and gatherings.
Sold by Amazon
Tiny Hands 17% OFF
Everyone at the gift exchange will be laughing when someone opens up these hands and tucks them under their sleeves. These small hands work well for pranks and have handles that are easy to grip. They are available in different designs and colors.
Sold by Amazon
Useful gag gifts
This funny and clever presentation of socks looks like a pizza when opened. The socks are sure to give the recipient a laugh, but they are also soft and will keep their feet warm. The set comes with four pairs of socks decorated with various pizza toppings.
Sold by Amazon
30-Watt Shower Drink Holder 20% OFF
Not only will gift recipients think this is a clever invention and design, but they can also find it useful whether they drink beer, soda, or sparkling water. The can holder is made of easy-to-clean silicone with a flat gripping panel rather than adhesive or suction cups.
Sold by Amazon
Nostalgia Hot Dog Toaster 20% OFF
This toaster ends the debate of whether to grill, microwave, boil, or fry a hot dog. It is compact and stylish with a vintage design. It not only cooks the hot dogs, but it also toasts the buns.
Sold by Amazon
Dammit Doll 42% OFF
When your White Elephant gift recipient is having a tough day, they will get a kick out of this stress-relieving doll that is meant to take the brunt of your frustration. It comes in a random design and with a funny poem that explains how to use it.
Sold by Amazon
Mighty Mojo Vent N' Door Caddy and Sauce Caddy Combo Pack
If you've ever eaten fast food in your car, you know the struggle of trying to eat and dip into sauce at the same time. This caddy holds fries and other foods and has a pull-out compartment for sauce containers. It clips onto a car vent to make it easier for your gift recipient to eat on the go.
Sold by Amazon
Gifts for a bathroom break
Poo-Pourri The Turds and The Bees Toilet Spray Set
This may be a gift for the powder room, but it is an elegant and environment-friendly gift that giftees will enjoy. The fragrance set comes with 3 decorative sprays and is made by a trusted brand name in scents. Your gift recipient will love that the packaging is made with plantable paper that grows wildflowers.
Sold by Amazon
Fairly Odd Novelties Toilet Fishing Game 32% OFF
Everyone in the gift exchange will be laughing when this magnetic fishing game is opened. Designed for keeping occupied while using the bathroom, the rod and fish are easy to use with the included bowl. It comes with a humorous door sign so the fishing game is not interrupted.
Sold by Amazon
Accoutrements Emergency Underpants
Giftees who like items with a vintage look will get a kick out of this tin container holding disposable underwear. The tin is compact and easy to have on hand when it is needed the most. It may be a funny gag gift, but it could prove useful for the giftee one day.
Sold by Amazon
Gifts with music and sounds
Sound RX Hype Button 7% OFF
This compact button packs a punch that livens up a crowd. It plays an upbeat air horn sound and is a great way to add humor and fun to a room. The button comes with AAA batteries.
Sold by Amazon
Whoever receives this gift will feel like the "Big Dill" at the exchange. This plastic pickle plays yodeling sounds when the button is pressed. It comes with a pickle-shaped pen for writing.
Sold by Amazon
Bonaok Wireless Bluetooth Karaoke Microphone 56% OFF
This metallic microphone easily turns any gathering into a karaoke party. It is compact, wire-free, and connects to your gift recipient's music so they can sing along with their favorite songs. It has simple controls that adjust the music and microphone volumes.
Sold by Amazon
Other top funny white elephant gifts
White elephant gifts everyone will fight for
For food and drink
Hamilton Beach Breakfast Sandwich Maker
Complete with an egg cooker ring, this handy sandwich maker is the perfect device for anyone who loves a good breakfast sandwich. It can be used to customize each part of the sandwich, from the meat to the eggs to the cheese. It's nonstick, durable, and dishwasher-safe for easy cleanup. There are also over 25 sandwich maker recipes on the Hamilton Beach website for those who need ideas.
Sold by Amazon
Death Wish Coffee Dark Roast Grounds
Known for its tagline, "the world's strongest coffee," this 16-ounce dark roast ground coffee has a rich, bold flavor, and is the perfect way to get caffeinated in the morning. It contains premium ingredients and isn't for the faint of heart.
Sold by Amazon
For the cookie-lover who wants something a bit more creative, this hand-painted earthenware cookie jar is the perfect addition to the kitchen counter or shelf. It has a hinged lid that keeps whatever's inside fresh for longer. It also comes in either a pug with a sweater or a floral owl design.
Sold by Amazon
Hamilton Beach Electric Hot Oil Popcorn Popper
What better way to complete a home theater setup than with a couple of subwoofers and a portable popcorn popper? With this little machine, the popcorn lover in your life can make up to 24 cups of popcorn in a single batch, perfect for hosting large get-togethers. It also has a well for pouring butter while the kernels are popping.
Sold by Home Depot
Baggu Standard Reusable Shopping Bag
Available in a one- or three-pack and in 28 patterns and colors, these reusable nylon bags are creative, durable, and versatile. They can hold up to 50 pounds and can be used for anything from grocery shopping to packing a cold lunch for work or school. With nylon fabric and ripstop lining, they're tear-resistant and machine-safe.
Sold by Amazon
For health and fitness
Fitbit Versa 3 31% OFF
Wearable fitness trackers are a must for anyone who loves the great outdoors or exercise. This sophisticated smartwatch can easily monitor heart rate and workout intensity. It can also be paired with voice assistants to control smart home devices, set reminders, and get the news. Plus, the device is water-resistant and can last for up to 12 hours with continuous GPS enabled.
Sold by Amazon
CamelBak Chute Mag Water Bottle
This vacuum-sealed insulated bottle keeps drinks cold for up to 24 hours or hot for up to six hours. It has a leakproof magnetic top and an angled spout that makes it easy to drink from on the move without spilling. It also comes in 12 solid colors, including light blue, yellow, and purple.
Sold by Amazon and Dick's Sporting Goods
For rest and relaxation
USAGA 28 Finger Scalp Massager 26% OFF
For those needing to relieve some tension or stress in the head and neck, this premium head massager can help. It's long-lasting and adjustable for any head size or shape. It also has 28 wire massager prongs for an all-around convenient way to relax. Plus, unlike other scalp massagers, the handle is comfortable to hold.
Sold by Amazon
Motion-activated and energy efficient, these LED night lights add the right amount of light to any hall or bathroom in the middle of the night. The blue light is ambient and has up to a 15-foot range.
Sold by Amazon
Dot and Dot Twist Memory Foam Travel Pillow 20% OFF
Whether they're traveling or sleeping at home, this twistable memory foam pillow offers excellent lumbar, leg, neck, and chin support. Made for any sleeping position, it can help alleviate pain and promote relaxation.
Sold by Amazon
For party people
Designed with karaoke lovers in mind, these rechargeable microphones are essential for anyone who loves singing or throwing parties. They produce high-quality sound and have a 160-foot range. They're also easy to use and can pair with devices with a microphone input, such as a voice amplifier, mixer, or multimedia streaming equipment.
Sold by Amazon
Marshall Stanmore II Bluetooth Speaker 34% OFF
The perfect complement to any at-home sound system, this Bluetooth speaker has a classic style with gold and black accents and produces crisp audio. It can be paired to several devices at once for a complete experience. It also comes with a touch panel and a useful app for remote control.
Sold by Amazon
Zormy Portable Wine Carrier 20% OFF
Capable of holding up to three wine bottles at once, this insulated tote bag is perfect for wine aficionados. It comes with a corkscrew opener and a handy shoulder strap for use on the go. It's also discreet enough for carrying bottles to the beach, restaurants, parties, and more.
Sold by Amazon
Buzzfeed Social Sabotage 20% OFF
If you know someone who's ready for a rip-roaring time and isn't afraid of being a bit awkward on social media, this game is a great gift. It includes 500 hilarious "what" and "where" cards, is full of challenges, and takes a little over 30 minutes to play.
Sold by Amazon
Seymour Butz Rainbow Unicorn Funny Toilet Paper
These two rolls of unicorn-print toilet paper make for a great gag gift that's also practical for potty training the little ones at home. It's three-ply and eco-friendly, too.
Sold by Amazon
Other top white elephant gifts everyone will fight for

Contributing authors: Jennifer Blair, Margot Malverty, and Angela Watson
 
Want to shop the best products at the best prices? Check out Daily Deals from BestReviews.
Sign up here to receive the BestReviews weekly newsletter for useful advice on new products and noteworthy deals.
 
BestReviews spends thousands of hours researching, analyzing, and testing products to recommend the best picks for most consumers.