The best kitchen gifts of 2022 on sale
November 29, 2022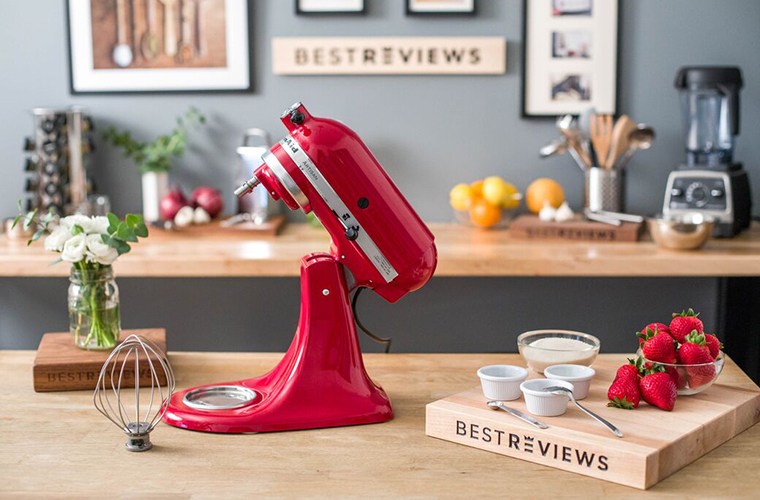 Thrill your favorite home chef with one of these thoughtful gifts
Shopping for a friend or family member who loves to cook? Finding the perfect gift can be a challenge since home chefs vary in their expertise, and experienced cooks typically buy all the tools and gadgets they want to try as soon as they see them.
But you can still find something for everyone on your list, no matter where their skills fall on the culinary spectrum. Here are the most coveted kitchen gifts you can choose for loved ones who enjoy experimenting with new recipes and cooking techniques.
Best kitchen gifts
Countertop appliance gifts
Ninja AF101 Four-Quart Air Fryer 23% OFF
 
This decent-sized air fryer can cut the fat in classic fried foods like french fries and chicken tenders by 75%. It heats up quickly and can hold up to three pounds of food at a time, so it's a suitable option for families. Sold by Amazon, Kohl's, and Home Depot
KitchenAid Artisan 5-Quart Stand Mixer 22% OFF
This mixer is a must-have for bakers but also comes in handy for other recipes. It features 10 mixing speeds, an ergonomic handle for comfort, and plenty of accessories, including beaters, a dough hook, and metal wire whip.
Sold by Kohl's
Ninja BL660 Professional Countertop Blender 7% OFF
 
This versatile blender is perfect for morning smoothies, protein shakes, or the occasional frozen cocktail. The 72-ounce pitcher is ideal for large-batch cooking, and the blender comes with two 16-ounce travel cups for individual servings. Sold by Amazon and Macy's
Aroma Housewares 20-Cup Digital 3-in-1 Rice Cooker
 
This rice cooker can make up to 20 cups of rice at a time, so it's convenient for home cooks feeding a large family. It offers set-it-and-forget-it operation and can also steam foods like veggies. Sold by Amazon
Philips Viva Pasta Maker 28% OFF
 
Forget the struggles of using a manual pasta maker with this convenient automatic model. It can make up to three servings of pasta in less than 20 minutes and offers a compact design that can fit in most kitchens. Sold by Amazon and Sur La Table
Hamilton Beach Immersion Hand Blender 20% OFF
Whether you need to blend, whisk, mix, whip, or puree, this essential kitchen tool can do it all right in the pot or pan you're using. It comes with three attachments, including a whisk, blending wand, and 3-cup chopping bowl.
Sold by Amazon
Ninja Professional Plus Food Processor
Boasting a 1,000-watt motor and large 9-cup capacity, this powerful model lets you chop, slice, and mix like a pro. The four preset programs make prep work a breeze, and the dough mixer can whip up to 2 pounds of dough in just 30 seconds, saving you time and energy.
Sold by Amazon
Oster Expressbake Bread Maker 9% OFF
 
With this convenient bread maker, you can take the hassle out of kneading, rising, and baking a loaf of bread. Its nonstick aluminum pan allows for even cooking and easy cleaning. It offers 12 settings for various types of bread and other baked goods. Sold by Amazon
Ninja 6-in-1 Smart XL Indoor Grill 43% OFF
 
This countertop grill allows you to grill steaks, hot dogs, and burgers in any weather. It can also bake, roast, broil, and air fry, making it one of the most versatile appliances for the kitchen. Sold by Amazon and Kohl's
Dash Mini Waffle Maker 19% OFF
 
Thanks to this tiny but mighty waffle maker, it's never been easier to whip up a fresh, homemade breakfast. Besides its compact design, it has a nonstick cooking surface that makes cleanup a breeze. Sold by Amazon
Other top deals in countertop appliances
For coffee and tea lovers
Keurig K-Supreme Plus Smart Coffee Maker 29% OFF
 
Keurig's first smart coffee maker promises "full-flavored coffee, just the way you like it" through an app that customizes brews down to the last drop. The device even has a dedicated pour-over iced coffee setting. Sold by Amazon and Keurig
De'Longhi Stilosa Espresso Machine
 
This affordable espresso machine takes any home barista's coffee game to the next level. It features a compact design and contemporary aesthetic, as well as a 15-bar pump that pulls the richest espresso around. Sold by Amazon
Created for brewing specialty coffee, this smart coffee device comes with a dedicated app that ensures you get the best-tasting brew. It can work for pour-over, immersion, and cold drip brewing methods as well. Sold by Amazon and Wayfair
Mueller Ultra Kettle 45% OFF
 
Tea drinkers will appreciate this electric kettle that provides 1,500 watts of power for super-fast boiling. It's made of borosilicate glass for improved durability and offers a boil-dry feature that turns off the kettle when it's out of water. Sold by Amazon
Cuisinart Supreme Grind Automatic Burr Mill
 
This powerful grinder lets coffee lovers grind their beans at home for the freshest coffee possible. It has an extra-large capacity and offers an 18-position grind selector to get the grind just right. Sold by Amazon and Kohl's

Other top deals for coffee and tea lovers
Cookware gifts
Le Creuset Enameled Cast-Iron Signature Round Dutch Oven 26% OFF
 
This classic Dutch oven is the perfect pot for slow cooking, braising, roasting, frying, and more. It offers excellent durability, so it resists chipping and cracking. It's also oven-safe up to 500°F and available in several striking colors. Sold by Amazon
Lodge 12-Inch Seasoned Cast-Iron Skillet 40% OFF
 
Every kitchen deserves a cast-iron skillet like this one for sauteing, grilling, and even baking. It has an assist handle for easy maneuvering around the stove and is preseasoned to keep food from sticking to it. Sold by Amazon and Home Depot
Chicago Metallic Professional Nonstick Roasting Pan 26% OFF
 
With its nonstick surface, this roasting pan makes cleaning up after dinner a breeze. It's oven-safe up to 450°F and comes with a rack that puts the roast at the perfect height within the pan. Sold by Amazon and Kohl's
Granite Ware Covered Casserole 12% OFF
 
This durable, lightweight casserole dish is perfect for weekday dinners or side dishes for large family gatherings. It has a carbon steel core for fast heating and can withstand temperatures up to 932°F. Sold by Amazon
Other top deals in cookware gifts
Kitchen tech gifts

Anova Culinary AN500-US00 Sous Vide Precision Cooker 41% OFF
 
This smart sous vide machine prepares restaurant-quality meals with ease. It comes with a full-service app that lets users control and monitor cooking from a distance. Sold by Amazon

Echo Show 10 HD 32% OFF
 
The all-new Echo Show delivers exceptional audio and visual experiences with upgraded cameras and speakers. A popular countertop companion, it lets users follow interactive recipes from Food Network Kitchen, Allrecipes, and more with assistance from Alexa. Sold by Amazon
Fradel Digital Kitchen Food Scale with Bowl 20% OFF
 
This digital food scale offers precise measurements for both wet and dry ingredients. It comes with an attached mixing bowl that's easy to remove and is automatically zeroed out when weighing food. Sold by Amazon
Simplehuman Rectangular Sensor Trash Can with Voice and Motion Control
 
This trash can responds to voice commands, so you can throw away food scraps and other trash quickly and easily. It also has a motion sensor and can stay open during cooking to save time. Sold by Home Depot
Eco-minded home cooks will appreciate this handy device that turns food waste into garden fertilizer with the press of a button. It has a compact footprint, so it can work for even a small kitchen. The waste bucket is dishwasher safe. Sold by Amazon, Home Depot, and Vitamix
Other top deals in kitchen tech
A digital measuring cup provides accurate measurements for anyone who enjoys baking.
A smart mug keeps hot beverages warm, no matter how slowly you sip. 23% OFF
This smart toaster doesn't just make toast — it can also make delicious paninis and quesadillas. 22% OFF
Bar and mixology gifts
With this BPA-free ice maker, home mixologists never have to worry about running out of ice for their cocktails again. It can produce 50 pounds a day and offers three size options for its bullet cubes. Sold by Newair
Ivation 18-Bottle Compressor Wine Cooler
 
Wine enthusiasts can enjoy their favorite vino in its finest form with this temperature-stable wine cooler. It has removable racks and easy-touch controls to help users customize bottle storage. Sold by Amazon and Wayfair
This wine aerator can decant your wine in seconds, so you don't have to wait to enjoy your favorite bottle. Best of all, it's simple to use and won't drip or spill any wine.
Sold by Amazon
Rabbit Automatic Electric Corkscrew Wine Opener
 
This electric wine opener is user-friendly and fully automatic, allowing you to open a bottle of wine without a struggle. Its battery can open more than 30 bottles before needing to be recharged. Sold by Amazon and Wayfair
Bartesian Premium Cocktail Machine 11% OFF
 
Make happy hours as easy as possible with this intelligent cocktail system. It uses capsules with mixer ingredients that are automatically blended with your spirit of choice for perfect cocktails every time. Sold by Amazon, Sur La Table, and Kohl's
Other top deals in bar and mixology gifts
This bar set contains all the tools necessary to whip up cocktails and other mixed beverages.
These whiskey stones put an end to watered-down whiskey and other spirits. 50% OFF
A cocktail smoker can add smoky flavor and a cool visual smoke effect to your favorite cocktails. 26% OFF
Kitchen utensils and tools
Pyrex Star Wars-Themed Glass Food Storage Set 6% OFF
 
Lauded as one of the most collectible licensed sets to date, these Star Wars-themed Pyrex food storage containers top many holiday wish lists. They're dishwasher-, freezer-, and microwave-safe and have BPA-free lids. Sold by Amazon
This set of mixing bowls includes plastic covers, making them great for storing food. They come in four different eye-catching colors, so they look great on kitchen shelves or as serving bowls. Sold by Amazon
Rosle Stainless Steel Food Mill
 
Whether you're making baby food or mashed potatoes, this durable, user-friendly food mill gets all your recipes to the perfect consistency. There's limited space between the blade and sieve, so it works quickly and efficiently. Sold by Amazon and Sur La Table
J.A. Henckels International Graphite Self-Sharpening Cutlery Set 40% OFF
 
A made-to-last design, this seven-piece cutlery set is forged from high-grade German stainless steel. The knives slice, dice, and filet with ease thanks to their self-sharpening butcher block. Sold by Macy's
Di Oro Living Seamless Series Three-Piece Silicone Spatula Set 35% OFF
 
This handy set of silicone spatulas is heat-resistant up to 600°F. The spatulas have durable handles with stainless steel cores and a seamless one-piece design to keep food and residue from collecting on the surface. Sold by Amazon

Other top deals in kitchen utensils and tools
Dessert tools
Cuisinart Pure Indulgence Ice Cream Maker 11% OFF
 
Thanks to a double-insulated freezer bowl, this Cuisinart ice cream maker whips up two quarts of homemade ice cream in less than 30 minutes. It has a heavy-duty motor for reliable, powerful churning. Sold by Amazon and Kohl's
Hawaiian Shaved Ice and Snow Cone Machine 23% OFF
 
This shaved ice maker will delight children of all ages and doesn't take up much counter space. It comes with snow cone cups, three flavor syrups, and spoon straws for enjoying the ice. Sold by Amazon
Sweese 10-Inch Porcelain Cake Stand
 
This simple ceramic cake stand shows off homemade cakes for serving. It has a wide base that allows the cakes to easily slide onto the surface and can support heavy, dense cakes. It doesn't scratch or chip if you cut on it. Sold by Amazon
Wilton 55-Piece Master Decorating Tip Set 33% OFF
 
This comprehensive cake decorating kit can help any home baker up their decorating game. It comes with over 50 stainless steel tips, two nails for making icing flowers, and a durable storage box to keep it all organized. Sold by Amazon
Wilton Springform Cake Pan Set
 
With three springform pans in different sizes, this set provides all a home baker needs to make delicious cheesecakes, ice cream cakes, tarts, and deep-dish pizza. The pans are made of nonstick stainless steel for easy cleaning. Sold by Amazon
Other top deals in dessert tools
Miscellaneous
Modern Comfort Food: A Barefoot Contessa Cookbook 46% OFF
 
Written by a trusted name in the world of food and entertaining, this cookbook offers recipes with a fresh twist on traditional comfort foods. It contains simple options like smashed burgers with onions and more complex fare such as shrimp and linguine fra Diavolo. Sold by Amazon
AeroGarden Harvest Indoor Hydroponic Garden
 
It's easy to enjoy fresh herbs and vegetables year-round with this hydroponic garden that cultivates up to six plants at a time. It's user-friendly, making it popular for budding gardeners. Sold by Amazon and Kohl's
Arawak Brave Professional Cooking Apron 44% OFF
 
This professional-quality unisex apron works well for cooking, grilling, and gardening. It has double-stitched pockets and a headphone loop that lets you listen to music while cooking without the cord getting in the way. Sold by Amazon
Encourage your loved one to experiment in the kitchen with these fun dice. The nine dice offer cooking methods, protein options, grain or carb choices, herb selections, and seasonal veggies to help you create a unique dish every time. Sold by Uncommon Goods
Other top deals
Sign up here to receive the BestReviews weekly newsletter for useful advice on new products and noteworthy deals.
 
Jennifer Blair writes for BestReviews. BestReviews has helped millions of consumers simplify their purchasing decisions, saving them time and money.
 
BestReviews spends thousands of hours researching, analyzing, and testing products to recommend the best picks for most consumers.