The best gifts for gamers 2022
September 14, 2022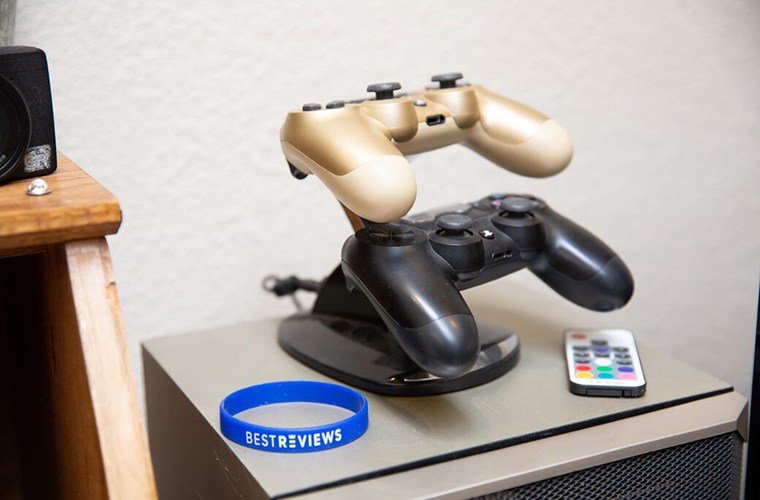 Shopping for the gamer on your list? If you'd like to level up your gift-giving this year, take a look at this list featuring 2022's best gifts for gamers.
Best video games
Newer releases
One of the most anticipated games of the year, the follow-up to the acclaimed Horizon Zero Dawn features more mechanical foes, bigger and brighter worlds, and plenty of new skills in your arsenal. The story once again follows intrepid Aloy as she uncovers mysteries in a post-apocalyptic world that leads to a much-talked-about ending. Sold by Amazon
LEGO Star Wars: The Skywalker Saga
The nine-episode Skywalker Saga gets the LEGO treatment in this clever and comprehensive game for all ages. With over 100 cute playable characters and lots of replay value across famous stories, it's sure to satisfy all the Star Wars fans who don't take the series too seriously. Sold by Amazon
This newer game for Nintendo Switch features six different sports to play solo or with friends. Similar to Wii sports from years back, you control your characters through motion, so make sure you've enough room to play. It also includes a leg strap for kicking in soccer. Sold by Amazon
This game isn't out just yet, but early reviews are great and a recent trailer promises plenty of scares and tense moments. From the makers of "Until Dawn," you manage an array of characters in an expansive environment in this chilling horror survival game set on the last day of summer camp. Sold by Amazon
Best value games
This expansive and immersive fantasy role-playing game finds you journeying into battle by yourself or with others as any number of personalized characters. The massive world allows for seemingly endless exploration backed by challenging mysteries, stunning graphics and a complex combat system. Sold by Amazon
While this JRPG has been out for a while, it now comes at a great price for those seeking a mystical, immersive adventure. The latest in the Tales series boasts stunning visuals, compelling characters, and fantastical new worlds to explore. Sold by Amazon
Final Fantasy VII Remake Intergrade - PS5
This additional story to the Final Fantasy VII Remake is only available on PS5 but is well worth the investment for dedicated fans. You take control of Yuffie as she infiltrates Shinra and opens up the world of Midgar, adding new layers to the story told in the first part of the FFVII Remake. Sold by Amazon
Marvel Guardians of the Galaxy
As Star-Lord, players get to lead the Guardians of the Galaxy as they battle it out with ferocious monsters. While the game is unpredictable and immersive, there are several funny and lighthearted moments — plus there's an '80s mix tape to keep players grooving while they play. Sold by Amazon
Other top video game gifts
For the console gamer
Nintendo
Given its compact, lightweight design, the Nintendo Switch Lite is ideal for gaming on the go. It's compatible with all Switch games that support Handheld mode, including many new releases like The Legend of Zelda: Skyward Sword. Sold by Amazon
PlayStation
PlayStation 5 DualSense Controller
One of the best features of the latest PlayStation console is its dynamic controller that features variable tension, feedback, and vibrations based on what you're playing. The console itself only includes one, so be sure to pick up a second controller to enjoy multiplayer games in the same room. Sold by Amazon
Xbox
An Xbox Game Pass opens up a vast library of on-demand, playable games for those who enjoy the Microsoft console. It also offers discounts, access to new titles on day one, and the ability to play on PC, mobile, and consoles. Sold by Amazon
Razer Captain America Controller and Charger
Marvel fans should consider adding this limited-edition Captain America-themed Xbox controller to their lineup. The brightly colored controller includes a charging station that can fully charge the controller in just three hours. Sold by Amazon
Other top console game gifts
For the PC gamer
Best gaming computers
Among the most powerful gaming desktops, the Aurora R10 is powered by a Ryzen 9 processor, features AMD Radeon RX 6800 XT graphics, and includes 2 terabytes of storage. With a sleek design and front-facing ports, it's both stylish and accessible. Sold by Amazon and Dell
Well-suited for casual gamers on the go, this 16.1-inch HP laptop is equipped with a fast processor and upgraded display for better visuals. It has a full-size keyboard and cooling technology. Sold by HP
Serious gamers need a powerful laptop to handle immersive worlds and rapid gameplay. The Helios by Acer features eight cores for powerful handling and RTX 3060 for fast rendering. A 144-hertz refresh rate and 3-millisecond response time mean you won't miss a beat competition online. Sold by Amazon and Acer
Lenovo IdeaPad 3 Gaming Laptop
Gamers on the go need a powerful and portable laptop, like this mid-range model by Lenovo. The comprehensive laptop includes quality speakers, a 720-pixel webcam with a privacy shutter, and a backlit keyboard. It's also useful for streaming content and creative endeavors. Sold by Amazon and Lenovo
Online gaming
For those immersed in Amazon's world of interconnecting devices, check out the Luna controller specifically designed for gaming on the company's gaming service. It connects quickly to the Amazon Cloud and can be linked to Alexa. The controller also allows for seamless gameplay on a variety of devices, including a Fire TV, tablet, or mobile, including both Android and iOS platforms. Sold by Amazon
Released earlier this year, the Meta-Quest 2 is the updated and rebranded virtual reality set from Meta. This new VR set is brighter, more comfortable, and allows access to a growing catalog of over 250 games. Sold by Amazon
Best PC gaming accessories
Samsung 49-inch Curved Monitor
One of the largest gaming monitors available, this screen will rival any smart TV with its high motion rate, vibrant colors, and minimal lag. The QHD resolution is ideal for fast-paced gaming, especially when battling online. Sold by Amazon
Amazon Basics Gaming Computer Desk
A lot of peripherals and accessories are required for a fully functional and efficient gaming setup, but they all come together with the right desk. From AmazonBasics, this model offers good value for its durability and clever design, with space for games, a headset, a charging station, and even a drink. Sold by Amazon
This gaming monitor is appreciated for its true-to-life color, speedy 165-hertz refresh rate, and 1-millisecond response time. It's compatible with PCs and gaming consoles, making it suitable for all types of gamers. Sold by HP
Logitech Lightspeed Gaming Mouse
This top gaming mouse from a leading computer accessories company in Logitech allows avid gamers to stay completely immersed in their games. It features 12,000 dots per inch for incredible precision and 250 hours of battery life. It also comes in a few different stylish colors. Sold by Amazon
Logitech G Pro Mechanical Gaming Keyboard
Another entry from the reliable and affordable Logitech, this keyboard is light, sleek, and durable, ideal for gaming on the go. You can program keys, set up personalized lighting, and adjust the angle for optimal use. Sold by Amazon
HyperX Cloud Stinger Core Gaming Headset
A quality headset, like this wireless HyperX model, allows gamers to hear every audio detail in games, including faint sounds like wind or footsteps. The headset delivers immersive 7.1 surround sound and up to 17 hours of battery life per charge. Sold by Amazon
Razer BlackWidow V3 Gaming Keyboard
This versatile gaming keyboard boasts tactile keys that give a satisfying click upon use as well as customizable lighting. It includes a port for a compatible mouse and allows you to connect to your platform in three different ways, including Bluetooth. Sold by Amazon
Razer Goliathus Extended Mousepad
Another essential PC gaming peripheral is a surface pad that complements your dexterous mouse. This mousepad from industry-leading Razer features a nonslip base and microtextured surface for optimal response. Sold by Amazon
Those who like to stream their gameplay and show off their setup need a high-end webcam. This well-priced cam by NexiGo features Full HD resolution, a built-in microphone, and a privacy shutter to effectively capture your commentary and reactions as you play. Sold by Amazon
Other top PC game gifts
Video game gifts
For the online gamer
Funko POP! Apex Legends Revenant
Funko POP! is the leader in toy collectibles, and the beloved company is coming out with a new line of figurines featuring Apex Legends characters. While there are a few compelling figurines from which to choose, this vinyl of Revenant is detailed and chilling. Sold by Amazon
Younger fans of Fortnite can embrace one of the most popular characters from the game in plush form. At 7 inches, this inexpensive and soft Loot Llama will make a cute addition to your gaming space. Sold by Amazon
For the stylish gamer

Show off your love of gaming with this comfortable and subtle zip-up hoodie. This officially-licensed Twitch product features the streaming service logo on the front and signature color palette on the back. Sold by Amazon
This funny shirt resonates with many gamers, including those who find it hard to peel themselves away from exciting dungeons, matches, or boards. It's made with a mid-weight cotton blend that gets progressively softer when washed. Sold by Amazon
Toys, games, and entertainment
LEGO Nintendo Entertainment System Building Kit
Build your own classic NES and '80s television in this unique LEGO set. It's well-received for its fine details, right down to the on-screen Super Mario Bros. game and a game cartridge — and yes, you can blow in it. Sold by Amazon
Hasbro Monopoly: Super Mario Celebration Edition
Players will enjoy classic Super Mario artwork, characters, and game pieces with this licensed board game. It comes with a Question Mark Box that plays iconic sound effects from the games, including Bowser's cackle and the Power-Up sound. Sold by Amazon
Sonic the Hedgehog 2 Movie Collection
The popular hedgehog successfully jumped to the big screen in not one but two family-friendly films. While the second movie was only recently released, you can get ready for home viewing with this two-pack of the film and get excited about a potential third movie. Sold by Amazon
"The Game Console 2.0" by Evan Amos
The full-color guide with stunning photography, now updated for 2021, chronicles everything gamers need to know about the early days. From Atari 2600 to PlayStation 5, it's safe to say that pretty much all systems, games, and pop culture are covered in it.
Sold by Amazon
Other top video game gifts
Enhance the gaming experience
Sights
Philips Hue BLE LED Lightstrips Kit
Customize a gaming setup with mood lighting with this smart lighting kit by Philips. Once the kit is connected to a smart home hub, such as Alexa, Google Assistant, or IFTT, it's easy to transition between favorite lighting modes. Sold by Amazon and Home Depot
Sounds
Panasonic SoundSlayer Soundbar
The Panasonic SoundSlayer Soundbar, designed in part by Final Fantasy's sound engineers, is a Dolby Atmos-powered to deliver a 3D sound experience. It has a low-profile design that blends in seamlessly with gaming setups. Sold by Amazon
Convenience
For long hours of gaming, you need a comfortable chair that supports your spine and lower back while still keeping you alert. The back reclines and the armrests adjust to your body. Most notably, the synthetic fabric provides a soft and comfortable surface.
Sold by Amazon
J+S Vision Blue Light Blocking Glasses
Regular gaming can put a strain on your eyes, especially when you're focused intently in competitive arenas. These comfortable glasses are designed to reduce exposure to blue light to reduce fatigue, stress, and soreness. Sold by Amazon
Anker PowerCore Nintendo Switch Edition
This useful portable charger by Anker is designed to power up your Nintendo Switch to keep you playing longer. The lightweight device can fully recharge a Switch in under four hours, but it'll also come in handy to give a boost to a variety of other electronics.
Sold by Amazon
Other top gifts for gamers
Sign up here to receive the BestReviews weekly newsletter for useful advice on new products and noteworthy deals.
 
Anthony Marcusa writes for BestReviews. BestReviews has helped millions of consumers simplify their purchasing decisions, saving them time and money.
 
BestReviews spends thousands of hours researching, analyzing, and testing products to recommend the best picks for most consumers.