Best gifts for Harry Potter fans
October 22, 2022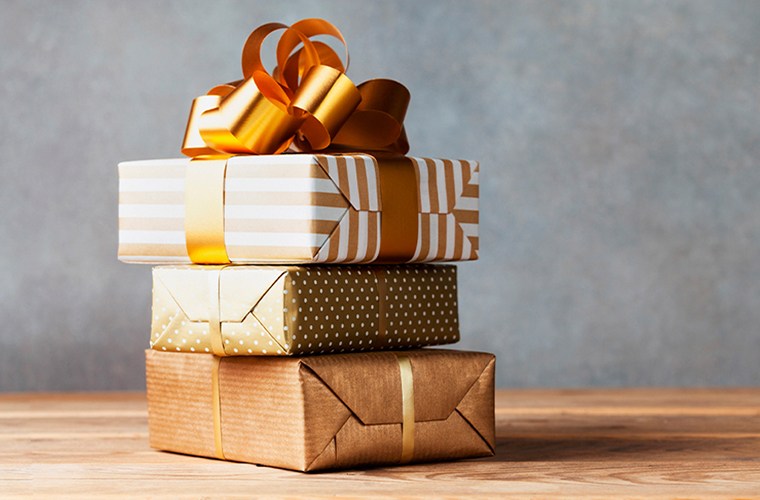 If you're buying for someone who's still convinced that the owl got lost delivering their Hogwarts acceptance letter, the perfect Harry Potter gift will go down a treat. Whether they're Gryffindor, Ravenclaw, Hufflepuff, or Slytherin, you have plenty to choose from.
Luckily, you don't have to go all the way to Diagon Alley to pick up a gift for the Harry Potter fan in your life. You'll find something for everyone with this selection of Harry Potter merchandise, toys, and jewelry.
Harry Potter merchandise
The Noble Collection Harry Potter Wand With Ollivanders Wand Box
If you're buying for someone whose favorite character is Harry Potter himself, they'll love this recreation of his wand. This realistic 1:1 scale replica of the wand from the movies is officially licensed by Warner Brothers.
Sold by Amazon
Harry Potter Hogwarts Multicolored Floral Crest T-Shirt
Sporting the iconic Hogwarts crest, this T-shirt lets any wearer display their love of Harry Potter. It comes in black, navy, asphalt, cranberry, and royal blue hues, and in sizes from XS to 3XL.
Sold by Amazon
Harry Potter Triwizard Cup Mood Light
While it might not have brought Harry any luck, this replica of the Triwizard cup from Harry Potter and the Goblet of Fire is an ideal gift for fans. It's great for providing dim ambient lighting or for use as a night light.
Sold by Amazon
If you're looking for a small token gift for a stocking, gift exchange, or because you're on a budget, these socks are cute and comfy. They're ideal for fans of Dobby the house elf, posing a reminder of the time he got his freedom.
Sold by Amazon
Running Press Harry Potter Collectible Quidditch Set
This collectible set of Quidditch balls features two bludgers, a quaffle, and a golden snitch, all packed up in a decorative trunk. It also comes with a Quidditch poster and a lock and key for the trunk.
Sold by Amazon
Noble Collection Harry Potter Gryffindor Journal
Are you buying for a Harry Potter fan who keeps a journal or enjoys creative writing? This Gryffindor journal is an ideal gift. It looks and feels well-made and has high-quality lined paper inside.
Sold by Amazon
Enesco Harry Potter Platform 9 3/4 Decorative Bookends
These cute bookends show Harry pushing his trolley through the wall to get to the secret Platform 9 3/4 where the train to Hogwarts departs. They're crafted from stone resin with a beautifully detailed finish.
Sold by Amazon
Northwest Woven Tapestry Marauder's Map Throw Blanket
Styled after the iconic Marauder's Map, any fan of the franchise would be delighted to receive this Harry Potter blanket. It's nicely detailed and looks great, with a decorative fringe around all four edges.
Sold by Amazon
Harry Potter Luna Don't Worry You're Just As Sane As I Am T-shirt
Fans of Luna Lovegood will get a kick out of this high-quality officially licensed T-shirt. It comes in sizes S to 3XL and five colors: black, navy, purple, royal blue, or dark heather.
Sold by Amazon
Spoontiques Harry Potter Slytherin Tumbler
Slytherin might be the house that has contained some of the most evil wizards and witches of all time, but it's not all bad. Fans can show their house pride with this reusable lidded glitter tumbler that comes with a straw.
Sold by Amazon
Five-Piece Harry Potter Backpack Set
This set includes a backpack, a lunch box, a carabiner, and a keychain, all featuring colorful depictions of Hogwarts' house mascots.
Sold by Macy's
Groovy Harry Potter Hogwarts Bathrobe
Although the person you're buying for might not ever receive real Hogwarts robes, they can make believe in this bathrobe. It's soft and absorbent, with a striped trim in the Gryffindor colors.
Sold by Amazon
Harry Potter Hogwarts Collegiate Backpack
This stylish Harry Potter backpack is great for school, work, or day-to-day wear. It's practical, with two large main compartments and three front zippered pockets. It sports the Hogwarts crest and says "Hogwarts" in a collegiate font.
Sold by Amazon
Insight Editions Harry Potter The Wand Collection Gift Set
In this gift set, there's a replica of the Elder Wand — one of the three objects that made up the Deathly Hallows. What's more, it contains a book detailing more than 50 Harry Potter characters and their wands.
Sold by Amazon
Running Press Harry Potter Pensieve Memory Set
No Harry Potter fan could forget Dumbledore's pensieve, where he stored and could relive important memories. This set contains a journal with an embedded pensieve dish on the cover, a replica of Dumbledore's wand and two memory vials.
Sold by Amazon
Harry Potter Book Series Box Set
Great for new Potter fans, this collection of all seven books comes in a brightly colored box featuring dazzling artwork. The hardcover version fits into an included travel chest, ready for the trip to Hogwarts.
Morphing Mugs Harry Potter Marauders Map Mug
When hot liquid is poured inside, this mug changes color to reveal the Marauder's Map below, faster than you can say, "I solemnly swear that I am up to no good." It's also available in other cool Harry Potter designs.
Sold by Amazon
Cinereplicas Harry Potter Scarf
The Harry Potter fan in your life will love showing off their favorite house with this scarf. There's a choice of Gryffindor, Ravenclaw, Slytherin, and Hufflepuff versions, plus a general Hogwarts scarf if you're unsure.
Sold by Amazon
Harry Potter Cauldron Soup Mug with Spoon
This ceramic mug and spoon set is great for soup, drinks, or ice cream. Microwave and dishwasher safe, this cauldron also makes a fun display piece.
Sold by Amazon
Potter fans can wear their house logo with pride, thanks to this line of pullover hoodies. Each hoodie is available in eight sizes and includes a pair of stickers.
Sold by Amazon
Harry Potter 20th Anniversary 8-Film Collection
This incredible 17-disc collection includes the entire Harry Potter series and a wealth of additional content in stunning 4K resolution. It all fits neatly into an exclusive Hogwarts Express train box for storage and display.
Sold by Amazon
The Unofficial Harry Potter Cookbook
Do you know a fan who eats, sleeps, and breathes Hogwarts? Now they can put their fandom where their mouth is with this book of more than 150 recipes inspired by the series.
Sold by Amazon
Harry Potter Gold Snitch Key Ring
This pewter key ring features a gold snitch on silver wings. Its included clip also allows it to snap onto a backpack, zipper, purse, or jacket.
Sold by Amazon
Other top Harry Potter merchandise
Harry Potter jewelry
Necklaces
Harry Potter Felix Felicis Potion Bottle Pendant Necklace
This three-dimensional potion bottle pendant is labeled "Felix Felicis" across the front in cursive and represents the luck potion Harry takes in The Half-Blood Prince. The pendant is made from silver-plated brass, measures 1.25 inches top to bottom, and hangs on an 18-inch chain.
Sold by Amazon
Harry Potter Deathly Hallows Necklace
The simple silver-plated brass pendant features the iconic triangle and circle with a line through it that make up the deathly hallows symbol. The pendant is 1.25 inches tall and 1.16 inches wide and hangs on an 18-inch chain.
Sold by Amazon
Apollonia Jewelry Lightning Bolt Necklace
A small, minimalist lightning bolt hangs from each end along a delicate chain, making it a subtle tribute to Harry's lightning bolt scar. The necklace comes in silver, gold and rose gold. The chain can be 14-24 inches long, with prices increasing for longer chains.
Sold by Etsy
Harry Potter Wizarding World Golden Snitch Initial Pendant Necklace
This vintage-inspired 1-inch pendant is round and textured with the recipient's first initial on the front and a small golden snitch perched on the side. It's plated in yellow gold and comes on an 18-inch chain.
Sold by Amazon
Noble Collection Hermione's Time Turner
This intricate 24-karat gold-plated pendant is an excellent replica of Hermione's time turner in The Prisoner of Azkaban. It features movable rings and a small hourglass, altogether measuring about 1.4 inches long. It hangs on an 18-inch chain and comes with a beautiful display case.
Sold by Amazon
Alex and Ani Collaborations Harry Potter Alohomora Necklace
The pendant features a gold-toned key with silver-toned wings and charming crystal accents. The "Alohomora" is a spell for unlocking things, hence the key. The pendant is made from a nickel-free brass and copper metal mix and hangs on a 20-inch chain.
Sold by Amazon
Earrings
Uniqa Jewels Gold Lightning Bolt Hoop Earrings
A rhodium-plated sterling silver lightning bolt dangles from the bottom of each cubic zirconia-studded hoop. These hoop earrings can be purchased individually or as a set. They are nickel-free and hypoallergenic.
Sold by Etsy
Ruthie's Art and Clay Harry Potter Polymer Clay Stud Earring Pack
This pack comes with three sets of handmade polymer clay studs with stainless steel posts. There is a golden snitch set, a Hogwarts mail set and a school sweater set. You can even choose the recipient's favorite Hogwarts house so that the sweater earrings will sport appropriate house colors.
Sold by Etsy
Harry Potter Golden Snitch Hoop Dangle Earrings
This set is perfect for Quidditch fans as it features gold-plated hoops with dangling golden snitch charms at the bottom. Each earring is under 1 inch in size and has a post closure.
Sold by Amazon
Harry Potter Three Pair Earrings Set
This pack comes with three sets of silver-plated earrings with post backings. The golden snitch and Harry Potter logo studs are two-tone and the Deathly Hallows studs are silver in color.
Sold by Amazon
Alex and Ani Harry Potter Glasses Earrings
Available in sterling silver or gold plating, these studs have one earring shaped like a lightning bolt and one shaped like Harry's glasses. They are delicate and dainty with post backs.
Sold by Amazon
Bracelets
Awe Gift "I Solemnly Swear That I Am Up To No Good"-Inspired Bracelet
Anyone who loves the Marauder's Map will love this 6.3-inch long adjustable silver cuff bracelet. It has the popular line "I solemnly swear that I am up to no good" printed in a Harry Potter-themed font across the cuff's exterior.
Sold by Amazon
Alex and Ani Collaborations Harry Potter Expandable Charm Bangle
Made from a nickel-free mix of brass and copper, this adjustable bangle bracelet comes with a round charm that says "The ones that love us never really leave us" across the surface. This is a popular Sirius Black quote from The Prisoner of Azkaban. You can add more clip-on charms to it, but the bangle does not open to accommodate more charms.
Sold by Amazon
Harry Potter Ravenclaw Arm Party Bracelet Set
This five-piece bracelet set is great for the Ravenclaw fan in your life. It features blue and silver-tone components along with blue beads, metal charms and the Ravenclaw coat of arms.
Sold by Amazon
This bracelet features silver charms themed after iconic items from across the Harry Potter franchise. The Sorcerer's version includes a gold Quidditch snitch, while the Slytherin version includes a snake.
Sold by Amazon
Harry Potter Bar Lariat Bracelet

Adjustable and silver-plated, this bracelet has the words "After all this time? ... Always" across the top in honor of Severus Snape's devotion to Harry's mother, Lily. There is the silhouette of a doe, the animal produced by Lily and Snape when they cast the Patronus spell, beside the text.
Sold by Amazon
Rings
Family House Stampin Expecto Patronum Magic Inspired Wrap Ring
Available in five sizes, this aluminum wrap ring says "expecto patronum" across the front for the Patronus spell. The inside can be stamped with a lightning bolt, magic wand, heart, sun, or star for a customizable feel.
Sold by Etsy
Alex And Ani Harry Potter Glasses Ring Wrap
There is a lightning bolt at the top and a pair of Harry's glasses at the bottom of this delicate wrap ring. It's adjustable and comes in sterling silver or gold plating.
Sold by Amazon
Harry Potter Golden Snitch Ring
This two-tone ring is inspired by the golden snitch and is made from brass with gold plating. The snitch is in the center with the wings around the sides. It comes in three sizes.
Sold by Amazon
Other top Harry Potter jewelry deals
Harry Potter toys
Noble Collection Harry Potter Wizard Chess Set
Potter fans can put their strategy skills to the test with this highly detailed chess set. Officially licensed by Warner Bros., this game looks as good set up on a table as it does displayed on a shelf.
Sold by Amazon
Hasbro Harry Potter Clue Board Game
No stranger to mysteries, this game sees the Hogwarts crew discovering who disappeared, figuring out what spell was used in the process, and determining where the crime took place. Up to five players can participate in the puzzle.
Sold by Amazon
Fans can put their Harry Potter knowledge to the test with this trivia game based on the series. With 1,800 questions that span all eight Harry Potter films, muggles and wizards alike will find themselves challenged to the max!
Sold by Amazon
Scholastic Harry Potter Coloring Book
Adults and kids will both find plenty of creative activities to work on in this Harry Potter coloring book featuring scenes and characters from the movies. It also includes 16 pages of full-color original art.
Sold by Amazon
Lego Harry Potter Hogwarts Castle
This incredible 6,020-piece Lego set will enchant creative Potter fans for hours. Movie lovers will appreciate this set's scale, attention to detail, and accuracy. It includes four minifigs, a dragon, and a ton of other fun accessories.
Sold by Amazon
Lego Harry Potter Hagrid's Hut
This set includes six minifigs and Buckbeak the Hippogriff. The hut unfolds to reveal a glowing LED fireplace among Hagrid's furniture.
Sold by Amazon
Lego Harry Potter Hogwarts Express
All aboard! This 801-piece Lego set includes the Hogwarts locomotive and a train station platform. The train car opens up to reveal a seated interior. This set also features the secret passage in the station.
Sold by Amazon
The Harry Potter fan in your life can add a little magic to their desk, table, or shelf with this Harry Potter Funko Pop. Wearing his Hogwarts regalia and holding his wand, this Harry figure can complete your collection.
Sold by Amazon
Mosotech Golden Snitch Fidget Spinner
Perfect for kids or adults who find it hard to sit still without fiddling with something, this fidget spinner is shaped like a golden snitch. It has quality lubricated ball bearings inside, so it spins quietly and smoothly.
Sold by Amazon
Everyone's favorite house-elf, now in Funko Pop form. Ready to be displayed without guilt, this sculpture features Dobby holding Harry's freedom-giving sock!
Sold by Amazon
Funko Pop Town: Harry Potter 20th Anniversary — Dumbledore with Hogwarts
This deluxe Funko Pop includes Dumbledore as well as a miniature version of Hogwarts, bringing a little added dimension to any Funko Pop collection.
Sold by Amazon
Harry Potter Golden Snitch Lamp
This lamp lets Harry Potter lovers proudly display a snitch without ever having to risk life and limb in an actual match! Perfect as a night light, this USB-powered lamp looks great on a desk or table.
Sold by Amazon
Harry Potter Invisibility Cloak
This cloak is reversible, with one of its sides being a green screen that makes people and items appear to vanish when used with a special app.
Sold by Amazon
Harry Potter Illuminating Wand
An essential tool for any aspiring wizard, this wand is a perfect replica of Harry's used in the films. It features a glowing LED tip and comes in a protective case.
Sold by Amazon
Wizarding World Enchanting Hedwig Interactive Owl
What Harry Potter fan hasn't imagined their own magic owl? This lifelike, interactive toy reacts to voice commands with 15 sounds and movements.
Sold by Amazon
Lionel Hogwarts Express Train Set
Exquisitely detailed with movie-accurate logos and colors, this train set from Lionel brings the Harry Potter franchise to the world of model railroads. It includes a locomotive, four cars, 32 pieces of track, and a controller. It plays audio clips from the films in addition to authentic train sounds.
Sold by Amazon
Fans of Ludo (also known as Parcheesi) will love this Harry Potter version of the classic game, which requires players to be the first to get their house to Hogwarts.
Sold by Amazon
Other top Harry Potter toys
Contributing authors: Lauren Corona, Emily Verona, and Derek Walborn
Want to shop the best products at the best prices? Check out Daily Deals from BestReviews.
Sign up here to receive the BestReviews weekly newsletter for useful advice on new products and noteworthy deals.
BestReviews spends thousands of hours researching, analyzing, and testing products to recommend the best picks for most consumers.