Gifts for people who love hiking 2023
January 4, 2023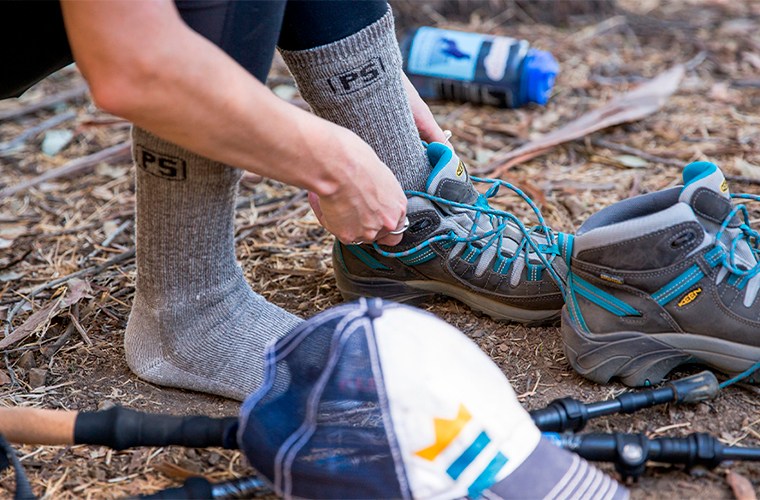 Escaping to the great outdoors can generate feelings of relaxation and serenity that are tough to match anywhere else on the planet. Whether you plan to take an afternoon hike or go on a week-long camping trip, you can recharge your batteries quickly with some time in nature.
However, when getting away from it all, roughing it can be challenging. That's where gifts for people who love hiking, camping, and spending time outdoors can be helpful.
Spending time outdoors with gear aimed at improving safety and providing basic creature comforts can make the camping trip even more relaxing. If you know someone who loves hiking and spending time outdoors, here are dozens of useful and fun gift ideas.
In this article: Teton Sports Celsius XL Sleeping Bag, LifeStraw Go Water Filter Bottle, and Solo Stove Campfire Backpacking Stove.
Camping gifts
Best items for sleeping at the campsite
Teton Sports Celsius XL Sleeping Bag
This sleeping bag is suitable for sleeping while camping at any time of the year. When your gift recipient wants to stay comfortable and warm, this sleeping bag's soft lining is cozy. It also has ventilation zippers to generate airflow on warm nights.
Sold by Amazon
Hyke & Byke Katahdin Hiking & Backpacking Sleeping Bag
When hiking to a remote campground, this lightweight sleeping bag is a great choice. It works as a gift for any weather with waterproof fabric, and it's especially good for sleeping in low temperatures.
Sold by Amazon
Kelty Late Start 2-Person Backpacking Tent
If your gift recipient is known for hiking far too long in the day before setting up the campsite, this instant tent is a smart solution. Set up this lightweight tent quickly and then easily carry it to the desired location for the campsite while there's still some daylight.
Sold by Amazon
Alps Mountaineering Lynx 1-Person Backpacking Tent
If the person on your gift list enjoys getting away from it all but wants to do it alone, this single-person tent is easy to carry into the wilderness. It sets up quickly with very little effort required, allowing the camper to spend more time enjoying nature.
Sold by Amazon
When your favorite camper is more into relaxing at the campsite than hiking through tough terrain all day, this hammock provides the most comfortable spot for a midday nap.
Sold by Amazon
Best camping clothing
Rumpl The Original Puffy Camping Blanket
When your gift recipient is a fan of "glamping," the design on these puffy blankets will generate a bit of style, even while they're roughing it. This blanket is extremely warm, too.
Sold by Amazon
Rumpl The Original Puffy Camping Blanket, National Parks Collection
For a camper on your gift list who loves the beauty of the national parks, this warm and comfortable camping blanket features designs of some of the most famous landmarks in various national parks.
Sold by Amazon
When your favorite camper stops camping trips in the early fall because of the cooling temperatures, consider giving this heated vest with a USB-powered battery pack as a gift. It looks like a regular vest, as the heating elements are hidden.
Sold by Amazon
The North Face Men's Thermoball Traction Slippers
If the camper on your gift list needs to be able to move around the campsite at night, having warm, non-slip slippers is far more comfortable than having to put on heavy boots.
Sold by Amazon
Best camping tools
Chef Master 90019 Portable Butane Stove
When buying a gift for a camper who wants to cook on a stove instead of a campfire, this camping stove is lightweight, easy to start, and delivers a controllable butane flame.
Sold by Amazon
Westinghouse iGen2200 Super Quiet & Lightweight Portable Inverter Generator
Having a generator at the campsite is important for providing power for creature comforts and for necessities. We don't think your gift recipient who loves to camp will want to carry this generator while hiking, but it's perfect for a drive-up campsite.
Sold by Amazon and Home Depot
Jolly Green Products Rotating Marshmallow Roasting Sticks
Making s'mores or roasting hot dogs over a campfire will be a lot easier for your gift recipient with these two-pronged roasting sticks. They consist of stainless steel, so they're easy to clean and won't rust.
Sold by Amazon
LifeStraw Personal Water Filter
All campers plan ahead to have food and water in case of an emergency while at the campsite. However, if you want to give the camper on your gift list a little extra emergency protection, this portable water filter creates drinkable water from almost any source.
Sold by Amazon
Odoland 15-Piece Camping Cookware Mess Kit
Compact cookware is a great gift for a camper, especially when the recipient loves to hike to the campsite. This set has utensils, cups, plates, and pots that fold into each other and are easy to clean.
Sold by Amazon
Yeti Hopper Flip 12 Portable Soft Cooler
Having a high-quality cooler is a must for a camper. However, it also should be easy to carry and not too bulky. This durable Yeti cooler will be a highly valued gift for camping trips, tailgating, and other fun times. It's available in a dozen different color options.
Sold by Amazon and Dick's Sporting Goods
AlpsWolf Rechargeable Camping Lantern
When your favorite camper already seems to have everything required for an enjoyable camping trip, this LED lantern will be an appreciated gift. It's waterproof and runs off a rechargeable battery. Campers always appreciate having extra light.
Sold by Amazon
RoverTac Multitool Folding Pocket Knife
If the camper on your gift list wants to be ready for anything while out in nature, this multitool is a practical selection as a gift. It includes a camping knife along with pliers, a bottle opener, and a screwdriver. Everything folds down to a small size.
Sold by Amazon
Other top camping gifts
Hiking gifts
Best hiking gear
Katadyn Hiker Pro Transparent Water Filter
This backpacking water filter has carbon in the core, significantly reducing chemicals and improving the taste. It's lightweight, has an 11-ounce capacity, and provides excellent protection from bacteria and protozoan cysts using pleated glass-fiber filters.
Sold by Amazon
LifeStraw Go Water Filter Bottle
It can be challenging to come by clean water when hiking, but this filtered water bottle takes care of that. It has a two-stage filtration system consisting of a membrane micro-filter and an activated carbon filter that removes bacteria and parasites.
Sold by Amazon
Hiking over snowy terrain can be exhausting and dangerous, but these snowshoes can help make any hiker's trek more bearable. They have a durable aluminum frame, stainless steel crampons, and a binding system that makes them easy to put on.
Sold by Backcountry
Help a friend stay warm during their hiking adventures with these hiking socks that deliver a high-performance fit to help prevent blisters, slipping, and bunching. They're made with 66% Merino wool and have an undetectable seam fusion and fine gauge knitting for a comfortable feel.
Sold by Amazon
These lightweight trekking poles are built to last and have padded straps and lever locks for simple one-handed operation. They're made with aircraft-grade 7075 aluminum and can be adjusted from a maximum height of 54 inches to 24.5 inches when fully collapsed.
Sold by Amazon
Mustang Survival Highwater Waterproof Backpack
If you know someone who loves hiking and kayaking, this waterproof backpack is an excellent gift. It's made with durable ripstop nylon and has three quick-access mesh pockets, padded straps, a roll-top closure, and a 22-liter capacity.
Sold by Backcountry
This pressure-tolerant hydration bladder has a two-liter reservoir and a wide opening with a 3.54-inch diameter for easy pouring and cleaning. The bladder's tube is resistant to temperature change and it has a high-flow bite valve for drinking water.
Sold by Amazon
This water bottle is an excellent choice for a cheap gift your hiking-loving friends will appreciate. It has a 30-ounce capacity and an ergonomic shape and is perfect for short hiking sessions, thanks to its flip-cap design and an anti-leak high-flow valve.
Sold by Dick's Sporting Goods
Waterfly Crossbody Sling Backpack
Hikers who want to travel light will love this durable nylon sling backpack. It has a front zipper pocket bag for storing items such as a tablet and a buckle bag for holding smaller valuables such as keys and wireless earbud cases.
Sold by Amazon
Best hiking apparel
Stoic Men's Venture Quilted Rugby Long-Sleeve Polo
This long-sleeve polo is made with a cotton blend fabric for superior breathability and doubles as a lightly insulated mid-layer and a fashionable pullover. The padded design helps trap heat to keep hikers warm, and it has a kangaroo and snap pocket for holding personal items.
Sold by Backcountry
Hi-Tec Men's Altitude V Waterproof Hiking Boots
These hiking boots have a durable build that makes navigating landscapes during harsh weather conditions a breeze. They have a full-grain leather upper and a bootie construction with hydrophobic technology to create an additional water-repellent layer.
Sold by Home Depot
The North Face Men's Antora Rain Hooded Jacket
This hooded rain jacket is excellent for weathering rainstorms and is lightweight enough to wear layers underneath to keep warm. It's made with 100% windproof fabric and has a drawcord for a customizable fit, an exposed full-length front zipper, and elasticized wrist cuffs for a snug fit.
Sold by Dick's Sporting Goods
Columbia Women's Newton Ridge Plus Waterproof Amped Hiking Boots
These hiking boots have a durable leather construction, a rubber outsole for superior traction on wet and slippery surfaces, and a mid-cut ankle for increased stability. They have a seam-sealed design and a Techlight midsole packed with foam cushioning for long-lasting comfort.
Sold by Amazon
GigaTent 4-Pocket Cargo Insulated Backpack
An authentic hiking experience usually requires plenty of cargo, making this backpack suitable for experienced hikers. It has a water-resistant design, padded shoulder straps for superior comfort, two mesh side pockets, and a center stretch bungee cord for security.
Sold by Home Depot
Smartwool Men's Intraknit Thermal Max Merino Baselayer Bottom
For those friends or family members who aren't afraid of tackling cold-weather adventures head-on, warm base layer bottoms are a must. These are made with a wool blend for thermo-regulation and are excellent at locking in heat and wicking away moisture.
Sold by Backcountry
Adidas Men's Terrex Free Hiking Boots
These boots have a lightweight build and a Primeknit upper for a secure and comfortable fit. Cold Ready technology helps keep feet warm and dry, and a heel loop makes it easy to put them on.
Sold by Dick's Sporting Goods
Backcountry Women's Wolverine Cirque 2.0 Hooded Jacket
If you don't mind spending the money, this high-quality jacket is an excellent gift for any hiking enthusiast. It has a synthetic mid-layer, mechanical stretch for increased mobility, zippered pockets, and is designed to withstand wear and tear.
Sold by Backcountry
These lightweight jogging pants are not only great for exercising, but they're also excellent for light to moderate hiking sessions. They have five pockets for holding personal items, an elastic waistband with a drawstring cord for an adjustable fit, and stretchy ankle cuffs.
Sold by Amazon
Maui Jim Ho'okipa Rimless Polarized Sunglasses
These polarized sunglasses are perfect for maximum light reduction and protecting eyes from glare and harmful UV rays. The lightweight frame, made with injected nylon, is comfortable for sports, hiking, or any outdoor activity.
Sold by Amazon and Dick's Sporting Goods
Columbia Women's Benton Springs II Long Hoodie
This classic fit women's hoodie made with soft and lightweight 250g fleece provides warm comfort on chilly winter days. Made with the highest-quality materials, durable stitching, and a two-way zipper by skilled craftspeople, it offers flexibility for the active wearer.
Sold by Amazon
The North Face Men's Aconcagua Insulated Vest
This down vest maintains body heat with a combination of natural and recycled synthetic materials. Stuffed with 550-fill goose down, the vest is windproof and coated with a Durable Water-Repellent (DWR) finish, keeping the wearer warm and dry.
Sold by Amazon
Other top hiking gifts
Gifts for people who love the outdoors
Best outdoor-ready tech
The GoPro Max offers the active outdoors lover traditional HERO-style video, photos, stunning spherical footage, and vlogging tools for live streaming in 1080-pixel resolution. The waterproof camera records with stabilization, horizon leveling, six microphones for premium audio, and 360-degree footage for remarkable panoramic photos.
Sold by Amazon
The active hiker and camper will enjoy the advanced health features of this smartwatch. Apps and sensors monitor blood pressure, measure blood oxygen, and even take an ECG. Compatible with Apple devices, the watch is dustproof and swim-proof for protection against adverse conditions.
Sold by Amazon
Ultimate Ears Wonderboom 2 Portable Wireless Bluetooth Speaker
This waterproof, dustproof portable Bluetooth speaker rated IP67 provides 360-degree sound and an outdoor boost button for instant crisp, loud music. The battery lasts 13 hours, providing favorite sounds for an entire day of outdoor activities.
Sold by Amazon
These small and lightweight true wireless Bluetooth earbuds fit snugly, providing high-fidelity sound while engaging in any outdoor activity. Active Noise Cancellation blocks out unwanted external sounds, while three microphones and noise reduction technology ensure music and voices are transmitted crisply and clearly.
Sold by Amazon
For recreation and leisure
Perception Crank 10 Sit-On-Top Pedal Kayak
This lightweight sit-on-top pedal kayak supports up to 350 pounds. The roomy cockpit integrates an efficient pedal drive system with powerful yet easy pedaling, making it appropriate for the lake or calm ocean conditions.
Sold by Amazon
These lightweight binoculars with an Advanced Optical System provide sharp images with exceptional glare reduction and reduced shadows, making them ideal for low-light conditions. The rubberized coating provides a firm grip for any outdoor activity such as birdwatching, hunting, or sporting events.
Sold by Amazon
SereneLife Inflatable Stand-Up Paddle Board
This paddle board inflates quickly and includes a safety leash, oar, pump, and storage bag for easy transport to the lake or calm ocean. The 10-foot longboard is made with a non-slip soft top deck, which is helpful for both beginners and experienced riders.
Sold by Amazon
Wakeman Outdoors Ultra Series Telescopic Fishing Rod
Wakeman's telescoping rod and reel combination is designed for the angler hiking to those hard-to-reach fishing holes. Made with carbon fiber, aluminum, and cork, the rod extends to 65 inches, and the reel has a ball-bearing drive for smooth action.
Sold by Amazon and Home Depot
Best outdoor essentials and nice-to-haves
Edible Wild Plants by Peterson Field Guides
An edible plant reference book could be a lifesaver for someone lost in the wilderness. This field guide describes more than 370 edible wild plants and 37 plants to avoid. Drawings (400) and color photographs (78) help campers recognize each species.
Sold by Amazon
Everlit 250-Piece Survival First Aid Kit
This military-grade first aid kit made with waterproof nylon has all the medical supplies the entire family needs for minor scrapes or emergencies, including bandages, adhesive tape, gloves, scissors, and antiseptic. Three large compartments provide space to pack additional supplies.
Sold by Amazon
Solo Stove Campfire Backpacking Stove
The lightweight backpacking stove with stainless steel double-wall construction and unique top vents promotes secondary combustion for complete burning and less smoke. The stove burns wood, twigs, pine cones, and leaves, eliminating the need to carry expensive canister fuels.
Sold by Amazon and Dick's Sporting Goods
Victoper Rechargeable Headlamp
Victoper's rechargeable headlamp is equipped with eight lights, generating 18,000 lumens and guaranteeing light after dark for any outdoor activity. An IPX5 waterproof rating ensures the headlamp will work in the rain or when splashed with water while fishing or hiking.
Sold by Amazon
Iron Flask Sports Water Bottle
This insulated double-wall water bottle keeps drinks hot for 12 hours or cold for 24 hours without condensation. Available in 14- to 64-ounce sizes, the stainless steel bottle features a classic powder-coated exterior finish.
Sold by Amazon
Amazon Basics 11-in-1 Multitool
This affordable multitool is great for any outdoor activity when carrying a toolbox is not realistic. The foldable stainless steel device has 11 tools, including a bottle opener, needle-nose pliers, standard pliers, saw, wire cutter, slotted screwdriver, Phillips screwdriver, knife, rope cutter, and file.
Sold by Amazon
Wacaco Minipresso GR Portable Espresso Machine
Outdoors, a delicious coffee beverage is never far away with this portable espresso maker. The lightweight manually operated machine is easy to carry. Just add grounds to the filter basket, hot water, and then pressurize to draw a perfect espresso with crema.
Sold by Amazon
Zippo HeatBank 9s Plus Hand Warmer
This hand warmer has six settings for dual-sided heat up to 120°F to keep your camper warm on a cold day. The device has an integrated flashlight, a rechargeable lithium-ion battery lasting up to nine hours, and charges two USB devices.
Sold by Amazon
Stanley BC15BS Fully Automatic Battery Charger
This 15-amp bench battery charger is convenient to carry in the car or boat, ensuring a weekend outdoor adventure isn't ruined by a dead car battery. The high-frequency charger automatically switches from fast charge to top-off and trickle charge.
Sold by Amazon
A fixed-blade knife is an essential tool for hiking, hunting, fishing, and camping. Made with a 5.5-inch 440 stainless steel black tanto blade and fiberglass handle for a superior grip even when wet, this knife is designed for adventurers and survivalists.
Sold by Amazon
Other top gifts for people who love the outdoors

Contributing authors: Kyle Schurman, Kevin Luna, and Jeff Harper
Want to shop the best products at the best prices? Check out Daily Deals from BestReviews.
Sign up here to receive the BestReviews weekly newsletter for useful advice on new products and noteworthy deals.
BestReviews spends thousands of hours researching, analyzing, and testing products to recommend the best picks for most consumers.