Best gifts for nutrition enthusiasts 2023
January 4, 2023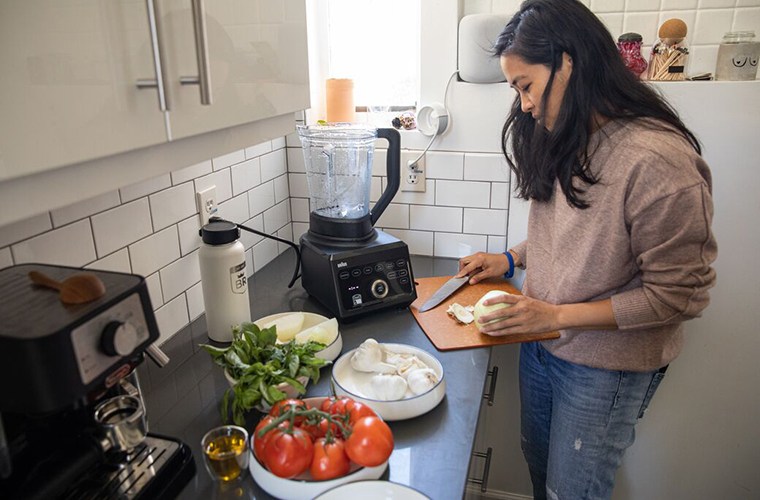 What to give the foodie in your life
Food items are having their moment in the spotlight, which is helpful for finding some fun and functional products for the foodies in our lives!
With items like the life-changing Anti-Diet book, a magnetic dry-erase menu whiteboard to help set expectations for family meals, and reusable plastic bags for snacks and freezer items, this list should fit any food lover's needs.
In this article: Anti-Diet: Reclaim Your Time, Money, Well-Being, and Happiness Through Intuitive Eating, Quick Canary Magnetic Dry Erase Menu White Board for Kitchen Fridge, and Stasher Platinum Silicone Reusable Storage Bags
For the bookworm
The Intuitive Eating book is the #1 book I recommend to clients and even family and friends. This book changed my life and I have no doubts that it could change yours, too!
Sold by Amazon
The Intuitive Eating Workbook: 10 Principles for Nourishing a Healthy Relationship with Food
If you are looking for a guided journal to work on your relationship with food, this is it! I recommend doing these activities in unison with reading Intuitive Eating.
Sold by Amazon
Anti-Diet: Reclaim Your Time, Money, Well-Being, and Happiness Through Intuitive Eating
This book is life-changing. As the subtitle suggests, you will learn more about the diet industry and its history while also feeling empowered to build armor against it.
Sold by Amazon
Gentle Nutrition: (A Non-Diet Approach to Healthy Eating)
This book is part-diving into what "gentle nutrition" and intuitive eating are and part-delicious cookbook. I love the graphics that Rachael created!
Sold by Amazon
Nancy Clark's Sports Nutrition Guidebook, 5th Edition
For any serious athlete to someone interested in learning more about sports nutrition, this book is for you! It is the go-to sports nutrition book and is written in an easy-to-read way with real-life examples.
Sold by Amazon
Self Compassion by Kristen Neff
We spend so much time being critical of ourselves and "hating ourselves into health," when research shows us that self-compassion is a more effective strategy for behavior change. This book helps teach us that being kind to ourselves is more powerful than hate.
Sold by Amazon
More Than a Body: Your Body is an Instrument, Not an Ornament
The Kite sisters have spent their academic lives researching and disseminating information about body image. Per the title, we are more than our bodies, and understanding and embracing that can change our relationships with our bodies.
Sold by Amazon
Decolonizing Wellness: A QTBIPOC-Centered Guide to Escape the Diet Trap, Heal Your Self-Image, and Achieve Body Liberation
This book is written by a registered dietitian, Dalia Kinsey, and contains multitudes. This book has a bunch of helpful activities to equip people, especially queer people of color, with tools to navigate the intersections of the wellness space.
Sold by Amazon
For the grocery shopper
Two Tumbleweeds Weekly Meal Planning Pad
Feeling overwhelmed by planning meals? This meal planning pad is a helpful tool to lay out breakfast, lunch, and/or dinner options for the week, which hopefully can save time and stress.
Sold by Amazon
Quick Canary Magnetic Dry Erase Menu White Board for Kitchen Fridge
Busy families that I work with love using this tool when planning out meals with their kids. It is a fun way to get the kiddos involved and set expectations for the week.
Sold by Amazon
BeeGreen Reusable Shopping Bags
I keep these reusable shopping bags in my purse, in my car, and where I keep my keys (aka I have these bags everywhere). They are sturdier than any plastic or paper bags you will get at the store and they can save you money, too!
Sold by Amazon
For the kitchen
I will always love a paper-bound cookbook. I have found that having a cookbook stand has been so helpful in preventing me from leaning over and spilling food or drinks on my books.
Sold by Amazon
Umite Chef Mixing Bowls with Airtight Lids
I love the different sizes and colored lids of these metal bowls. Having good quality and sturdy bowls is game-changing. I love having the option to use lids to save myself from having to wash another dish.
Sold by Amazon
Cehomi Oven Mitt and Pot Holder Set
This oven mitt and potholder set has it all! They are colorful, cute, and functional. These oven mitts and pot holders are made of silicone and are heat-resistant up to 450 degrees.
Sold by Amazon
The Scrub Daddy was one of Shark Tank's highest revenue products for a reason. The Scrub Mommy improves on this product by being dual-sided. It stiffens in cold water and is soft like a sponge in warm water. It lasts longer than most sponges and is fun to use.
Sold by Amazon
AOTBAT Kitchen Towels and Dishcloths
These are classic kitchen towels that are helpful for wiping off hands or cleaning off surfaces.
Sold by Amazon
These silicone reusable straws are bendy and fun to drink out of! I love using them in smoothies, juice, iced coffee, or truly any drink.
Sold by Amazon
I love how this fruit basket has two tiers because 1) more delicate fruit is not being squished and 2) you can easily see all of the fruit in the basket, thus saving money and reducing food waste.
Sold by Amazon
Stasher Platinum Silicone Reusable Storage Bags
This was my gift to all of my family, friends, and myself last year. These bags are incredible! I love keeping too-ripe bananas in a Stasher bag in the freezer for smoothies or a smaller bag of nuts in my backpack.
Sold by Amazon
The Silicone Kitchen Reusable Cupcake Liners
As a baker myself, I love having these reusable liners. They are overall so easy to use and they offer more structure that makes pouring batter into them way easier.
Sold by Amazon
For self-care
Food Gazing Foodie Notecard Set
I have this set of notecards and as a food enthusiast, I endorse having some of these cards around for whatever your note-writing needs may be.
Sold by Amazon
Hydro Flask Wide Mouth Insulated Water Bottle with Flex Sip Lid (20 ounces)
My Hydro Flask water bottle might as well be an extension of my appendages; it is always with me. The insulation keeps my water cold and my hot drinks hot.
Sold by Amazon
Celestial Seasonings Assorted Tea Bundle
Enjoying a cup of hot tea is one of my favorite forms of self-care. Celestial Seasonings makes creative flavors that are widely popular.
Sold by Amazon
Joe & Mark Decorative Tin for Recipe Cards
Having a recipe card tin might be a relic of the past, but as someone who has found recipes from different cookbooks, friends/family, and Pinterest boards, this is still a welcomed way to consolidate recipes.
Sold by Amazon
Streamline Imagined 1 X Marshmallow S'more Coffee Mug With Lid
This mug is just too cute! I love the graham cracker top to keep the drink hot. Any foodie will smile when they receive this gift!
Sold by Amazon
Contributing author: Molly Bremer
Want to shop the best products at the best prices? Check out Daily Deals from BestReviews.
Sign up here to receive the BestReviews weekly newsletter for useful advice on new products and noteworthy deals.
BestReviews spends thousands of hours researching, analyzing, and testing products to recommend the best picks for most consumers.