Best gifts for fitness enthusiasts 2023
January 4, 2023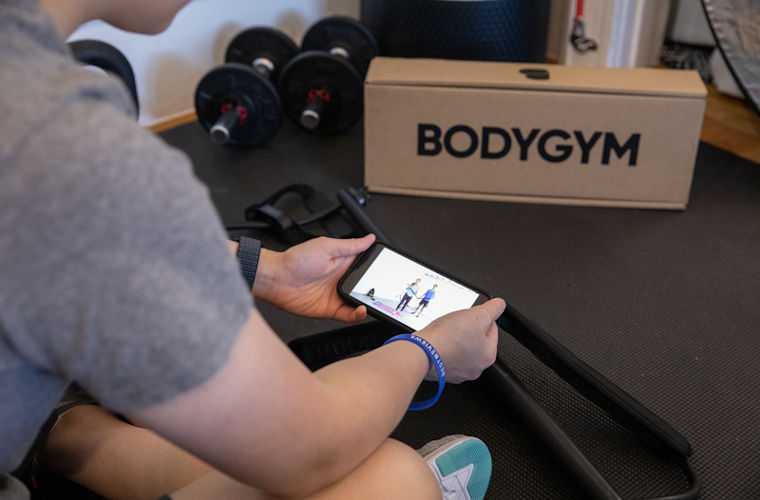 I'm Judd NeSmith, NASM-CPT, PES, founder of Serious Fitness. I specialize in training men and women ages 50 and up to achieve optimal fitness by helping them regain strength, rebuild lean muscle and restore lost mobility. Here, I'd like to share with you some of my favorite exercise equipment that can make great gifts for fitness enthusiasts.
In this article: TRX Suspension Trainer, SKLZ Glider Discs and Hypervolt Massage Gun
For home gyms
TRX All-In-One Suspension Trainer
A suspension trainer can provide quick and effective workouts for those who are short on time. TRX's very popular bodyweight exercise suspension trainer is ideal for home gyms. It is easy to install and use. Plus, it offers a very wide selection of body weight exercises.
Sold by Amazon
The Perfect Pushup V2 Handles should be in everyone's home gym. This product promotes proper pushup form and can prevent & minimize wrist, elbow, and shoulder pain. Plus, pushups done with good form will recruit the notoriously weak core muscles.
Sold by Dick's Sporting Goods and Amazon
This Gaiam exercise ball offers a lot of bang for the buck and is an ideal gift for someone who prefers to exercise at home. It allows users to perform some of the most effective core exercises to build stronger abdominal, glute, and hamstring muscles.
Sold by Amazon
Fit Simplify Resistance Loop Bands
Need an awesome stocking stuffer for under $15.00? The Fit Simplify Resistance Loop Bands are great for helping individuals build lean muscle and strength in their hips.
Sold by Amazon
Bowflex SelectTech 552 Dumbbells
The ultimate home gym needs dumbbells but often space and budget are an issue. However, BowFlex's SelectTech 552 dumbbells provide an awesome solution with this pair of beautifully designed dumbbells. They are easy to use and provide weight from 5 pounds to 55 pounds.
Sold by Dick's Sporting Goods and Amazon
For improving flexibility and minimizing aches and pains
With the Hypervolt Massage Gun, you can perform self-massage with great accuracy on notoriously tight muscles. Plus, it is a great way to promote recovery from intense exercise and reduce soreness.
Sold by Dick's Sporting Goods and Amazon
This is a big favorite of mine and my go-to gift for many clients. The GoFit 18-inch massage bar is a wonderful and inexpensive gift for anyone who wants to ease muscle tension, especially in their calves, thighs, shoulders, and neck muscles. It's simple to use and your recipients will thank you for helping them feel so much better.
Sold by Dick's Sporting Goods and Amazon
Trigger Point Grid Foam Roller
Do you know someone who is battling chronic low back, hip, or knee pain? If so, I'd highly recommend this foam roller to help them ease and even prevent their aches and pains from resurfacing. Plus, it is a great way to promote recovery after exercise.
Sold by Amazon and Dick's Sporting
GoodsTriggerPoint Massage Ball
This unique massage ball makes a great stocking stuffer! Plus, it costs less than $20.00. The TriggerPoint Massage Ball fits easily in gym bags and is also a great travel companion.
Sold by Amazon and Dick's Sporting Goods
The Ryson Foot Roller is a highly effective tool that quickly helps improve plantar fasciitis, which is a very common pain on the soles of your feet. People who stand for a living and runners will greatly benefit from this cool gift.
Sold by Amazon
Here's a personal favorite of mine and my clients love it. The ROLL Recovery R8 is very effective at providing self-massage, especially deep tissue massage. Its patented design also makes it an ideal tool for anyone's gym bag or luggage.
Sold by Amazon
For outdoor exercise enthusiasts
I own this wonderful waist pack and recommend it to anyone who loves to hike, trail run, and cross-country ski for long periods. It is an incredibly light pack with enough storage space for extra clothing, food, maps, first aid, two bottles of water, and more. I highly recommend it for people who like to spend long days outside instead of overnight backpacking trips.
Sold by Amazon
Tough Outdoors UV Sun Protection Arm Sleeves
Tough Outdoors' UV Sun Protection Sleeves are the perfect gift for people who exercise outside when the sun's UV rays are at their highest. Especially recommended for runners and cyclists, these cooling sleeves provide UPF 50 protection and a unique cooling component.
Sold by Amazon
NUUN Electrolyte Drink Tablets
Exercising outdoors during warm and hot weather can quickly deplete a person's electrolytes and lead to dehydration. Nuun tablets offer a much better source of electrolytes than other sugary beverages like Gatorade or Powerade. Plus, NUUN comes in a very nifty container that would make a great stocking stuffer.
Sold by Amazon
Under Armour Hustle Fleece Hoodie
This very functional and comfortable hoodie is ideal for the colder months and is a great top layer to wear to the gym and during the warmup for anyone's exercise routine. Plus, its unique wicking properties will keep you dry and warm during and after intense workouts.
Sold by Amazon
Want to shop the best products at the best prices? Check out Daily Deals from BestReviews.
Sign up here to receive the BestReviews weekly newsletter for useful advice on new products and noteworthy deals.
BestReviews spends thousands of hours researching, analyzing, and testing products to recommend the best picks for most consumers.