Best gifts for coffee lovers
September 27, 2022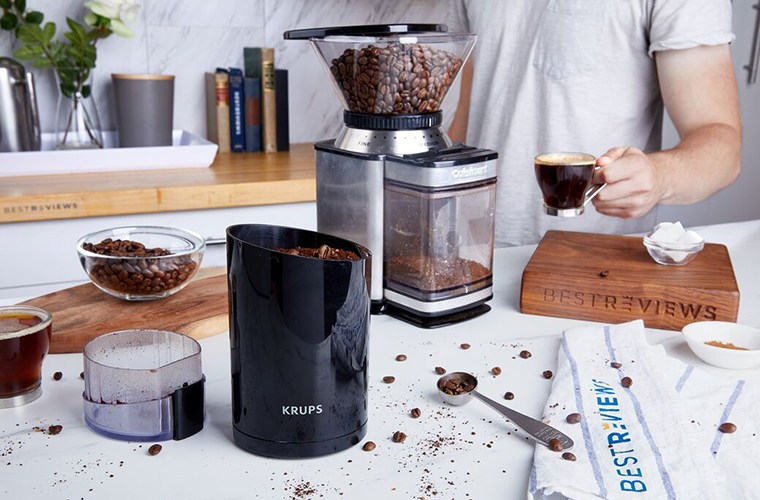 Many coffee connoisseurs are serious about their beverage of choice. They enjoy using a quality coffee or espresso maker with must-have accessories to brew barista-quality coffee drinks from the comfort of home. That's why these items make ideal gifts for anyone who loves coffee.
If you're shopping for a coffee lover, check out this comprehensive guide that's packed with electric-powered and manual coffee and espresso machines, as well as essential accessories that will simplify coffee making or enhance any cup of joe.
Coffee and espresso machines
Drip coffee and espresso machines
Ninja Programmable Brewer With 12-Cup Glass Carafe
This drip-coffee machine is a reliable and affordable option for busy households. It's programmable for up to 24 hours in advance and the adjustable warming plate keeps coffee warm. The water reservoir holds 60 ounces and is dishwasher safe.
Sold by Amazon
Cuisinart Perfectemp Coffee Maker, 14-Cup Programmable With Glass Carafe
This sleek drip-coffee machine can brew 14 cups up to 24 hours in advance. Convenient features include an automatic shut-off function and a self-cleaning cycle. The gold-tone permanent coffee filter reduces waste. It comes in five finishes.
Sold by Amazon
Braun KF7170SI BrewSense Drip Coffeemaker
For an eco-friendly option, this programmable coffee machine has a reusable gold-tone filter that's easy to clean. Coffee lovers can program it up to 24 hours before they need their coffee and choose between regular or bold brewing options.
Sold by Amazon
Best coffee and espresso machines with milk frothers
Coffee fans can effortlessly brew rich shots of espresso, cappuccinos, and lattes at the push of a button. This machine even froths the milk for them. The plastic construction and petite frame make this one of the most affordable options for quality at-home espresso drinks.
Sold by Amazon
Ninja Specialty Fold-Away Frother CP307
Craft an array of coffee drinks, from French press to iced coffee to a frothy latte, all with one machine. The fold-away frother is easy to use and handy to move out of the way when it's not needed.
Sold by Amazon
Mr. Coffee One-Touch CoffeeHouse
If there are multiple coffee drinkers in the house who like to brew separate drinks, this coffee and espresso machine offers multiple brewing options, so everyone gets the drink they want. Both automatic and manual frothing modes add to a user-friendly experience.
Sold by Amazon
De'Longhi All-in-One Combination Coffee and Espresso Maker
For those who want multiple barista-quality drinks at home, this machine offers simultaneous brewing for both drip coffee and espresso. The milk frother is easy enough for amateur brewers to use and a cinch to clean.
Sold by Amazon
Jura WE8 Automatic Coffee Machine
This high-end and high-capacity coffee maker offers 12 barista-quality drink options at the touch of a button. The adjustable steam wand lets the user control the amount of milk for the perfect froth.
Sold by Amazon
Best coffee and espresso machines with grinders
EspressoWorks Espresso Machine Grinder Bundle
The built-in grinder and steam wand on this espresso machine make this an all-in-one experience. It comes with all the tools a coffee aficionado needs, including a drip tray, stainless steel frothing cup, scoop, stainless steel portafilter, and two ceramic espresso cups.
Sold by Amazon
This fully automatic machine grinds, tamps, brews espresso and steams milk with one button. A hot-water function is ideal for brewing hot tea and Americanos. The quiet operation, clean lines, and modern control panel make this model a sleek addition to any kitchen.
Sold by Amazon
Gaggia Brera Super Automatic Espresso Machine
This Italian machine brews consistent espresso with a ceramic burr grinder. The doser also lets the coffee lover add pre-ground beans if they don't want to grind before every cup. The interface is easy to use and programs their favorite settings. They can use the built-in steam wand to heat milk or water for lattes, cappuccinos, or Americanos.
Sold by Amazon
Beginners and prosumers alike enjoy brewing exceptional espresso drinks with this beloved machine. The manual steam wand offers full control so they can froth and steam the milk to their liking.
Sold by Amazon
GE Cafe Affetto Automatic Espresso Machine
This super-automatic machine does all the hard work by grinding and brewing from a single button. For those who want a high-quality drink in a hurry, this is a great option. Froth the desired level of milk with the front-mounted steam wand.
Sold by Amazon
Best pod coffee and espresso machines
Cuisinart SS-10P1 Premium Single-Serve Coffee Maker
For regular coffee drinkers, this is the most consistent pod coffee maker to brew a perfect cup every time. All K-cups and single-serve cup-shaped pods are compatible with this machine. The LCD screen makes programming simple. It includes five drink sizes and a hot-water option.
Invest in a classic pod coffee maker from one of the original single-serve pod coffee companies. Four different cup sizes and a "strong brew" button let the coffee lover customize their brew. It's reasonably affordable and noticeably quieter than other single-serve machines, plus it comes in a variety of colors.
Sold by Amazon, Keurig, and Kohl's
Keurig K-Supreme Plus Coffee Maker
For coffee lovers with favorite drink settings, this pod coffee machine offers more settings for hot and cold beverages, including iced coffee. Also, the large water reservoir can brew multiple drinks without a refill.
This household brand lends its famed convenience to coffee and espresso lovers who plan to brew one drink at a time. They can select their drink with an intuitive interface and add and froth their milk with an external frothing pitcher that makes it easy to pour, clean, and refill.
Nespresso Latissima Pro Coffee and Espresso Machine by DeLonghi
If they like to brew multiple lattes at once, this large-capacity pod coffee machine may be ideal. The 1.3-liter water reservoir and extra-tall milk container mean fewer refills. The built-in frother sits up front so they can top off their espresso drinks without moving their mug.
Sold by Amazon
Other top deals in this space
Manual coffee and espresso makers
Best French presses
This well-insulated French press comes with a handy travel-sized bean canister that keeps coffee tasting fresh on the go. It's double-walled to keep coffee hot for several hours, and though this adds some heftiness to the product, it's practically indestructible. Plus, it comes in four colors.
Sold by Amazon
This glass French press from ESPRO is a top pick. It has two layers of microfiltration (most French presses have just one) to ensure that coffee stays grit- and sludge-free. The glass is also extra-thick to retain heat and add durability, plus it's BPA-free and can brew up to 32 ounces of fresh coffee at a time.
Sold by Amazon
This sleek matte black coffee maker is an upgraded pick for the caffeine addict in your life. With a 24-ounce capacity, it's the perfect size to bring to the office. The French press has a smooth and sturdy wooden handle that adds to its classic design. Plus, it's made from well-insulating and durable stainless steel, so this is a gift that will last for decades.
Sold by Amazon
Best Aeropress products
AeroPress Go Portable Travel Coffee Press
This is the pick for that one on your gift list who needs their coffee as soon as they wake up, wherever they are in the world. It's a perfectly compact travel maker that brews one to three cups of smooth, bold, and tasty joe at a time. It uses the same fast and efficient coffee brewing process as other AeroPress products, so its brew is ready in one minute.
Sold by Amazon
Aeropress Coffee and Espresso Maker
This is the classic Aeropress product for brewing perfectly smooth coffee with no bitterness in 60 seconds. This manual coffee maker produces three cups at a time and uses an immersion brewing process that reduces bitterness and emphasizes the delicious natural flavors in the beans. It also makes espresso for lattes and cappuccinos.
Sold by Amazon
Tote Bag for AeroPress Original Coffee Maker
If they're going to travel with their coffee maker, be sure it's taken care of. This zip-top travel tote is the perfect size to fit the Original Aeropress Coffee Maker snugly inside for safe travels. It even has space for must-have accessories like the coffee scoop and plunger.
Sold by Amazon
Best pour-over coffee makers
Bodum 11571-109 Pour Over Coffee Maker
This elegant glass pour-over coffee maker will make a statement in any kitchen. It has a pretty curved design and is made from crystal-clear glass so they can watch as their coffee comes to life each morning. It's also equipped with a permanent mesh coffee filter, so there's no need to stock up on single-use paper filters. This pour-over maker brews up to eight 4-ounce cups at a time.
Sold by Amazon
If you're shopping for someone who usually prepared coffee for just one or two at a time, this compact glass pour-over maker is a thoughtful gift. The permanent super-fine mesh filter sits inside the pretty glass carafe so there's nothing top-heavy that could tip things over mid-brew. The carafe holds up to 400 milliliters, or about three small cups, of coffee.
Sold by Amazon
OXO Brew Single Serve Pour-Over Coffee Maker
This is a great stocking stuffer for the pour-over lover who likes their joe on the go. It has a sleek design and a matte white finish that looks great in any kitchen or office. The filter fits over most coffee mugs, including travel mugs, and slowly brews fresh coffee in a few minutes. The pour-over maker also comes with 10 natural coffee filters, but you can find a permanent filter to fit inside it as well.
Sold by Amazon
Best cold brew coffee makers
Takeya Patented Deluxe Cold Brew Coffee Maker
This two-quart coffee maker earns the "deluxe" in its name from the smart leak-proof design. The carafe also has a comfortable slip-free silicone handle and can produce four servings of delicious cold brew at a time.
Sold by Amazon
KitchenAid KCM5912SX Cold Brew Coffee Maker
This is the perfect gift for the home that can't get enough cold brew. This 38-ounce stainless steel cold brew maker from KitchenAid fits inside the fridge and means there's always a glass of refreshing, ice-cold coffee available at the flip of a switch. Thanks to the airtight design, coffee stays fresh for up to two weeks.
Sold by Amazon
Ovalware Airtight Cold Brew Iced Coffee Maker
This picture-style cold brew maker has a fun retro look and brews delicious coffee without bitterness or acidity. The filter is made from 18/8 rust-free stainless steel so it won't impact the flavor of your brew and has fine laser-cut holes that prevent sludge from sneaking into your glass.
Sold by Amazon
Best stovetop coffee maker
Capture the classic Italian look in any kitchen with this gleaming, squat Moka pot. This is the shorter version, which brews 3 cups of espresso, or about 4.4 ounces of coffee. It works on gas stoves and requires no electricity or delightful robust and smooth espresso to make Italian specialty drinks.
Sold by Amazon
Grosche Milano Stovetop Espresso Maker
If you're shopping for a coffee lover with a bright personality, they'll love that this beautiful stovetop coffee maker comes in a rainbow of colors. Choose one that matches their personality, whether it's cobalt blue or blush pink. Then select from a 3-, 6-, or 9-cup capacity to meet their caffeine needs.
Sold by Amazon
BonVIVI Intenca Stovetop Espresso Maker
This is a larger-capacity stovetop espresso maker that can brew up to six cups at a time and has a beautiful and sleek stainless steel design. It also comes in a matte black and a gleaming copper color to match any kitchen aesthetic.
Sold by Amazon
Other top deals in this space
Accessories for the coffee lover
Best coffee mugs and travel cups
Contigo Vacuum-Insulated Travel Mug
Anyone who takes their coffee on the go will appreciate this travel mug's vacuum-insulated construction that keeps coffee warm for up to five hours. For those who prefer cold coffee, it maintains chilled temps for about 12 hours. It's available in several colors, sizes, and styles.
Sold by Amazon
This travel mug may be shaped like a traditional coffee cup, but it's vacuum insulated to keep coffee warm for hours. It has the brand's spill-resistant MagSlider magnetic closure. You can choose from a nice selection of fun colors.
Sold by Amazon
Karma Gifts Black-and-White Boho Mug
Drinking coffee from a stylish mug is always a pleasure. This attractive ceramic mug comes in a choice of designs in black and white. The 16-ounce capacity is perfect for sipping generous brews. Additionally, it comes in a nice box so it's ready for gifting.
Sold by Amazon
Le Creuset Stoneware Espresso Mug
Anyone who loves espresso needs a durable mug like this one that's crafted of strong stoneware. Not only is the material durable, but it also keeps contents hot while they are being enjoyed. The brand's proprietary glazed finish resists stains and is easy to clean.
Sold by Amazon
Food Network Colby Four-Piece Mug Set
These earth-toned mugs have a classic design that pairs perfectly with other kitchen items and décor. They are made of stoneware that's durable and maintains the temperature of hot cups of coffee. Each mug holds 12 ounces and features a strong handle.
Sold by Kohl's
Best coffee-making helpers
TRIPLE TREE Manual Coffee Grinder
This basic manual coffee grinder is simple to operate yet features an attractive design that looks great next to a coffee maker. The ceramic burr brings out the best flavors of coffee beans, thanks to its ability to grind effectively without producing heat. It comes with an extra jar, spoon, and brush.
Sold by Amazon
Chef Craft Select Coffee Measurer
Pair this stainless steel coffee measuring scoop with a coffee maker and the coffee enthusiast in your life will have an extra little helper when making perfect brews. The handle has etched measurements as a guide when scooping coffee.
Sold by Amazon
Greater Goods Digital Coffee Scales
For the coffee enthusiast who prefers pour-over coffee with precise flavors, a coffee scale is an excellent gift. This digital model has a vivid screen and produces accurate readings. It's also a good choice for anyone who makes coffee with a French press.
Sold by Amazon
Nespresso Aeroccino 4 Milk Frother
Cappuccino, latte, and iced coffee — these beverages and more are just better with frothed milk. This automatic frother turns milk into a silky froth in about 60 seconds, making it the perfect gift for anyone who loves specialty coffee drinks. They'll also appreciate its quiet operation and easy-to-clean components.
Sold by Sur La Table
Frieling 18/10 Stainless Steel Coffee Scoop/Stirrer for French Press
Because it's a scoop and stirrer in one, this handy tool will be used time and again by the avid coffee drinker on your gift list. In addition, the long handle and flat end make it a good choice for French press users.
Sold by Amazon
Best coffee accessories of convenience
Every coffee drinker would agree that a hot cup often cools to room temperature too quickly for their liking. A mug warmer is a solution that will keep brews warm. Its attractive design, auto shut-off, and bright digital display make this model a gift-worthy option.
Sold by Amazon
Keurig My K-Cup Reusable K-Cup Pod Coffee Filter
If you are shopping for someone who loves their Keurig machine, a reusable K-Cup filter is a thoughtful gift. This is the official model by the brand that can be reused time and again and can be filled with any coffee grounds for customized beverages.
Sold by Amazon
Spectrum Paxton 8-Hook Mug Tree Coffee Station
This little coffee station has features any coffee drinker can appreciate. Made of durable metal, it has eight hooks for coffee mugs and a dual-compartment basket for stashing packets of sugar, sweetener, creamer, and more. The stylish design looks great on a table or countertop. It makes a nice gift to pair with a set of coffee mugs.
Sold by Home Depot and Amazon
Martha Stewart Collection Coffee Keeper With Scoop
Your beloved coffee lover will be able to keep their coffee accessible and fresh with this bin that's designed to store coffee. It can hold up to 2.5 pounds and is suitable for either ground coffee or fresh coffee beans. It comes with a scoop that snaps onto the holder in the lid so it's always available when it's time to make coffee.
Sold by Macy's
By adding this cup holder to a standard cup holder in a vehicle, it converts it into a holder for a traditional coffee cup with a handle. Made by a top brand in car accessories, it's durable and accommodates cups with a 14-ounce capacity.
Sold by Amazon
Other top deals in this space
Contributing authors: Jennifer Manfrin, Katy Palmer, and Lizzy Briskin
Want to shop the best products at the best prices? Check out Daily Deals from BestReviews.
 
Sign up here to receive the BestReviews weekly newsletter for useful advice on new products and noteworthy deals.
BestReviews spends thousands of hours researching, analyzing, and testing products to recommend the best picks for most consumers.