Best books to gift 2023
June 19, 2023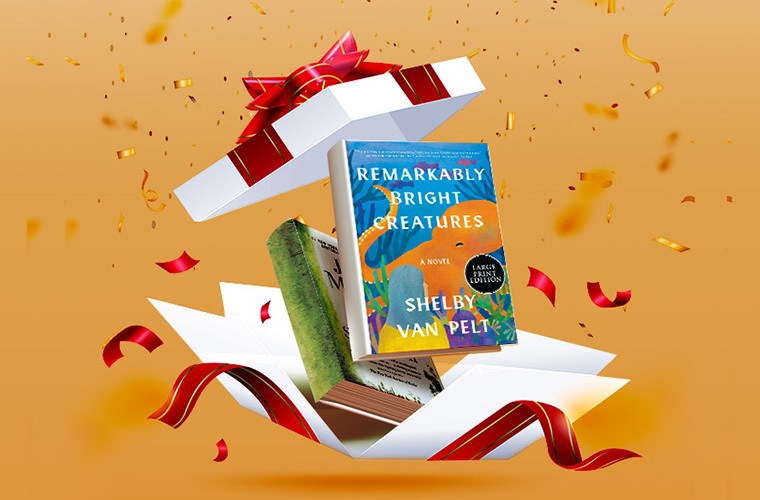 The right book can stay with a person for a lifetime, which is why they make such great gifts. But picking the perfect one from a sea of options can seem daunting.
To make your task easier, we asked BestReviews book expert Ciera Pasturel to give us the scoop on her favorites. As a collection development librarian, she's responsible for purchasing many of the books within a large county library system, so she has her finger on the pulse of new releases while also knowing plenty about older titles.
The following are her selections, which cover a diverse range of topics in both fiction and nonfiction. If you're looking for a great book for a friend or loved one, you're sure to find something to delight them on this list.
A book about women in science
"Lessons in Chemistry" by Bonnie Garmus
A buzzing debut, "Lessons in Chemistry" tackles sexism in the 1960s with a remarkable female protagonist who defies all odds to become a chemist in a man's world. I loved this book through and through. It is scheduled to air as a television show in 2023 featuring Brie Larson.
Sold by Amazon
A story about friendship and video games
"Tomorrow and Tomorrow and Tomorrow" by Gabrielle Zevin
"Tomorrow and Tomorrow and Tomorrow" is a dazzling book that exceeds all expectations. With a story spanning multiple generations, this novel tells the story of deep friendship, love and grief. While primarily revolving around video games, you don't need to be a gamer to enjoy this one.
Sold by Amazon
A riveting murder mystery
"Mad Honey" by Jodi Picoult and Jennifer Finney Boylan
Written as a collaboration between two bestselling authors, this novel takes readers on a suspenseful journey. I am a big fan of Jodi Picoult and Jennifer Finney Boylan, and "Mad Honey" is no exception. I suggest going into this one without reading the synopsis to allow for utter surprise.
Sold by Amazon
A new way to build healthy habits
"Atomic Habits" by James Clear
If you know someone who has tried and failed to break a bad habit, "Atomic Habits" is a stellar self-help book to gift this year. James Clear is an endless source of wisdom for learning how to build healthy habits that last. Clear also has a weekly free email newsletter full of tips and information that is worth subscribing to.
Sold by Amazon
A glamorous beach read
"The Seven Husbands of Evelyn Hugo" by Taylor Jenkins Reid
This is my favorite book by Taylor Jenkins Reid. Readers will learn about the fictional life of celebrity and Hollywood movie icon Evelyn Hugo told through Monique, Hugo's assistant. Full of glitz and glamor, it makes an excellent beach read. This is a dazzling novel that is escapism at its finest.
Sold by Amazon
An empowering call for justice for the most vulnerable
"Just Mercy: A Story of Justice and Redemption" by Bryan Stevenson
This is one of the most important nonfiction books to read today. "Just Mercy" demonstrates Bryan Stevenson's commitment to defending the wrongly condemned in the United State's criminal justice system. It was also released in 2019 as a motion picture.
Sold by Amazon
A 1960s coming-of-age story
"Daisy Jones & The Six" by Taylor Jenkins Reid
Bursting with a palpable energy, "Daisy Jones & The Six" is another stellar novel by Taylor Jenkins Reid (it's also now a miniseries on Amazon Prime Video). Written in an interview format, it reads quickly and details the life of a young rock 'n' roll star looking to make it big in the 1960s.
Sold by Amazon
A quirky take on time travel
"Before the Coffee Gets Cold" by Toshikazu Kawaguchi
A TikTok sensation, "Before the Coffee Gets Cold" is a whimsical novel about time travel. It's set in a Tokyo cafe, where it's said that a little something extra is sold with the coffee. But anyone wishing to travel through time must follow certain rules. This translated work is one that readers are talking about globally for its magic and characters alike.
Sold by Amazon
A riveting locked-room mystery
"The Maid" by Nita Prose
"The Maid" is an excellent locked-room mystery with a heartwarming hero named Molly Gray. Charming and endearing, it's sure to captivate readers, who will fall in love with Molly and her world. There is also the element of surprise that will keep readers turning until the very last page. You think you know what will happen, but the ending will surprise you.
Sold by Amazon
An expose of social forces in America
"Under the Skin: The Hidden Toll of Racism on American Lives and on the Health of Our Nation" by Linda Villarosa
In "Under the Skin," Linda Villarosa, a contributor to The 1619 Project, details how the American health care system favors white people. Villarosa also examines the impact of environmental racism. Her book is anchored by real human stories that illustrate the link between racial discrimination and the health of Black Americans
Sold by Amazon
A compelling account of growing up as an Asian-American
"Crying in H Mart" by Michelle Zauner
"Crying in H Mart" is a devastating story of grief and love. When 25-year-old Michelle Zauner learns of her mother's terminal cancer diagnosis, Zauner makes an effort to learn more about her mother through the language of cooking. Blending memories and stories, "Crying in H Mart" is one not to miss.
Sold by Amazon
A story about opposites who attract on vacation
"People We Meet on Vacation" by Emily Henry
This is my favorite Emily Henry novel. The main characters are best friends who couldn't be more different, but can they make things right after a falling out? This is the ultimate friends-to-lovers beach read that keeps readers engaged until the end. "People We Meet on Vacation" has the perfect banter, tension and steamy romance you wish could last forever
Sold by Amazon
A funny and light-hearted pick-me-up
"Anxious People" by Fredrik Backman
"Anxious People" is another win by Fredrik Backman. From the author of "A Man Called Ove" and "Beartown," it concerns a bank robber who takes a group of strangers at an apartment open house hostage. It's equally funny and heartwarming while delving deep into the human condition.
Sold by Amazon
A mind-bending psychological thriller
"The Silent Patient" by Alex Michaelides
"The Silent Patient" is my favorite thriller of all time. I truly gasped as I reached the last page. Filled with a multitude of twists and turns, it has an ending that readers won't see coming. Not only is this a hugely suspenseful read, but it also has a tight plot and characters you won't forget.
Sold by Amazon
A book about privilege, money and power
"Trust" by Hernan Diaz
Told in four parts, "Trust" is a literary puzzle that forces the reader to search for the truth. Set in New York in the 1920s, it depicts tales of privilege, money and power from four unique perspectives. Longlisted for the 2022 Booker Prize, "Trust" is a tale you do not want to miss.
Sold by Amazon
A dark New England college drama
"The Secret History" by Donna Tartt
While not a new release, Pulitzer Prize winner Donna Tartt's novel is one that spans the ages. Perfect for fans of stories set in the world of academia, "The Secret History" is an international bestseller that is a brilliant piece of literature. At a New Hampshire liberal arts college, a small group of eccentric classics students find themselves on a dangerous trajectory with an intriguing plot that gradually unfolds.
Sold by Amazon
An approachable autobiography for younger readers
"Becoming: Adapted for Young Readers" by Michelle Obama
This is an excellent adaptation of Michelle Obama's "Becoming" for young readers, as it introduces concepts and events in simpler terms that are easy to understand. The former first lady inspires young readers to ask themselves what they want to become and the importance of continuing to evolve.
Sold by Amazon
A time-traveling saga
"Sea of Tranquility: A Novel" by Emily St. John Mandel
Author of the infamous "Station Eleven," Emily St. John Mandel recently released a new speculative fiction novel that transcends all aspects of time. Playing with metaphysical concepts, it's a remarkably constructed read. It is Mandel's most ambitious novel yet, and fans of "Station Eleven" will surely love this one, too.
Sold by Amazon
A shocking history behind opioid use in America
"Empire of Pain: The Secret History of the Sackler Dynasty" by Patrick Radden Keefe
This is the bestselling historical account of the rise and fall of the Sackler family, who helped create the opioid crisis with a dangerous marketing strategy for OxyContin. "Empire of Pain" also details the multiple investigations of the Sackler family and the tactics they have used to evade accountability. This book is also great in its audio format
Sold by Amazon
An insightful backstory behind a beloved A-lister
"Greenlights" by Matthew McConaughey
"Greenlights" is perfect for fans of celebrity memoirs. In his book, Academy Award-winning actor Matthew McConaughey tells the story of his life so far. It's wise, entertaining and, above all, a love letter to life. It's a surprisingly enthralling read, even for those who are not fans of his work.
Sold by Amazon
A bestselling indie novel
"The House in the Cerulean Sea" by TJ Klune
This is truly one of the best books I have ever read. "The House in the Cerulean Sea" is an inclusive fantasy story of love, found family and endurance. It feels like a warm hug and is bound to strike a chord with every reader. While TJ Klune's other books are also fantastic, "The House in the Cerulean Sea" is a masterpiece.
Sold by Amazon
A veggie-packed recipe book
"Plenty More: Vibrant Vegetable Cooking from London's Ottolenghi" by Yotam Ottolenghi
"Plenty More" is an excellent addition to Yotam Ottolenghi's previous cookbook, "Plenty." With over 150 vegetarian recipes, this is one that every foodie will enjoy. From vibrant salads to plentiful mains to dazzling desserts, "Plenty More" offers seasonality and bold flavors with an original approach.
Sold by Amazon
A deep and complex memoir of healing
"What My Bones Know: A Memoir of Healing From Complex Trauma" by Stephanie Foo
For readers who enjoyed "The Body Keeps the Score," "What My Bones Know" is a rich and valuable memoir detailing Stephanie Foo's experience with PTSD and generational trauma. "What My Bones Know" is an enlightening memoir that illustrates a woman's ability to reclaim control over trauma.
Sold by Amazon
A story that won't have you underestimating animals again
"Remarkably Bright Creatures" by Shelby Van Pelt
For fans of Fredrik Backman's "A Man Called Ove," "Remarkably Bright Creatures" alternates between the story of fictional character Tova Sullivan, who wants to solve the mystery of her missing son, and an octopus living at the Sowell Bay Aquarium. There, the two form a friendship of sorts that is memorable and heartwarming.
Sold by Amazon
A young adult story of love, change, and growth
"All My Rage" by Sabaa Tahir
Winner of the National Book Award for Young People's Literature, "All My Rage" is Sabaa Tahir's first contemporary fiction novel that somewhat mirrors the life Tahir lived as a child. Excellent for both young and experienced readers, "All My Rage" tells the story of grief, race and friendship with power.
Sold by Amazon
A look behind the scenes of true crime
"Unmasked: My Life Solving America's Cold Cases" by Paul Holes
From the detective who found the Golden State Killer, Paul Holes's memoir depicts his life solving crimes. Holes offers readers insight into what he sacrificed to tackle cold cases and crimes. Interweaving forensic expertise with personal anecdotes, Holes brings readers into the real world of detective work.
Sold by Amazon
A thought-provoking novel about real-world issues
"Babel: Or the Necessity of Violence: An Arcane History of the Oxford Translators' Revolution" by R.F. Kuang
"Babel" is one of the most talked about books today. Set in an academic setting, "Babel" interweaves colonial resistance, revolution, magic and power to create a profound novel about the weight of knowledge. It's a novel that presents a gripping alternative history but also brings up real issues in the world today.
Sold by Amazon
An uplifting story about women uniting across generations
"She's Up to No Good" by Sara Goodman Confino
Featuring two female protagonists, "She's Up to No Good" is a story of family, love and secrets. For readers who enjoy an emotional saga, this captivating book is an excellent pick. It follows Jenna, who's surprised when her husband wants a divorce after four years of marriage, and her grandmother Evelyn as they embark on a road trip together.
Sold by Amazon
A legal thriller
"The Boys from Biloxi" by John Grisham
You can't go wrong with a thriller by John Grisham. His newest release, "The Boys from Biloxi," is a courtroom thriller about two men with a past. This one will surely keep a reader's attention with its riveting plotline. Fans of thrillers, mysteries and crime dramas will be engaged right through to the last page.
Sold by Amazon
An adorable children's book to inspire bravery
"An Elephant & Piggie Biggie!" by Mo Willems
Sweet and laugh-out-loud funny, the Elephant and Piggie series by writer-illustrator Mo Willems are some of the best beginning-to-read books I have ever read. This first book in the series is excellent for both children and adults alike and emphasizes the importance of friendship.
Sold by Amazon
A vibrant Mexican cookbook
"Mi Cocina: Recipes and Rapture from My Kitchen in Mexico: A Cookbook" by Rick Martinez
Chef Rick Martinez shares his culinary journey traveling through Mexico, which includes visiting over 23 states and 156 cities and traveling 20,000 miles. One of the elements of the cookbook I love most is the vibrant photographs that depict the refined flavors of Martinez's recipes. You'll want to rush to your kitchen to recreate them.
Sold by Amazon
A graduate-level class on Russian literature
"A Swim in a Pond in the Rain: In Which Four Russians Give a Master Class on Writing, Reading, and Life" by George Saunders
George Saunders, a Booker Prize-winning author, provides insight into how excellent writing works. "A Swim in a Pond in the Rain" informs readers about how the brain operates while reading and the authentic connections established as a result of reading. This is one that I keep seeing everywhere.
Sold by Amazon
A touching father-daughter story with a sci-fi twist
"This Time Tomorrow" by Emma Straub
I like to describe this New York City-set book as the literary equivalent of the Jennifer Garner movie "13 Going on 30" — but backward. I love the meaningful relationship the main character shares with her father and the aspect of time travel. This is an excellent book that will delight most readers.
Sold by Amazon
A sinister domestic thriller
"The Housemaid" by Freida McFadden
"The Housemaid" is a thriller that I have seen explode in popularity among readers. Written from the perspective of a housemaid working for a demanding and erratic family, this book is full of twists and surprises. For those looking for a thrill, "The Housemaid" is an incredible page-turner.
Sold by Amazon
An insightful read on thoughtful perspectives
"Karma: A Yogi's Guide to Crafting Your Own Destiny" by Sadhguru
Spiritual master Sadhguru provides a new perspective on the concept of karma and its means to an action. Sadhguru helps readers better understand karma and how to live happily in a taxing world. It's a great choice for anyone interested in Buddhism, but it requires no previous knowledge of it and may also appeal to people who want to make changes and take more control of their lives.
Sold by Amazon
A lyrical picture book by a presidential inaugural poet
"Change Sings: A Children's Anthem" by Amanda Gorman
This is a beautiful, lyrical picture book appropriate for young readers. Written by presidential inaugural poet and activist Amanda Gorman, caregivers will love sharing this story with their children. It follows a cast of characters who learn they have the power to make changes, both big and small, in their communities and the world at large.
Sold by Amazon
A fascinating exploration of the science of humanity
"The Song of the Cell: An Exploration of Medicine and the New Human" by Siddhartha Mukherjee
Siddhartha Mukherjee's new book is flying off the shelves. "The Song of the Cell: An Exploration of Medicine and the New Human" explores medicine and scientists' ability to manipulate cells. Mukherjee's book informs readers how scientists discovered cells and are now, hundreds of years later, using that knowledge to create new human beings.
Sold by Amazon
A unique Thai-inspired fusion cookbook
"The Pepper Thai Cookbook: Family Recipes from Everyone's Favorite Thai Mom" by Pepper Teigen
This cookbook, written by Chrissy Teigen's mother, Pepper Teigen, is composed of more than 80 delicious Thai recipes, including fried chicken larb, pad thai Brussels sprouts and khao tod crispy rice salad. Teigen also includes stories about her childhood in Thailand and how she found ingredients for her dishes when she moved to the United States.
Sold by Amazon
A historical fiction novel set in World War II
"Surviving the Forest" by Adiva Geffen
Written by Israeli author Adiva Geffen, "Surviving the Forest" is a World War II historical fiction novel about a family from Poland who flees to the forest to go into hiding. Although it's fictional, it's based on a true story and is a testament to love and resilience in the face of horror.
Sold by Amazon
A YA fantasy adventure
"Legendborn" by Tracy Deonn
The first part of a two-book series, "Legendborn" is one of the best young adult fantasy novels I have ever read. Based on the King Arthur legend, the story, set on the University of North Carolina Chapel Hill's campus, centers around a Black teenager seeking information regarding her mother's death.
Sold by Amazon
A rare look into the royal family
"Spare" by Prince Harry
Flying off the shelves, Prince Harry's "Spare" is one not to miss. Detailing his life since Princess Diana's passing, Harry chronicles his own truth and dismantles the press's perceptions of his journey. While excellent in print form, "Spare" is also a powerful read in its audio format, narrated by Prince Harry himself.
Sold by Amazon
A peek into the lives of undocumented immigrants
"The Undocumented Americans" by Karla Cornejo Villavicencio
A National Book Award finalist, "The Undocumented Americans" is written by one of the first undocumented immigrants to graduate from Havard. In her book, Karla Cornejo Villavicencio explores the lives of the undocumented, interwoven with anecdotes about her life. These powerful personal narratives paint a portrait of a nation from a perspective not often considered.
Sold by Amazon
A motley crew gets into post-apocalyptic trouble
"The Last Kids on Earth" by Max Brallier
I definitely recommend starting with the first installment in the "The Last Kids on Earth" series for readers who have not ventured into this series before. This is an incredibly fun graphic novel series with an apocalyptic setting. So far, there are eight books in the series and a Netflix show based on the books.
Sold by Amazon
A contemporary graphic novel for pre-teens
"Swim Team" by Johnnie Christmas
Bree is excited for her first day at her new middle school, only to discover that she is put in the dreaded swimming elective. But luckily for Bree, an elderly woman in her apartment complex is eager to help improve Bree's skills.
Sold by Amazon
A lavish thriller
"Age of Vice" by Deepti Kapoor
Set in contemporary India, "Age of Vice" (a "Good Morning America" Book Club pick) is an action-packed thriller that concerns a poor boy who takes a job working for a member of a wealthy and dangerous family.
Sold by Amazon
A cozy comfort read
"Legends & Lattes" by Travis Baldree
"Legends & Lattes" is the perfect comfort read. It follows a sword-fighting adventurer who longs for a quiet life as a coffee shop owner. It's perfect for any adult reader.
Sold by Amazon

Want to shop the best products at the best prices? Check out Daily Deals from BestReviews.
 
Sign up here to receive the BestReviews weekly newsletter for useful advice on new products and noteworthy deals.
 
Ciera Pasturel writes for BestReviews. BestReviews has helped millions of consumers simplify their purchasing decisions, saving them time and money.
 
BestReviews spends thousands of hours researching, analyzing, and testing products to recommend the best picks for most consumers.