Best Cyber Monday washing machine deals 2023
November 27, 2023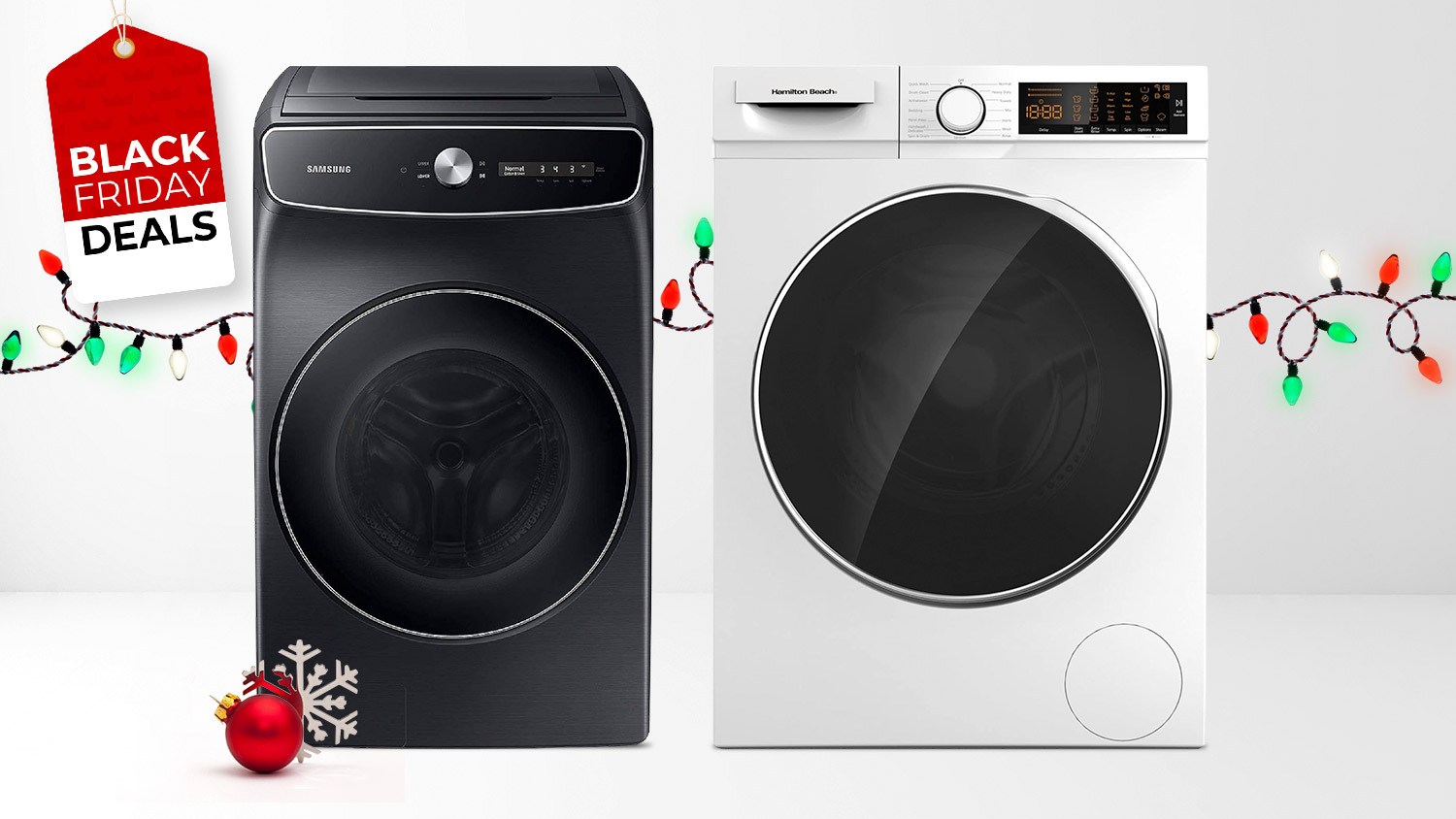 Save on washing machines from Samsung, LG and GE
If you're in need of a new washing machine, Black Friday is a great time to shop. We at BestReviews are expert shoppers and deal hunters, and we rounded up some of the hottest Black Friday deals to help you score a quality washing machine at a great price.
You'll find compact and affordable options, such as this Krib Bling Portable Washing Machine that's perfect for dorms, small apartments and RVs; mid-range picks like the Samsung 4.5-Cubic-Foot High-Efficiency Top-Load Washer; and high-end options with smart technology and advanced features, such as this Samsung 6-Cubic-Foot High-Efficiency Smart Front-Load Washer.
Best top-load washing machine deals
Top-load washers work by spinning your clothes during a wash cycle. They generally cost less upfront than front-load washers, but they also use more water; around 13 gallons per load for high-efficiency models, and up to 19 gallons for standard units. Top-load washers are easier to load due to their waist-high opening, and their motor is more easily accessible for DIY repairs. Unlike front-load washers, which lock while in use, you can easily add more items while the machine is running.
25% OFF
If you're looking for a top-load washer that's both compact and budget-friendly, this 4.1-cubic-foot Insignia model is a solid option. The high-efficiency washer has 12 wash/rinse cycles, including a quick-wash setting, five soil levels, two spin speeds and five temperature settings. It's a basic model, but it's reliable and will get the job done.
35% OFF
This affordable high-efficiency Samsung top-load washer offers five temperature settings, four spin speeds, three soil levels and eight wash/rinse cycles. The 4.5-cubic-foot washer also has vibration-reduction technology and live troubleshooting with the Samsung Washer/Dryer app, which connects to your smartphone. You can adjust the water level to minimize waste as well. One thing to note about this washer is that it has a low spin speed of 700 rpm; this means that clothes will come out of the washer wetter than with other machines and will take longer to dry.
23% OFF
One of the highlights of this Energy Star-certified top-load washer is its built-in water faucet that can replace a laundry room sink; you can use it to pretreat soiled or heavily stained clothing. There's a deep-fill option to maximize water levels and ensure your clothes are thoroughly soaked. It has vibration-reduction technology, and you can troubleshoot issues with Samsung's smartphone app. This 5-cubic-foot washer includes 10 wash/rinse cycles, including self clean and quick-wash settings, five soil levels, five temperature levels and five spin speeds. Many customers noted how quiet the unit is compared to other washers they've owned.
24% OFF
If you want a large-capacity top-load unit with smart technology, this is the washer to get. It has 16 wash cycles, including quick wash, as well as five temperature levels, five spin speeds and three soil levels. You can start and stop the machine, monitor energy output and diagnose issues with LG's compatible app. Anti-vibration technology keeps this washer from operating too loud. Keep in mind this unit has a relatively low spin speed of 900 rpm.
Other top load washing machine deals worth checking out
Best front-load washing machine deals
Front-load washing machines clean clothes by tumbling them, as opposed to spinning them. They're pricier than top-load units initially, but you end up saving water in the long run; high-efficiency models spend around 7 gallons per load, with standard options using around 17 gallons per load. Since they lock during use, adding items to the washer while it's running can be tricky, depending on where it is in the cycle. Unlike top-load washers, front-load units also have see-through doors that make the wash cycle visible. In most cases, front load washers must be repaired by a technician, and these models tend to have a slightly shorter lifespan compared to top-load units.
26% OFF
This Energy Star-certified unit holds 4.5 cubic feet of clothing and is conveniently stackable. It features 10 wash cycles, including self-clean and quick-wash functions, five temperature levels, six spin speeds and five soil levels. Vibration-reduction technology minimizes noise, and you can diagnose issues in real-time using Samsung's app. It has a high spin speed of 1,200 rpm, so clothes will dry faster coming out of the wash.
26% OFF
This stackable Energy Star-certified front-load washer boasts odor-blocking, antimicrobial and sanitizing technology, so your clothes come out as fresh as can be — and with Quiet Control technology, it won't produce an excessive amount of noise. You can start, stop and monitor your laundry through Amazon Alexa, Google Assistant or Sonos voice commands, in addition to receiving real-time notifications on your smartphone. The 4.8-cubic-foot washer has 10 wash cycles, including a speed wash cycle that cleans lightly soiled items in just 20 minutes, in addition to five spin speeds and three water level settings. It has a high spin speed of 1,300 rpm, with a stackable design and reversible door, so you can install it on whichever side you prefer.
34% OFF
This Energy Star-certified front load washer has a 5.2-cubic-foot capacity, with smart technology that lets you start or stop the unit remotely, monitor energy output and receive alerts through the compatible Samsung app. Featuring noise-reduction technology and a stackable design, this machine contains 13 wash/rinse cycles, including a self-cleaning function and quick wash that cleans loads of laundry in just 30 minutes, as well as five temperature settings, five spin speeds and five soil level settings.
28% OFF
This high-tech front load washer is one of the best of its size, with a spacious 6-cubic-foot capacity — the interior is split into 5- and 1-cubic-foot compartments, so you can wash two sets of clothing separately. Another standout feature of this machine is its AI-powered smart dial, which learns and recommends your preferred wash cycles. You can remotely start or stop the washer, receive alerts and schedule cycles using the Samsung smartphone app, Google Assistant, Amazon Alexa or Bixby. This Energy Star-certified unit has 24 wash/rinse cycles, including a self-cleaning function and quick-wash setting that cleans your clothes in just 28 minutes. There's also five temperature settings, seven spin speeds and two soil levels. Vibration-reduction technology cuts down on noise, and the high spin speed of 1,300 rpm will have your clothes drying faster.
Other front-load washing machine deals worth checking out
Best portable washing machine deals
Portable washing machines are the most cost-effective options available. They're lightweight and easy to move around, particularly those that feature side handles and wheels. They tend to be more eco-friendly, using less water and energy than traditional front-load and top-load washers. However, they also have a significantly smaller capacity. Most portable washing machines are top-load units, but there are limited front-load options, too.
45% OFF
This top-load washing machine holds up to 17.7 pounds of laundry with a fully automatic design; the included pipe connects to a faucet or adapter, saving you the trouble of manually filling it. Weighing only 43 pounds, it has 10 wash programs, including a quick wash setting that cleans clothes in 20 minutes, and eight water level settings.
70% OFF
This top-load portable washer has glowing reviews and is offered at a huge discount. It's got a fully automatic design and a 17.6-pound capacity. There are 10 wash programs, eight water level settings and timers for both washing and spinning. It weighs just under 42 pounds.
73% OFF
This is another fully automatic top-load washer offered at a deep discount, with a 17.8-pound capacity and a 2-in-1 washing and drying design. There are three temperature settings, three water levels and eight wash programs. The washer weighs 54 pounds, with side handles and built-in wheels that make it easy to move.
38% OFF
This top-load washing machine features two tubs; one for washing clothes, and another for spin drying. It can wash up to 12 pounds and spin dry up to 8 pounds of laundry. It's a semi-automatic unit, meaning you have to fill the tub up manually. The wash cycle can be programmed up to 15 minutes and the spin cycle up to five minutes per load. It's the lightest washer on our list, weighing only 20 pounds. The main downside is that, if your clothes are heavily soiled, you'll have to run them through the wash and spin dry cycles multiple times.
Other front-load washing machine deals worth checking out
Who has the best Black Friday washing machine deals?
Best Buy offers some of the deepest discounts and the most variety when it comes to washing machine deals, including both portable and full-size models. Walmart has some decent deals, as well, though they're mostly limited to portable washers. You can find discounts on portable and full-size models on Amazon, also. However, the full-size models don't have many reviews or ratings to consult compared to the washers featured at BestBuy and Walmart.
What to consider when buying a washing machine
Why trust our recommendations?
We spent hours cross-referencing products and deals on Amazon, Best Buy and Walmart to determine where the most savings are, only featuring highly rated products with extensive reviews. When selecting products, we tried to accommodate different budgets by recommending options at a variety of price points. Since household size varies, we included washers with a variety of capacities, so you can find one that best suits your needs. Since energy savings are a priority for many shoppers, we included multiple Energy Star-certified options. This article is also updated regularly to reflect the most up-to-date deals across retailers.
Want to shop the best products at the best prices? Check out Daily Deals from BestReviews.
Sign up here to receive the BestReviews weekly newsletter for useful advice on new products and noteworthy deals.
Amy Evans writes for BestReviews. BestReviews has helped millions of consumers simplify their purchasing decisions, saving them time and money.