Prime Day is over, but these 150+ deals are still live
October 12, 2023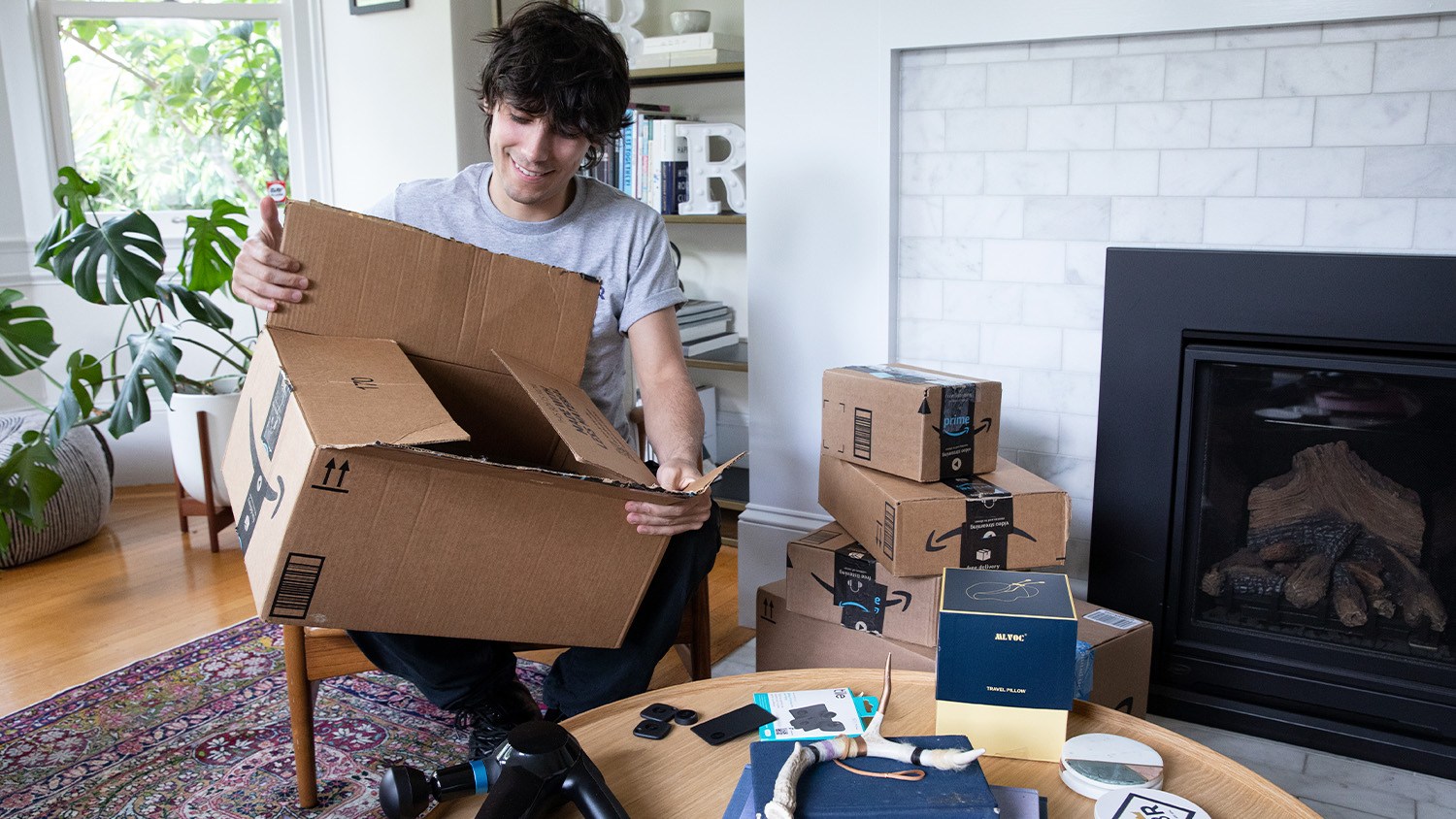 Save big on these live deals
The Prime Big Deal Days fall sale event is over, but many deals are still live. We've scoured Amazon and are amazed by some of the deals we've found on electronics, kitchen appliances, beauty products and more.
Last updated on Oct. 12, 2023, at 7 a.m. PT.
Everything we know about the post-Prime Big Deal Days sale
You need to be an Amazon Prime member to get the deals. If you haven't been an Amazon Prime member for the past 12 months, you can sign up for a free 30-day trial on Amazon's Prime page.
Products that are on sale include everything from recognizable brand-name merchandise to independent products you may never have heard of before the sale. Besides deep discounts, most products also have fast and free delivery.
Additionally, some companies align their release schedule to coincide with this event, so it's often possible to get the latest versions of products during the fall Prime sale. However, last year's products are usually available at a deep discount if you don't need the newest model.
It's important to remember that Prime sales aren't just for physical products. You can get discounts on music, videos, games and more during these 48 hours. If you're interested in clothing, don't forget to participate in Amazon's "try before you buy" program, where you get to try up to six items of clothing for up to seven days before paying.
Big electronics deals
Apple AirPods Pro (2nd Gen) Wireless Earbuds 20% OFF
The Apple AirPods Pro 2nd Generation earbuds are a game-changer in wireless audio, delivering exceptional sound quality, quick wireless pairing, and noise-cancellation. Even better? They're on sale for Prime Big Deal Days, making them an unbeatable value for anyone seeking top-notch comfortable earbuds.
Jabra Elite 7 Active True Wireless Earbuds 40% OFF
The Jabra Elite 7 Active wireless earbuds offer impressive sound quality, long battery life, better-than-average comfort, and durability for an active lifestyle. Don't miss the chance to snag them at an incredible 56% discount during Prime Big Deal Days.
Sony HTX8500 2.1ch Dolby Atmos/DTS:X Soundbar 17% OFF
The Sony HTX8500 soundbar delivers a cinematic audio experience with powerful sound and immersive technology, transforming your home entertainment set. Right now in the Amazon Prime Big Deal Days sale, you can elevate your audio game at an unbeatable 50% discount so you can experience movies and TV shows like never before.
Sony 50-Inch 4K Ultra HD TV X85K Series 18% OFF
The Sony 50-inch 4K Ultra HD TV X85K Series is a pinnacle of home entertainment, combining breathtaking picture quality, impressive integrated speakers and convenient smart features. Catch this 18% discount now, a rare chance to own a Sony TV of this caliber for under $700.
Amazon eero 6 mesh Wi-Fi system 3-Pack 20% OFF
This three-piece eero mesh router Wi-Fi system is 20% off and covers a robust 4,500 sq ft with Wi-Fi 6 speeds up to 500 Mbps. It helps eliminate dead spots and buffering, supports 75+ devices and is easy to set up via the free Eero app. It's also a smart home hub for Alexa devices and receives automatic updates for ongoing improvements and new features.
Amazon Fire TV 40-inch 2-Series HD Smart TV 28% OFF
Amazon's 40-inch 2-Series Smart TV is on sale now at 28% off, bringing it to under $200. Experience stunning HD 1080p resolution with HDR 10, HLG and Dolby Digital Audio. Access a world of entertainment, including free content from apps like YouTube, Freevee, Tubi, and Pluto TV. This smart TV has a laundry list of features like voice control and Bluetooth headphone support. Plus, you receive a 6-month subscription to MGM+ with your purchase so you can binge-watch exclusive shows like "Billy the Kid."
Bose Headphones 700, Noise-canceling Bluetooth Over-Ear Wireless Headphones 26% OFF
The Bose Headphones 700 are a traveler's dream with their exceptional active noise-canceling technology, providing a peaceful in-flight experience. What's more, their seamless multi-device pairing capability ensures you can effortlessly switch between devices. Now discounted 26% thanks to Amazon Prime Big Deal Days, they offer both convenience and value for the discerning audiophile.
Samsung Pro Plus microSD Memory Card and Reader 39% OFF
The Samsung Pro Plus microSD Memory Card and Reader delivers lightning-fast transfer speeds, ensuring you can effortlessly manage, backup and transfer your data between devices. Plus, with a generous 42% discount now on Amazon Prime Big Deal Days, it's a can't-miss opportunity for anyone needing a reliable and speedy storage solution on the cheap.
NEBULA by Anker Capsule II Smart Portable Projector 6% OFF + $70 COUPON
The Nebula Anker Capsule II is a compact soda-can-shaped smart projector that delivers impressive video quality and an operating system for easily consuming content from your favorite streaming apps. Our tester said it delivers loud volume, plenty of battery life for watching a 2.5-hour movie and promises a unique cinematic experience practically anywhere. If you're ready to upgrade your entertainment setup, don't miss out on the exclusive 6% discount now available via Amazon Prime Big Deal Days.
TP-Link AX1800 Wi-Fi 6 Router (Archer AX21) 25% OFF
The TP-Link AX1800 is a versatile home router, ideal for seamless streaming, lag-free gaming, and accommodating multiple devices in today's connected homes. With its discount live via Amazon Prime Big Deal Days, it's the perfect time to enhance your internet experience and enjoy lightning-fast connectivity.
Powerbeats Pro Wireless Earphones 40% OFF
These wireless earphones are built for those with an active lifestyle. The on-ear hook design prevents them from falling out even during the most rigorous workouts, and the water-resistant build keeps them safe from sweat and moisture. Each earbud has volume and music playback controls, and a 5-minute charge provides 1.5 hours of listening time.
Amazon Fire TV 50-Inch 4-Series 4K UHD Smart TV 36% OFF
This 4K TV delivers a high-quality viewing experience thanks to support for various image-enhancing technologies, including 4K Ultra HD, HDR 10, HLG and Dolby Digital Plus. It features an expansive smart TV interface, four HDMI ports and a streamlined remote with Alexa that lets you search for titles across all apps.
More electronic deals
Big countertop kitchen appliance and cookware deals
 
Vitamix E310 Explorian Blender 14% OFF
This blender has a 48-ounce container for making small family meals and large individual portions of various foods. It has adjustable speed controls so you can get the preferred consistency, and you can make sauces, soups, juices, smoothies, dips, spreads and more.
Zulay Powerful Milk Frother 25% OFF
This milk frother works up to five times faster than older models and is excellent for adding a creamy touch to your favorite beverages, including latte, cappuccino, macchiato or hot chocolate. Plus, it's great for mixing powders and works well with all types of milk, including half and half, creamer, soy and almond.
Philips 3200 Series Fully Automatic Espresso Machine 25% OFF
Jump-start your day with a homemade espresso using this state-of-the-art espresso machine. You can also brew five different aromatic coffees, including cold brews, and it mixes milk and air quickly for a smooth layer of milky foam on top of each espresso. Plus, it has removable, dishwasher-safe parts for easy cleanup. Snag it now at this steep discount.
Ninja Hot and Cold Brewed System 26% OFF
The Ninja Hot and Cold Brewed System is a versatile coffee maker that allows you to brew multiple sizes, from a pod-free single cup or travel mug to a full carafe, making it suitable for any coffee drinker. Not a fan of black coffee? Don't fret. It excels at brewing tea and frothing milk for cappuccino and latte lovers. Right now on Amazon Prime Big Deal Days, you can enjoy all these features at an enticing 26% discount, making it an excellent addition to your kitchen.
De'Longhi All-in-One Combination Coffee Maker and Espresso Machine 17% OFF
Experience the best of both worlds with the De'Longhi combination brewer, offering a cappuccino system and a drip-coffee brewer in one compact design. With its advanced steam wand and innovative features like a digital touchscreen control and "Bold" brew setting, this versatile brewer is a must-have for coffee lovers, and it's even more enticing with its 17% discount thanks to Amazon Prime Big Deal Days. Don't miss the chance to add it to your cart!
GoWise USA Deluxe Electric Air Fryer Oven 33% OFF
An air fryer is perfect for those who want to enjoy their favorite fried foods with significantly less oil and cook them in no time. This air fryer offers 15 preset cooking modes and comes with several accessories, including a rotisserie tong, rod, oven rack, drip pan, skewer rotisserie and rotisserie cage.
More countertop kitchen appliance deals
Big beauty deals
Dyson Supersonic Hair Dryer 25% OFF
Our team found this hair dryer to be worth every penny during trials, and at a Prime Day discount, it's a no-brainer. Not only does it dry multiple hair types quickly, but it also comes with a wide variety of accessories to help style hair in new and unique ways. It also utilizes an intelligent heat control feature to prevent hair from getting damaged during drying.
Crest 3D White Toothpaste 20% OFF
If you are looking to brighten your teeth without using strips, then this is the perfect pick-up for Prime Day. It starts whitening teeth after a single use and most people start seeing noticeable results after just a couple of days. The minty flavor leaves your breath feeling fresh as well.
Nuvadermis Scar Cream Gel 17% OFF + 5% COUPON
Scars new and old don't stand a chance against this gel. Using a combination of retinol, allantoin and vitamin E, this formula evens out newly scarred areas within 8 weeks. It goes on easily and even hydrates and softens non-scarred skin for a glowing look. Grab this deal while it's still live.
FOREO Luna 3 Facial Cleansing Brush 20% OFF + 10% OFF COUPON
Facial skin care has never been so easy thanks to this brush that massages facial muscles to firm them while simultaneously cleaning dirt and makeup residue. Sonic pulsations combine with hygienic silicone to give your skin a healthy look even after a long day. Pick it up now on Amazon Prime Big Deal Day at this low price.
Dyson Corrale Hair Straightener 20% OFF
This cordless hair straightener has flexing plates for shaping hair and uses minimal heat. Intelligent heat control regulates temperature to ensure safety during hairstyling, and there are three heat settings you can choose from based on hair style, length and texture.
Lee Stafford Grow Strong & Long Hair Regrowth Shampoo for Women & Men 20% OFF
Keeping your hair strong and healthy can be challenging, but this shampoo works wonders to keep your hair looking rejuvenated. It contains potent proteins to protect hair against breakage, and lemon essence and green tea extract to promote growth and strength.
More beauty deals
Deals from celebrity-owned brands
Jennifer Garner's Once Upon a Farm Baby Food 20% OFF COUPON
Flavorful and healthy, Jennifer Garner's Baby Food brand is perfect for giving your child all the nutrients they need. These smoothies are completely plant-based, cold pressed, and have no sugar added, which makes for the perfect addition to their diet, and at 20% off, it is an absolute steal.
Rihanna's Fenty Beauty Stunna Lip Paint 32% OFF
This vibrant lip paint is sure to impress thanks to stunning colors that last all day long. It utilizes a paraben- and cruelty-free formula that feels close to weightless when on. It has a comfortable matte formula that is easy to put on thanks to its wand design and looks great with any skin tone.
Big toy deals
Bitzee 17% OFF
Who needs a real pet when you can just have 15 in the palm of your hand? Bitzee is a fun interactive toy that reacts to real-world inputs such as touching and shaking. The more you play, the more pets you get to interact with from bunnies to turtles and even a unicorn! Get them now at a discounted price.
Furby Purple 30% OFF
Looking for a toy that will have you saying "aww" with every interaction? The Furby is the perfect pick-up for your kids this prime day. Responds to movement and talking with over 600 different responses including dancing and singing. It even includes 15 cute accessories to customize its look in unique ways. Grab it while the deal is live!
Learning Resources Primary Science Lab Set 32% OFF
STEM concepts have never been more fun to learn thanks to this fun set that teaches the fundamentals behind scientific principles. With 22 pieces of equipment and instructions for 10 different experiments, this is a must-have for kids who want to explore the wonders of our world, and right now is the perfect time to buy it.
Spin Master Games Tell Me Without Telling Me 35% OFF
If you're looking for a fun party game that's quick to set up and easy to learn, you won't be disappointed with Tell Me Without Telling Me. All you need to do is guess the words on the cards, and the team that does it the fastest wins. It's suitable for adults only and features categories such as people, traits, things, places, and "not safe for work."
Spin Master Games Hedbanz Picture Guessing Board Game 17% OFF
This is a fast-paced game that offers fun for the whole family. It's essentially a card guessing game, and each player gets to wear a unique headband to hold their card while others try to guess. Plus, it comes with a timer and scoring badges to keep track of who's winning and losing.
More toy deals
Big Advent calendar deals
National Geographic Rock Collection Advent Calendar 20% OFF
Curiosity knows no bounds, especially when it comes to the geologic-inspired advent calendar. With 24 different gemstones and a unique final piece that you have to dig out, this is a great way to kick off every day for science-inclined kids. Grab this Prime-exclusive deal while it lasts.
LEGO Friends Advent Calendar 5% OFF
Get creative for the holidays with this fun calendar that includes 24 different holiday-inspired Lego pieces. From cute animals to fun presents and even a train set, you or your kid can create a lively scene that can be used as a fun decoration for years to come. Pick it up at this discounted price in time for the holidays.
More Advent calendar deals
Big style deals
 
Ray-Ban Clubmaster Unisex Aluminum Sunglasses 19% OFF
Ray-Ban sunglasses have never gone out of style and likely never will, thanks to the high-quality build, look and style. These unisex sunglasses have a sturdy metal frame, 51-millimeter polarized lenses and come with an exclusive kit for caring for them.
adidas Men's Essentials French Terry Cuffed 3-Stripes Pants 33% OFF
Experience the ultimate blend of style and comfort with these Adidas terry-cuffed pants, now on sale. Crafted from soft 100% cotton, they offer a flattering fit, a customizable waist with a drawcord, and front pockets for your wallet or phone.
Maxtop Cute Animal Slippers 50% OFF
These adorable animal paw slippers offer the perfect blend of comfort and cuteness! The slippers feature a premium fleece upper with a charming cat paw design, providing extreme comfort and keeping your feet cozy. With anti-slip rubber soles, they are suitable for both indoor and outdoor use, and their true-to-size unisex sizing ensures a comfortable fit for everyone. Whether you're lounging at home or stepping out, these slippers make a fantastic gift choice and will keep you light on your feet while adding a touch of whimsy to your day.
Tommy Hilfiger Men's Short Sleeve Classic Fit Polo 36% OFF
This polo shirt offers a classic look and fit and is suitable for casual wear. It's made of cotton for a comfortable feel, and has a reinforced two-button placket and an embroidered Tommy Hilfiger chest flag for a flattering look.
Citizen Men's Sport Casual Garrison Watch 33% OFF
A little wristwear goes a long way and can complement your outfit to give you an outstanding look. This watch has a nylon strap, making it versatile enough for everyday use, and the face has a military-inspired look. Plus, it has luminous hands and markers.
More style deals
Big vacuum deals
Eureka Lightweight Cordless Vacuum Cleaner 38% OFF
The Eureka Cordless Vacuum Cleaner offers the ultimate cleaning versatility with its ability to easily tackle everything from hard floors to carpets and above-floor surfaces. With a generous 30-minute runtime, user-friendly LED display and a price tag of just $135.75 now on Prime Big Deal Days, it's the ideal choice for whole-home cleaning — even in hard-to-reach areas — while the LED headlights ensure no dust or debris goes unnoticed.
Shark S3501 Steam Pocket Mop 22% OFF
The Shark S3501 Steam Mop is Amazon's #1 bestselling steam mop, and it's easy to see why, with nearly 30,000 5-star reviews. With quick and effortless on-demand steam, no need for chemicals and a discount live on Prime Big Deal Days, it's a must-have for efficient and residue-free cleaning across your hard floors.
Dyson Outsize Cordless Vacuum Cleaner 15% OFF
The Dyson Outsize is undoubtedly one of the best stick vacuums money can, and it is now available at a remarkable 15% discount on Amazon. This is a rare opportunity to own a Dyson vacuum at a reduced price. Our tester was particularly impressed by its wide cleaning head, large dustbin, seamless transition between floor types and ability to tackle multi-story homes effortlessly, thanks to its substantial battery life.
iRobot Roomba i3 EVO Robot Vacuum 29% OFF
The iRobot Roomba i3 EVO is a must-have for pet owners, with dual rubber brush rollers that prevent hair tangles and efficient cleaning on both floors and carpets. Right now on Prime Big Deal Days, you can enjoy a generous 29% discount on this pet-friendly powerhouse with an impressive 90-minute run time, ensuring your home stays spotless and allergen-free.
BISSELL 2252 CleanView Upright Bagless Vacuum 10% OFF
The BISSELL 2252 CleanView Swivel Upright Bagless is the ultimate budget-friendly vac, delivering exceptional cleaning performance without breaking the bank. Plus, with no need for replacement bags and over 50,000 5-star ratings, it's a reliable and cost-effective solution for keeping your floors clean.
BISSELL ProHeat 2X Revolution Pet Deep Carpet Cleaner 16% OFF
The BISSELL ProHeat 2X Revolution deep carpet cleaner is a game-changer for those hoping to eliminate pet stains or those simply seeking professional-grade carpet cleaning results at home. With a discount live on Amazon, it's an affordable investment to rejuvenate and refresh your carpets, leaving them looking as good as new.
BISSELL CrossWave Cordless Max Wet-Dry Vacuum Cleaner and Mop 9% OFF
The BISSELL CrossWave Cordless Max Wet-Dry Vacuum is not just TikTok-approved; it's a must-have for anyone dealing with spills and messes from kids or pets. With its versatile cleaning capabilities, it effortlessly tackles wet and dry messes, making cleanup a breeze. The cordless cleaner is currently 40% off, a rare steep discount.
More vacuum deals
Big home deals
Greenworks Cordless Brushless Backpack Leaf Blower 9% OFF
Take your leaf-blowing regimen to the next level with the Greenworks 80-volt Cordless Brushless Backpack Blower, now at an enticing 9% discount on Amazon. This versatile blower is quieter than traditional gas-powered models and eliminates harsh fumes, providing a more peaceful and eco-friendly way to tackle yard work. Its ergonomic backpack design ensures comfort during extended use and super mobility, making it a valuable addition to your landscaping arsenal.
Chom Chom Roller Pet Hair Remover 22% OFF
The Chom Chom Roller Pet Hair Remover is a must-have for pet owners tired of constantly battling pet hair on their sofas and other furniture. TikTok-approved and highly effective (and extremely affordable for Prime Day), this roller will give you the confidence to wear black again.
Codi Soft Plush Electric Heated Blanket Throw 37% OFF
Codi's Heated Throw Blanket is the perfect cozy companion for cold nights, combining super-soft Sherpa material with three heating levels for customizable warmth. With its lightweight design, automatic two-hour shut-off, and a five-year warranty, it offers both comfort and peace of mind. Grab it while it's on sale at almost 50% off.
Greenworks 40-volt 12-inch Cordless Compact Chainsaw 8% OFF
Garden maintenance can be hard work, especially if you have to cut down thick shrubbery. However, thanks to its lightweight build and powerful electric motor, this cordless chain saw makes things easy. The automatic oiler keeps the chain and blades running smoothly, and getting the motor started is effortless. Pick it up now on Amazon Prime Big Deals Days so you're prepared for your next major yardwork project.
Levoit Vital Series LAP-V102S-WUS Air Purifier $25 OFF COUPON
Get rid of airborne allergens, dust and smoke with this high-quality air purifier. It has an advanced three-stage filtration system integrated air inlet for trapping pet hair, and you can sync it with your phone to create and manage operation schedules.
CGK Unlimited Store 4-Piece Bedding Sheet Set 37% OFF
This bedding sheet set comes with a flat sheet, a fitted sheet and two pillowcases. The sheets are comparable in softness to those made from Egyptian cotton and are perfect for mattresses up to 16 inches deep. Plus, the weightless feel makes them suitable for all climates, and they're machine-washable.
Temtop M10 Air Quality Monitor
Breathing in clean air is crucial for good health, but it can be difficult to know if your home's air quality is acceptable. However, with this battery-powered monitor,, you can get a comprehensive assessment of indoor air quality. It has a three-color LED for air quality indication and a simple one-touch button operation.
More home deals
Holiday decor deals
National Tree Company Pre-Lit 'Feel Real' Artificial Christmas Tree 46% OFF
This 6.5-foot tall tree is perfect for any family room and boasts a lifelike look and feel. It has 650 white lights and pre-attached branches with hinges for easy setup and storage. Plus, it's available with clear or multi-colored lights.
Prextex Christmas Train Set 30% OFF
Adorn your tree or family room with this battery-operated Christmas train set. The track is 167 inches long, and the train emits locomotive smoke and sounds and also plays two classic holiday themes. It comes with a head of a train car with Santa as the conductor, a coal tank, a cargo car and a passenger car.
More holiday decor deals
Everyday essentials
Rocketbook Reusable Notebook 7% OFF
You don't need to toss this notebook once you've filled it. The Rocketbook Reusable Notebook features 42 pages of special paper that wipes clean with a damp cloth. Where do your notes go? Into the cloud! The Rocketbook syncs with its app that keeps your notes safe, accessible and searchable. Available in executive and US letter sizes. Green cover (other colors available.) App for iOS and Android.
More everyday essentials deals
Check out October Amazon Prime deals here, and be sure to bookmark this page to shop smart and stay in the loop on the best discounts of the Prime Big Deal Days sale.
Want to shop the best products at the best prices? Check out Daily Deals from BestReviews.
Sign up here to receive the BestReviews weekly newsletter for useful advice on new products and noteworthy deals.
Kevin Luna is a writer for BestReviews. BestReviews has helped millions of consumers simplify their purchasing decisions, saving them time and money.