Gift Guides
A gift for every occasion, reviewed by BestReviews experts and testers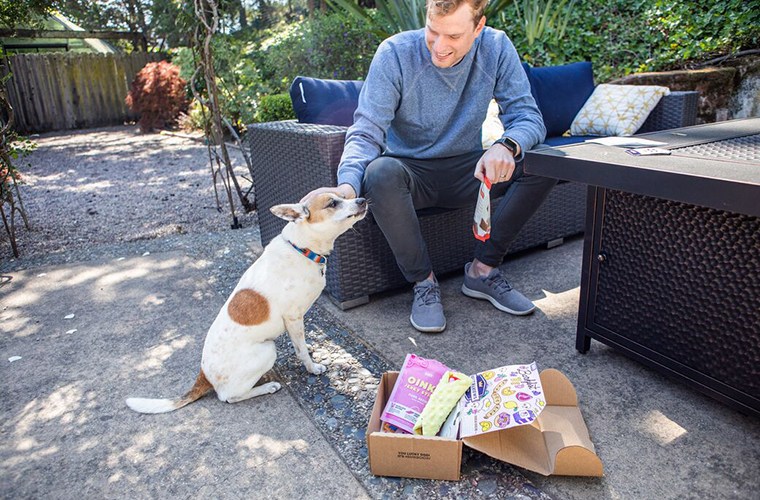 September 13, 2022
Best pet gifts 2022
These awesome gifts are perfect for your beloved pet or your favorite pet owner
Animals are part of the family, so it's practical and fun to buy presents for them too. The holidays are the perfect time to shop for the pets in your life, but other occasions are great for treating friends with fur, feathers, or fins. What's more, some gifts are perfect for pet owners who take great care of their pets and love to spoil them.
To help you shop for the fur babies on your list, here's an extensive list of pet gifts for different types of pets and pet lovers.
Best pet tech gifts
For the doting pet parent
Users can see and hear their dogs in real-time from anywhere using a smartphone app, so it's the ideal present for a dog parent who's anxious about leaving their canine companion home alone. Since it dispenses treats, it could also make a great gift from you to your dog. Sold by Amazon
For the anxious dog
iCalmDog 5.0b Bluetooth Speaker
Soothing music helps relieve canine anxiety, especially when their people are away from home. This speaker emits music that's engineered for dogs to calm stress from storms, fireworks, separation anxiety, and more. It keeps the music playing with up to 24 hours of battery life per charge. Sold by Amazon
For the perfect pet pic
Pooch Selfie The Original Dog Selfie Stick Smartphone Attachment
Humans who are far more interested in taking selfies with their dogs than their dogs are in appearing in these selfies will enjoy receiving this dog selfie stick attachment as a gift. The ball catches dogs' attention, resulting in better selfies. Sold by Chewy
For the fussy drinker
PetSafe Drinkwell Platinum Dog and Cat Water Fountain
If your dog or cat hates drinking water from the bowl, they might prefer drinking from this pet fountain. Cats are especially fussy about water and are often more likely to drink from a moving source than a bowl. This fountain also filters the water, so it doesn't get full of drool or pieces of food. Sold by Amazon
For the dog who tends to roam
Tractive Waterproof GPS Dog Tracker
Keeping track of your pooch is easy with a tracker that has built-in GPS. The waterproof design of this tracker means that it will monitor your pet even in wet conditions. Since it's adjustable, it provides a good fit for most collars. Sold by Amazon and Chewy

Other top pet gifts in this space
Best gifts for pet comfort
For the feline who likes to stay warm
K&H Gray and Black Self-Warming Pet Pad
This self-warming bed is ideal for your feline friends. It contains a reflective layer that bounces the user's own body heat back at them for additional warmth. This is the perfect present for cats who love to stay cozy. Sold by Chewy
To keep your companion warm and toasty in the winter
Dogs will feel cozy and look adorable in one of these hoodies. They're available in six colors and a range of sizes from extra-small to extra-extra-large to fit most dogs. It's the ideal option for a canine companion who feels the cold. Sold by Amazon
For pets that love to snuggle
Furhaven Self-Warming Pet Blanket
Dogs and cats who love snuggling will adore this cozy pet blanket with a reflective internal layer that reflects pets' body heat back at them for even more warmth. It's a lovely gift for your pets or for a pet owner who wants to keep their soft furnishings free of pet hair. Sold by Amazon
For the outdoorsy cat
It's natural to worry about cats who spend a significant chunk of their day outdoors. This outdoor heated cat house will reassure owners that their cats can stay warm. It has two exits so cats can't get trapped by predators or other neighborhood cats. Sold by Chewy and Amazon
For a soft, cozy naptime
Chanasya Shaggy Longfur Faux Fur Throw Blanket
A super plush blanket that makes a great gift for dogs and cats who love to get cozy. You can set it on the floor or on your couch for your pets to lie on. Alternatively, they can snuggle underneath it. It's available in a range of colors and sizes. Sold by Amazon
Other top pet gifts in this space
Best gifts for homes with pets
For stress-free pet cleanup
iRobot Roomba 692 Robot Vacuum
Another great gift for pet owners, this robot vacuum takes some of the stress out of cleaning up after furry family members. Without daily vacuuming, it's easy for pet hair and dirt from paws to build up, but not everyone has time for such regular cleaning. The Roomba does it all for you, leaving more free time for pet parents. Sold by Amazon
For better air quality
From pet dander to pet odors, the Levoit air purifier works with HEPA filtration to improve the air quality in homes with pets. It features a sleek, modern design that looks great in any room and doesn't take up a lot of floor space. Sold by Amazon
For pets who like to stay warm
Cozy Pet Warmer Safe Pet Space Heater
If your cat curls up on your laptop for warmth or your dog is usually found in front of a radiator or the stove, they'll love this freestanding pet warmer. It's effectively a low-power heater that produces enough warmth to satisfy your pets but not enough to scald them or cause them to overheat. Sold by Chewy
For cleaning hard floors
Hoover Steam Complete Pet Steam Mop
Some pet messes require a powerful cleaning tool like this mop that relies on steam for a complete clean on hard surfaces. It's also well-stocked with attachments and tools for cleaning hard-to-reach spaces. Sold by Home Depot and Amazon
For quick pet cleanups
Odors and dander are part of owning pets, but the Swiffer can help. This model features a rugged build with an extendable handle for tackling challenging spaces. It includes four refills that are infused with Febreze for eliminating pet odors while you clean. Sold by Home Depot
Other top pet gifts in this space
Best pet treat gifts
For canine pearly whites
Whimzees Large Variety Dog Chews Container
These are great for the dog in your life. Not only do they taste good, but they'll clean your dog's teeth as they chew. You can also buy them in smaller sizes for little dogs.
For small pets that love sweet treats
Oxbow Simple Rewards Banana Small Animal Treats
Made from nothing but bananas, these sweet treats will excite any small critter. You do need to watch how many you give to your pet in one go because of their naturally high sugar content, but they're all-natural, so there's no need to worry about artificial additives. Sold by Chewy and Amazon
For the dog that likes to chew
Nylabone Dura Chew Souper Bacon Dog Bone
Dogs who love to chew will thank you for buying this tough Nylabone. It's perfect for pups who shred or gnaw their way through less sturdy toys, plus the chewing action can help clean teeth. Sold by Chewy and Amazon
For the cat that loves treats
PureBites Freeze Dried Chicken Breast Cat Treats
Even the fussiest of felines will do anything for these scrumptious treats made of 100% freeze-dried chicken breast. They're too pricey for everyday feeding, but the perfect treat for a special occasion. Sold by Chewy and Amazon
For feline dental health
In addition to having flavors that cats love, these treats offer crunchy exteriors that promote dental health. The soft centers further tempt cats to indulge. They are made with wholesome ingredients and don't contain artificial preservatives or flavors. Sold by PetSmart, Chewy, and Amazon
For treating puppies
Training a puppy can be challenging, but tasty treats can keep it focused. Not only are these treats soft and chewy, but they are made from quality ingredients that are good for your little best friend. Sold by Chewy, Amazon, and PetSmart
Other top pet gifts in this space
Best toys for pets
For your catnip loving friend
Most cats can't get enough catnip. Fortunately, this plush toy is refillable and comes with enough catnip for lots of feline enjoyment. The cute critter design is enticing to cats, too. Sold by Chewy
For the dog who likes to play fetch
Chuckit! Ultra Rubber Ball + Classic Launcher Dog Toy
If your dog is a fan of fetching balls, you can't beat this ball launcher as a gift. The launcher allows you to throw the ball further than you'd be able to by hand, while the included tennis ball is highly durable. Sold by Amazon
For extra canine stimulation
Dogs who are food-motivated or need extra activities for mental stimulation will love this toy. They can knock it with their paws and snouts to get treats out, but it never falls over. Sold by Chewy and Amazon
For the canine who's a little rough on toys
With its corduroy construction, this plush whale toy lasts longer than some. It's a suitable gift for dogs who make quick work of flimsier plush toys. Sold by Chewy and Amazon
For cats that like a variety of toys
Fashion's Talk Cat Toy Variety Pack
If your cat likes to pounce, bat, and chase toys, this bundle is an excellent choice. It's a collection of the varieties of toys that entice most cats to play, including balls, mice, catnip packs, and more. You'll get 20 toys in total. Sold by Amazon
Other top pet gifts in this space
Best gifts for pet health and grooming
For the dog who needs a little TLC
Honest Paws CBD treats and oils will be greatly appreciated by the chillest pets around — or those who need to be more chill. The company makes products for both dogs and cats, though your options for cats are more limited. It can help with pain, mobility issues, and anxiety. Sold by Honest Paws
For the senior canine
If you're buying for someone with a beloved senior pet, consider RestoraPet as a gift. This powerful blend of antioxidants, EPA/DHA, vitamins, and minerals can help reduce pain and stiffness in older pets, boost energy levels, and support overall well-being. It's suitable for all pets aside from fish and cold-blooded animals. Sold by Amazon
For the pooch who loves to be groomed
We love the Zoom Groom as a gift for dogs who enjoy being groomed and fussed over. The flexible rubber bristles massage your dog's skin as you brush. It can also be used wet for bathing animals, though your canine companion might not like that idea so much. Sold by Chewy and Amazon
For the dog owner who wants to keep Fido healthy and happy
Embark Vet Breed & Health Dog DNA Test
This canine DNA test checks for 200-plus genetic markers for hereditary diseases and searches a database of more than 350 breeds. This is an excellent gift for a dog owner who doesn't know their dog's mix of breeds or who is worried about genetic diseases.
For cat grooming
Cats with long fur need extra grooming care from a tool like the Furminator. This model is designed for removing shedding hair and preventing tangles. Cleaning the tool is easy too, thanks to the release button that removes hair so you can continue grooming. Sold by Petsmart, Chewy, and Amazon
Other top pet gifts in this space
Want to shop the best products at the best prices? Check out Daily Deals from BestReviews.
Sign up here to receive the BestReviews weekly newsletter for useful advice on new products and noteworthy deals.
Jennifer Manfrin writes for BestReviews. BestReviews has helped millions of consumers simplify their purchasing decisions, saving them time and money.
BestReviews spends thousands of hours researching, analyzing, and testing products to recommend the best picks for most consumers.