Gift Guides
A gift for every occasion, reviewed by BestReviews experts and testers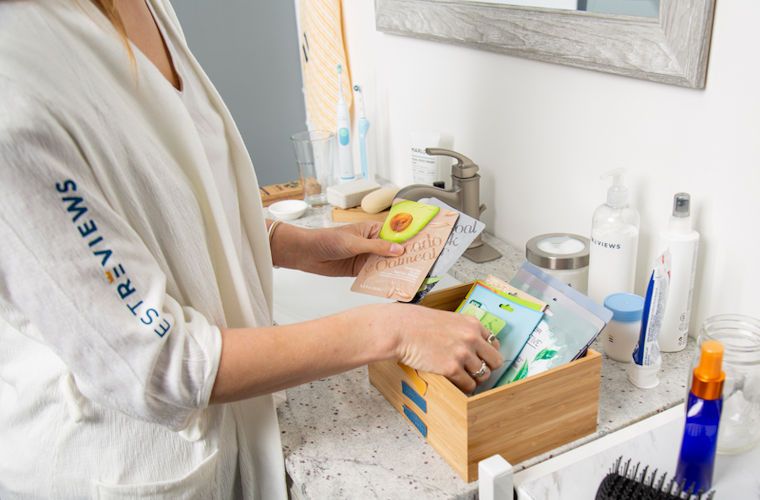 January 4, 2023
Best gifts for the skin care obsessed 2023
Contributed by BestReviews Expert, Dr. Alina Zufall.
There's a skin care product for everyone, no matter your skin color, skin type, or skin condition. My name is Dr. Alina Zufall and I'm a dermatology resident physician. I am here to help you find that perfect gift for your skin-care-obsessed friend or family member. Be cautious when buying products on Amazon. Some products may not be genuine or at full potency. However, there are many bonafide products sold by Amazon and other retailers that can make the perfect gift.
In this article: Skinceutical Physical Fusion UV Defense SPF 50, Paula's Choice 10% Azelaic Acid Booster, and Eau Thermale Avene RetrinAL 0.1 Intensive Cream
For the sun lover
Supergoop! SPF Best Sellers Sunscreen and Lotion Starter Kit
Supergoop's bestseller starter kit consists of three of their most popular sunscreens. All of their products are clean and reef friendly, as well as contain some added ingredients that can help make your skin look and feel amazing.
Skinceutical Physical Fusion UV Defense SPF 50
This mineral sunscreen is a great gift for anyone with sensitive skin looking to reduce the appearance of dark spots. Mineral sunscreens with iron oxide protect against UV radiation and visible light (which worsen hyperpigmentation), so I recommend this type of sunscreen to all my patients with melasma.
Sold by Dermstore and LovelySkin
Cetaphil Healthy Radiance Whipped Day Cream (Broad Spectrum 30)
This cream feels lightweight and doubles as a moisturizer. It also has niacinamide and bakuchiol to help reduce inflammation, repair your skin barrier, and improve your skin tone.
Sold by Amazon and Ulta Beauty
Vanicream Facial Moisturizer with SPF 30
Vanicream makes excellent products for anyone prone to irritation or allergic skin reactions. This is an excellent sunscreen option for anyone with super sensitive skin, as it has no added irritants/oils/fragrances. It's also a mineral-based sunscreen which adds to its benefit for sensitive skin.
Sold by Amazon and LovelySkin
EltaMD UV Restore Tinted Anti-Aging Face Sunscreen Broad-Spectrum SPF 40
For anyone struggling with dark spots or melasma, this is another great tinted sunscreen option. Squalene adds to its moisturizing properties.
Sold by Amazon and LovelySkin
For the pimple popper
La Roche-Posay Effaclar Duo Dual Action Acne Treatment for Acne-Prone Skin with Benzoyl Peroxide
Benzoyl peroxide has anti-inflammatory and antimicrobial effects that promote skin turnover and prevent the formation of whiteheads and blackheads. This cream can be used all over the face to treat/prevent acne or as a spot treatment for those stubborn pimples.
Sold by Amazon
Differin Gel with 0.1% Adapalene
I highly recommend this product for all acne treatment regimens, especially those struggling with whiteheads and blackheads. This is the closest over-the-counter (OTC) option to tretinoin cream, which dermatologists commonly prescribe for acne. Adapalene has the added bonus of being the best OTC ingredient for wrinkle treatment/prevention!
Sold by Amazon
Mighty Patch Original from Hero Cosmetics
These hydrocolloid pimple patches are great for covering up and treating those stubborn zits during the day or night. All you have to do is pop them on and let them work their magic!
Sold by Amazon and Ulta Beauty
The Ordinary Salicylic Acid 2% Masque
Masks are a fun gift that can add to anyone's skin care routine. Apply this mask 1-2 times per week to exfoliate the skin and unclog those pores. Watch out for excess irritation with this product. Start slow and don't overdo it. You may even want to try a patch test first to make sure your skin can tolerate it.
Sold by Ulta Beauty and Sephora
The Ordinary Glycolic Acid 7% Toning Solution
This is another exfoliator that can remove the outermost layer of the skin to improve skin texture, unclog pores, and reduce hyperpigmentation. This product is gentle enough to use daily but I would still recommend starting slowly to avoid excess irritation.
Sold by Ulta Beauty
For the dark spot cursed
This cream contains the ingredient cysteamine, which reduces the appearance of hyperpigmentation, melasma and freckles. In studies, it has been shown to rival the gold standard treatment for hyperpigmentation (hydroquinone). This is the more affordable option for buying cysteamine cream, but it is not the "name" brand.
Sold by Amazon
The Ordinary Azelaic Acid Suspension 10%
Azelaic acid has many benefits, including increasing skin turnover, inhibiting melanin production (good for improving hyperpigmentation), being antimicrobial, and fighting inflammation. The Ordinary's azelaic acid suspension consists of 10% azelaic acid, which is the highest OTC percentage of azelaic acid on the market.
Sold by Sephora and Ulta Beauty
Paula's Choice 10% Azelaic Acid Booster
Paula's Choice azelaic acid booster is another option for 10% azelaic acid. It includes salicylic acid to help with unclogging pores and smoothing texture as well as licorice root, which is a calming ingredient that can reduce redness.
For the blushing face
Clinique Redness Solutions Makeup
This makeup helps to color-correct redness and has some added ingredients to help calm the skin. There are some added extracts that are meant to calm irritation but may do the opposite and be irritating to some people. It is always a good idea to test your skin first (especially on that sensitive rosacea-prone skin).
Sold by Amazon
CuticareMD 10% Sulfur Bar Soap
Sulfur is a fantastic ingredient for rosacea, especially for those with red bumps due to rosacea. It helps to reduce inflammation and has antimicrobial effects, especially against demodex, a mite that lives on the skin and can cause rosacea flares. This is a very gentle product with few other ingredients, making it unlikely to irritate the skin.
Sold by Amazon
Aveeno Ultra-calming Foaming Cleanser
This product is gentle (fragrance-free, soap-free, non-comedogenic), so it is unlikely to irritate the skin. With rosacea, this is very important, as skin is usually very sensitive and irritants can cause flares. It also contains feverfew, a botanical which can reduce inflammation and redness.
Sold by Amazon
Aveeno Calm and Restore Oat Gel Moisturizer
Aveeno's calming moisturizer is another great addition to a rosacea skin care regimen. It is gentle but also contains prebiotic oat flour and extract to soothe and heal the skin and feverfew to reduce inflammation and redness.
Sold by Ulta Beauty
Vanicream Daily Facial Moisturizer
Vanicream is my go-to brand for anyone with sensitive, reactive skin. Their products are clean without added extracts, chemicals, or fragrances. This product is very unlikely to irritate the skin and contains hyaluronic acid, so it will be extra hydrating.
Sold by Amazon
For the wisdom weathered
La Roche-Posay Effaclar Adapalene Gel 0.1% Acne Treatment
Like Differin Gel, this product contains Adapalene 0.1% active ingredients which is a prescription-strength retinoid that is available over-the-counter (OTC). This is the best OTC option for treating and preventing wrinkles.
The Ordinary Retinol 1% in Squalane
Retinol is less irritating than retinoic acid (adapalene) but is less potent. I like this product because it tells you the percentage of retinol and has the highest retinol percentage on the market. It is also super affordable!
Sold by Amazon
Eau Thermale Avene RetrinAL 0.1 Intensive Cream
This product contains retinaldehyde, which is stronger than retinol but weaker than retinoic acid. This is a good option for someone who is not seeing benefits from retinol but would like to try something a little less irritating than retinoic acid (adapalene).
Sold by Amazon, Dermstore, and LovelySkin
Paula's Choice 1% Retinol Treatment
This product is at a much higher price point than The Ordinary's 1% retinol product, but it does add a few things that make it desirable. It not only has retinol, but also oat, willow bark, and licorice extracts which soothe the skin and reduce redness. It also has a skin-nourishing triple peptide blend.
Skinmedica SkinMedica Age Defense Retinol Complex 1.0
This is definitely the splurge retinol product. At the highest price point, it does add many ingredients meant to enhance retinol's skin-nourishing properties, including antioxidants, niacinamide, and peptides.
Sold by Dermstore, Amazon, and LovelySkin
Want to shop the best products at the best prices? Check out Daily Deals from BestReviews.
 
Sign up here to receive the BestReviews weekly newsletter for useful advice on new products and noteworthy deals.
 
Dr. Alina Zufall writes for BestReviews. BestReviews has helped millions of consumers simplify their purchasing decisions, saving them time and money.
 
BestReviews spends thousands of hours researching, analyzing, and testing products to recommend the best picks for most consumers.