Best gifts for toddlers
July 24, 2022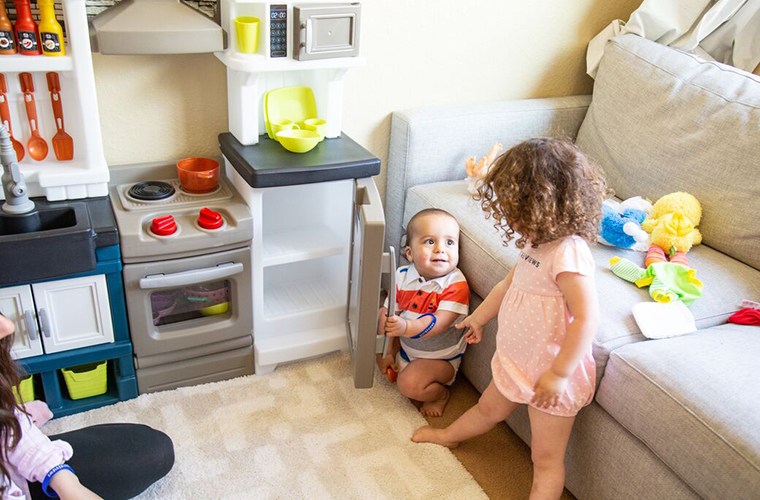 Toddlers can be tough to buy for. They're too young to make serious choices about what they want to receive, so it's down to you to pick. On the other hand, they're fairly easy to please, so if you put thought into buying an age-appropriate toy or game, chances are they'll be happy. Or, at the very least, they'll enjoy playing with the box it came in.
Best gifts for 1-year-olds
ECR4KIDS SoftZone Climb and Crawl Activity Play Set
This versatile climber set comes with five shapes that can be arranged in different ways for endless play possibilities. It's made of durable foam and covered in a soft leather polyurethane material that's easy to wipe clean when playtime is over.
Ball pits are a fun way for your toddler to have an enriching sensory play experience. This one folds up and comes with a mesh bag for easy storage. The balls are made with non-PVC plastic and can withstand over 90 pounds of pressure.
Sold by Amazon
Mega Bloks 80-piece Big Building Bag
Easy to store and fun to use, Mega Bloks are perfect for little hands. This bag comes with 80 colorful pieces in all shapes and sizes, giving toddlers plenty of blocks to play with and stack.
Sold by Amazon and Buy Buy Baby
Melissa and Doug Chomp and Clack Alligator Push Toy
This sturdy wooden push toy entertains while encouraging walking. As your child pushes it around, three alligators snap their jaws with a satisfying clack each time they take a step. It's perfect for tots who are practicing their first steps.
LeapFrog Learning Friends 100 Words Book
When it comes to learning words, few electronic learning toys are better for your baby than this one from LeapFrog. This book will help your toddler expand their vocabulary in two languages in the most fun and interactive way.
Sold by Amazon and Buy Buy Baby
Kidsthrill Rainbow Stacking and Nesting Cups
If you're shopping for bath toys for your toddler, these bright cups are a must-have because they have so many wonderful uses. Little ones will love fitting them together, stacking them up high, or running them under water. It's the perfect open-ended toy.
Sold by Amazon
Lego Duplo My First Number Train
Lego Duplos are a childhood staple and this number train set makes a great first set to gift your 1-year-old. With its 23 delightfully chunky pieces, this set is an excellent way to help kids learn to count and reinforce early number recognition.
Sold by Amazon and Buy Buy Baby
Baby Einstein Octoplush Musical Toy
This octopus musical toy is not just lovable and huggable, but every squeeze will introduce your toddler to new sounds and colors. It plays a variety of classical melodies and also teaches them colors in English, Spanish and French.
Sold by Amazon and Buy Buy Baby
Other top deals in this space
Best gifts for 2-year-olds
Tiny Land Kids' Tent with Mat and Light
This sturdy kids' tent serves as a play area, an indoor camp, or a cozy space to nap for your toddler. It's made of breathable cotton and comes with a removable padded floor, stringed lights, and a bag. It's also got plenty of room for two kids.
Sold by Amazon
From eco-friendly brand Green Toys, this solid farm set comes with 13 pieces for imaginative play. It features all your toddler's favorite farm animals, plus stalls and doors they'll love to open and close. All pieces fit inside the barn, so tidying up and storage is a breeze. The built-in handle makes it easy to take all the fun on the go.
Sold by Amazon
Magna-Tiles 100-Piece Clear Colors Set
Magna-Tiles are the original and most durable magnetic building blocks out there and arguably the safest for a house with toddlers. This set includes 100 pieces of translucent tiles that kids can snap together to form shapes or build towers and more. Also, these will only become more fun as your little one grows.
Most kids at this age love dinosaurs and this classic ride-on toy from Little Tikes will keep little ones entertained for hours. The Cozy Coupe has a durable design, a parent push handle, and a handy floor cover, making it ideal and safe for toddlers.
Sold by Amazon
Arteza Finger Paints for Toddlers
This water-based finger paint set is the perfect activity for your toddler to begin exploring color in a tactile way. It features 30 vibrant colors that are nontoxic and safe for kids. Children can use this paint on many surfaces and it also comes off easily with a bit of soap and water.
Sold by Amazon
EduShape Sensory Puzzle Blocks
Building blocks are a classic sensory toy for both babies and toddlers, and these foamy ones amp up the game with their bright colors, varying shapes, and knobbly texture. Given their Tetris-style design, they not only challenge your toddler's logic and reasoning skills but also provide sensory stimulation.
Sold by Amazon
Melissa and Doug Band-in-a-Box
This seven-piece musical toy set will get kids moving, grooving, and feeling the beat. It's a great way to promote musical play for young children. The set includes a tambourine, maracas, clacker, cymbals, tone blocks, and a triangle, all of which come in a sturdy wooden crate for storage.
Sold by Amazon and Buy Buy Baby
Other top deals in this space
Best gifts for 3-year-olds
Imaginative play
KidKraft Ultimate Corner Wooden Play Kitchen
Toddlers love this stylish and realistic toy kitchen from KidKraft with enough space for a few kids to play together. With burners that light up, kitchen sounds, and even a dishwasher, kids stay engaged and feel just like grown-ups.
Sold by Amazon, Wayfair, and Kohl's
Melissa and Doug Freestanding Wooden Fresh Mart Grocery Store
With Melissa and Doug's grocery store, kids learn responsibility, math, and other grown-up skills. Toddlers have fun using the manual conveyor belt, realistic payment machine, and scanner with lights and sounds.
Sold by Amazon, Wayfair, and Kohl's
Peppa Pig Shopping Mall with Family
Your Peppa Pig fan will spend hours taking Peppa and her family shopping. The mall is packed with interactive features like a manual elevator that stops at each level and a swing. The set comes with Peppa Pig's parents and brother.
Sold by Amazon
Fisher-Price Little People Big Helpers Home
This folding toy house from Fisher-Price plays music and phrases that help teach kids life skills and household duties. Toddlers will love that it comes with a puppy and a dog bed with food and water.
Sold by Amazon
Melissa and Doug Feeding and Grooming Pet Care Play Set
This playset from Melissa and Doug will make any 3-year-old animal lover happy and learn responsibility. This is a great toy to buy if you're thinking about getting a pet and want your child to practice caring for a new member of the family.
Three-year-olds will love taking turns playing doctor and patient with these toy medical tools. The stethoscope makes a heartbeat sound and the phone buttons beep, so kids feel more like real doctors. Plus, the playset may help your toddler to be less afraid of visiting the doctor's office.
Sold by Amazon
Educational play
VTech PJ Masks Time to Be A Hero Learning Tablet
This electronic learning toy for kids is a hit with PJ Masks fans. It has a full keyboard and a variety of games that teach letters, numbers, problem-solving skills, and more. Caregivers will appreciate its durable materials and adjustable volume.
VTech Touch and Learn Activity Desk Deluxe
Get your 3-year-old ready for school with VTech's activity desk that has a flip-up easel and drawing surface. The interactive toy comes with a kid-sized stool and different educational activity cards that are so fun your toddler will not realize they are learning.
Sold by Amazon
VTech Jiggle and Giggle Fishing Set
Kids are sure to laugh at this fishing toy from VTech that teaches colors with guessing games. It comes with a light-up fishing pole that wiggles when you catch a sea creature and senses which animal was picked up.
Nickelodeon Paw Patrol Me Reader
Three-year-olds love stories, and books are beneficial for early child development. Toddlers will be excited to read books to themselves with this reader and press the right button for each page.
Sold by Amazon
Creative play
Play-Doh Play 'N Store Kids' Play Table
Toddlers have squishy fun with this Play-Doh set that offers sensory play. It comes with different tools, cutters, and colors, and kids can even make miniature Play-Doh ice cream. Adults will like that it comes with a play surface with storage compartments.
Sold by Amazon
Crayola Color Wonder Mess Free Coloring Activity Set
Kids love to color and express their creativity, but many caregivers dread the mess that comes with art. These special markers and stamps only work on Color Wonder paper. This is a great toy for travel since the colors stay only on the included paper.
Sold by Amazon
Your 3-year-old will feel just like a grown-up with their own camera featuring a digital screen and computer connectivity. Toddlers will have fun playing the included games or adding frames, and adults will like its kid-friendly sturdy design.
Sold by Amazon
Active play
Playz 5-Piece Kids' Playhouse Set
This play tunnel is great for a rainy day or for letting your toddler get some energy out. It has a compact fold for storage and a variety of tents and tunnels that can be arranged in different ways. It offers a spacious play area with a variety of games.
Sold by Amazon
Your 3-year-old sports enthusiast will have fun watching golf balls slide down the set and teeing up the ball for a putt toward the included hole and flag. The clubs and storage bag are more realistic and resemble adult golfing gear.
Sold by Amazon
Little Tikes 3-foot Trampoline
Kids love this mini trampoline with a removable supportive bar for higher jumps and tricks. It's easy to put away when not in use and is a great way for toddlers to be active.
Sold by Amazon
Building toys
LEGO DUPLO Big Construction Site
Kids like to put things together and LEGO DUPLO sets are a great STEM activity for 3-year-olds. Construction and vehicle lovers will have fun building and interacting with this toddler-friendly set that has a rotating crane and a claw that opens and closes.
Sold by Amazon
"Thomas & Friends" Talking Thomas & Percy Train Set
The show comes to life for 3-year-olds playing with this Thomas & Friends set. Kids can build the track and enjoy hearing the characters' voices when the trains interact. This set can even be connected to different "Thomas & Friends" tracks.
Sold by Amazon
Other top deals in this space
Best outdoor toys for toddlers
Water toys
Simply connect it to a hose and this splash pad can provide hours of entertainment for toddlers on a hot day. It has a nonslip base and the water remains shallow, so it isn't an obvious drowning risk, although supervision is essential.
Sold by Amazon
Step2 Rain Showers Splash Pond Water Table
Water tables are perfect for outdoor play as toddlers can splash as much as they like without making a mess. This one has a two-tier design with scoops, water wheels, and other accessories for added enjoyment.
Hesung Inflatable Kiddie Pool Play Center
This kiddie pool adds an extra dimension of fun with an integrated inflatable slide, a ball roller, a fountain arch, and a ring toss area. If you're buying for a toddler who loves water, this is sure to go down well.
Sold by Amazon
If you already have a water table or kiddie pool in your backyard, you might be looking for more toys your toddler can play within the water. This buoyant little seaplane is great for imaginative play and developing kids' pincer grip.
Sold by Amazon
Sit-on and ride-on toys
Radio Flyer Scoot About Sport Toddler Ride-On Toy
Toddlers simply sit on this ride-on toy and push themselves around with their legs, so it's easy for most kids to use. The front wheels are widely spaced for balance and the under-seat storage lets kids carry things around.
Sold by Amazon
iPlay, iLearn Bouncy Pals Bull Hopper Toy
Active toddlers will love bouncing around on this inflatable bull toy. It has a plush cover, so it's comfortable to sit on, and anti-slip feet so it won't slide around on paved surfaces.
Sold by Amazon
Fisher-Price Harley-Davidson Tough Trike
Suitable for ages 2-5, this trike is stable and easy to pedal, making it an excellent first tricycle for toddlers. The Harley-Davidson design is adorable in trike form, but you can also choose other versions, including Barbie and Hot Wheels.
Sold by Amazon
Playskool Sit 'n Spin Classic Spinning Activity Toy
If your toddler enjoys spinning in circles, they'll love this sit-on spinning toy. Not only is it great fun, but it's also excellent for balance, coordination, and motor skills. It's suitable for both outdoor and indoor use.
Sold by Amazon
Outdoor games
Get your little one started on baseball or softball early with the help of this T-ball set. It's suitable for kids aged 18 months and up and is height-adjustable to grow with toddlers. It comes with five balls and two bats.
Sold by Amazon
They might not be hitting the links any time soon, but toddlers can still enjoy this golf set at home. Younger toddlers can just whack balls and have fun, while older toddlers and little kids can start perfecting their aim.
Sold by Amazon
With its double-sided design, it acts as both a classic bean bag toss game and a hook and loop ball throwing game. It's great for outdoor fun but should be packed away between uses.
Sold by Amazon
Little Tikes Easy Score Basketball Set
Future basketball stars can get their first taste of the game with this easy score set. The hoop is height adjustable, so young toddlers can have fun simply dropping a ball through, while older kids can take tougher shots.
Sold by Amazon
Slides and playsets
Step2 Play Up Double Slide Kids Climber
With two slides and a small climbing wall, this playset is perfect for toddlers and little kids, aged approximately 2-6 years old. It's easy to assemble and is safe for up to three kids to use at once.
Sold by Amazon
Simplay3 Young Explorers Adventure Climber
Curious toddlers will love all the ways there are to play with this set. There's a slide, a steering wheel, doors and portholes in the base to open and climb through, and an easy-climb ladder that leads to a platform.
Sold by Amazon
Little Tikes First Slide Toddler Slide
Toddlers can get hours of entertainment just by climbing up, sliding down, and repeating. It makes a great first slide for a child, plus it's affordable and doesn't take up much space, which is perfect for small yards.
Sandboxes and sand tables
Best Choice Products Large Wooden Sandbox
This wooden sandbox is an investment that will last a kid from early toddlerhood well into childhood. The hinged lid converts into foldable bench seats, while the sturdy cedar wood ages nicely in the elements without being treated.
Sold by Amazon
Step2 Naturally Playful Sand Table
If you want a compact alternative to a sandbox, this sand table is an excellent choice — plus it comes with shovels, rakes, and a bucket. It lets kids have the tactile experience of playing with sand, without getting completely covered in it.
Sold by Amazon
Little Tikes Dirt Diggers Excavator Sandbox
Thanks to its built-in digger arm and included dump truck, this is a perfect sandbox for kids fascinated by machinery. You get scoops, shovels and rakes included and the lid doubles up as a ramp for the dump truck.
Sold by Amazon
Other top deals in this space
Contributing authors: Lauren Corona, Margot Malverty, and Esha Saxena
 
Want to shop the best products at the best prices? Check out Daily Deals from BestReviews.
 
Sign up here to receive the BestReviews weekly newsletter for useful advice on new products and noteworthy deals.
 
BestReviews spends thousands of hours researching, analyzing, and testing products to recommend the best picks for most consumers.