Best gifts for medical students and doctors 2023
January 4, 2023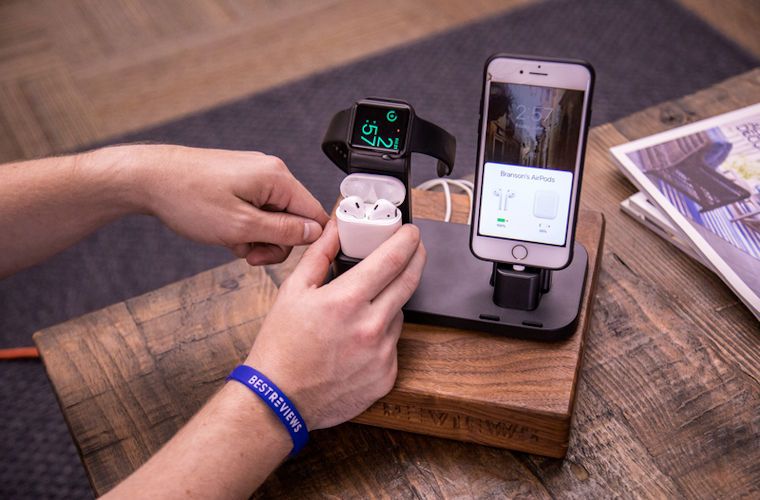 What to buy for the healthcare professional in your life
I'm Michael Huynh, a board-certified internal medicine doctor specializing in hospital medicine.
Gift decisions for doctors can be a daunting task, whether as a friend, a family member, or a patient. However, we are people too and love many of the things you do. Any gesture is always appreciated. Doctors do appreciate products that make their lives a little easier given a stressful schedule and work-life balance. Nevertheless, the best gift for us is to ensure everyone's good health.
In this article: Ember Temperature Control Smart Mug, GODIVA 19-Piece Gold Gift Box, and The White Coat Investor
For the medical student
3M Littmann Classic III Monitoring Stethoscope
A good stethoscope is a quintessential tool that any new or established doctor needs in their practice. This Littmann stethoscope is a well-known brand that offers excellent acoustics and durability to aid anyone's practice.
Sold by Amazon
First Aid for the USMLE Step 1 2022, 32nd Edition
This is arguably the most important book for medical students. It's a comprehensive study guide for USLME step 1, which is an exam to determine which specialties a student can get placed into — sort of like the SAT for medical students.
Sold by Amazon
Most learning is now done digitally, and the iPad Pro is a great tool to help new medical students learn with their large medical textbook library and visual aid tools.
Sony WH-1000XM5 Wireless Noise-canceling Headphones
Exams, exams, exams! Medical school is a daunting experience for anyone with an intense curriculum. Having a good set of noise-canceling headphones is a must for long nights at the library.
Sold by Amazon
Pocket Medicine (Pocket Notebook Series) 8th North American Edition
Medical students are quizzed constantly, either in the classroom or in clinical rotations. This book provides a quick guide to both common and uncommon questions observed in clinical work.
Sold by Amazon
Zojirushi SM-SA60BA Stainless Steel Vacuum Insulated Mug
Coffee or tea is an essential part of any medical student's life. A great tumbler to keep their drink warm on those late nights would be a great companion.
Sold by Amazon
Philips SmartSleep Wake-up Light
Sleep is very important for medical students, whether they need to be well rested for a long panel of patients or to be optimally alert for surgery, this alarm clock would ease their wake cycle to prepare for the day.
Sold by Amazon
This book has always been on the recommended reading list for any aspiring physician. The book discusses residency life and cultures in the 1970s when the medical culture was much different from how it is now.
Sold by Amazon
Medarchitect Premium Suturing Skill Trainer
Practice, practice, practice! Suturing is hard, and practicing one's techniques is key. A suture trainer kit is an essential tool for any medical student, especially if they are interested in the surgical field.
Sold by Amazon
WD 4-terabyte My Passport Portable External Hard Drive
A medical student is always surrounded by work, including insurmountable documents related to exams, diagrams, and class notes, and computer storage space is always lacking. A great portable external hard drive allows them to carry their work anywhere they go.
Sold by Amazon
For the office doctor
Snake Plant Zeylanica (Sansevieria) in 8.75-inch Grower Pot
Doctors love to spruce up their offices or home with greenery to escape the mundane fluorescent lights of the office. A small or medium size potted plant like this snake plant would be a great gift idea. This snake plant is the perfect size for an office and is very low-maintenance.
Sold by Home Depot
The White Coat Investor: A Doctor's Guide to Personal Finance and Investing
Doctors spend most of their lives honing their practice, and finance is never part of their curriculum. Managing finances can be a foreign territory. This book covers core essentials that any physician would appreciate.
Sold by Amazon
Personalized Cross Calais Ballpoint Pen
Doctors always need a pen to sign forms, prescriptions, etc but never seem to have one! A personalized pen with their name engraved would assure the pen is never stolen.
Sold by Amazon
Doctors are always on their feet, whether in surgery or going from exam rooms to the office. These shoes provide comfort and spill resistance, which makes them popular shoes in the medical community.
Sold by Amazon
Ember Temperature Control Smart Mug 2, 14 ounces
Doctors are always running in between rooms and drinks get lukewarm. A great addition to the office, this would keep the busy doctor's drink hot for the long shifts at the clinic.
Sold by Amazon
Tumi Men's Arrive Hannover Slim Briefcase
Physicians always have to carry their instruments and documents to prepare for any situation. A sturdy, reliable, and stylish bag like this one would make anyone feel appreciated.
Sold by Amazon
Keurig K- Slim Single Serve K-Cup Pod Coffee Maker
Time is a valuable part of the day for most physicians and having ready-to-be-made coffee is a must. The simplicity of a Keurig would be a great addition to the office or home for the busy doctor.
Sold by Amazon, Kohl's, and Staples
Most physicians appreciate a good wine to relax on their days off, whether it is a white, red, or blend. Let them pick what they like with a gift card to this online wine retailer.
Sold by Wine Access
For the hospital doctor
BOACAY Hanging Travel Toiletry Bag
Sleeping at the hospital is uncomfortable for anyone, especially for the physician who has to be called upon at a moment's notice. A toiletry bag would be a great gift to organize personal hygiene items that they can use while working at the hospital.
Sold by Amazon
Doctors love any gadgets that can help improve health, especially their own. The apple watch has a built-in oxygen sensor, heart rate monitor, and EKG, which any physician would appreciate.
On long days that can begin at 3 a.m. and end at 10 p.m., your phone will inevitably run out of battery. A power bank would be a perfect gift to the busy physician who is reliant on their phone when they are on call.
Sold by Amazon
WonderWink Wonderwork Unisex Scrub Cap
This stylish scrub cap is a great gift for a physician who is always working in the hospital. WonderWink is a beloved brand in the health care community and adding this to their hospital wardrobe is always welcomed.
Sold by Amazon
adidas Ultraboost 5.0 DNA Shoes
Most doctors are on their feet and the comfort of their feet is a high priority. These shoes are highly popular among hospital doctors, as they allow them to walk all day without much fatigue and soreness. Though the shoes can be worn by people of any gender, they are available in both men's and women's sizes.
Sold by adidas, Amazon, Dick's Sporting Goods
CAVN Pen Light with Pupil Gauge LED Penlight
Pens are always lacking in the hospital setting and are treated as a high commodity. Pen lights are no different. It is always useful to have one on hand when doing a physical exam.
Sold by Amazon
Elibia Set of 3 Motivational Stress Balls
Being a physician is stressful work: you always have mountains of paperwork and phone calls to answer while providing the best treatment to your patients. A stress ball is a great quick stress reliever for those unwanted long stressful days.
Sold by Amazon
A tasty treat would make any doctor's day feel much more appreciated. They can even share with the nurses who work equally hard during the long hospital shifts.
Sold by Amazon
Want to shop the best products at the best prices? Check out Daily Deals from BestReviews.
Sign up here to receive the BestReviews weekly newsletter for useful advice on new products and noteworthy deals.
BestReviews spends thousands of hours researching, analyzing, and testing products to recommend the best picks for most consumers.