Best fragrances of 2023
February 1, 2023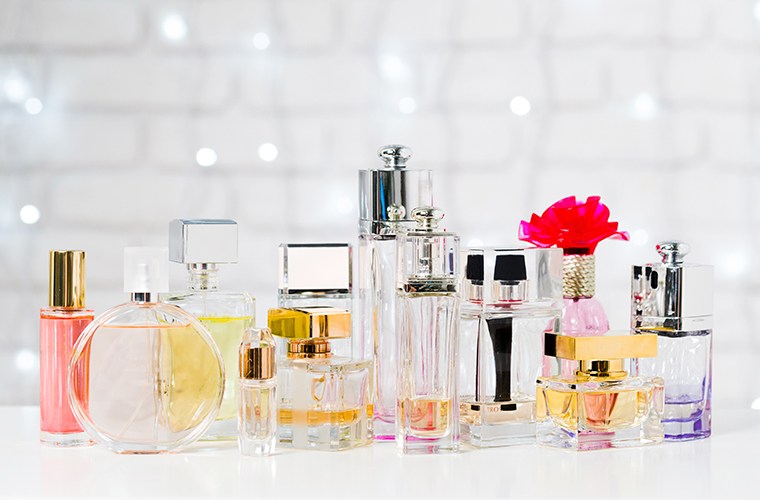 There's nothing quite like giving a gift of fragrance. You can select a loved one's signature scent, or aim to find a special cologne or perfume that's sure to become a new favorite. What's more, you can choose fragrances with fruity, earthy, sweet, floral, or spicy notes to fit different personalities, occasions, and seasons.
While giving a fragrance as a gift is thoughtful, finding the perfect scent can be challenging. We've rounded up the most popular colognes and perfumes so you can shop with confidence. You'll also find fragrance gift sets in our guide, which are a good option for anyone who likes to layer different products and try new scents.
In this article: Marc Jacobs Perfect, Chanel Coco Mademoiselle, and Tom Ford Private Blend Oud Wood.
Best perfumes
With notes of orange blossom, musk, and lavender, Libre is an alluring fragrance that makes it a pleasant summer perfume. A little goes a long way, as this scent is robust and long-lasting. It comes in a bottle that presents beautifully.
Sold by Sephora, Ulta, and Kohl's
Gucci Bloom will put the special person on your gift list in the mood for spring, thanks to its fresh floral notes. It lingers for hours and garners compliments without being too strong or overpowering.
Sold by Sephora, Ulta, and Kohl's
Anyone who appreciates a bouquet of floral notes will love Miss Dior perfume. Iris, peony, lily-of-the-valley, and Grasse rose are the key notes that create a distinctive, unforgettable scent. The feminine bottle is adorned with a shimmery bow.
Juliette Has a Gun Not a Perfume
Not everyone likes perfume, especially fragrances that are too fruity, flowery, or strong. Not A Perfume is a smart gift for anyone who wants a light scent that doesn't smell like traditional fragrances. Cetalox is its only note and can be described as sheer and warm with just a touch of spice.
Sold by Sephora, Amazon, and Kohl's
Glossier Glossier You The Ultimate Personal Fragrance
A bit spicy, a little flowery, and slightly sweet — Glossier You may be challenging to describe, but its distinctive scent has earned it many fans. Although it's light and fresh, it wears for hours. It's a nice fragrance for spring and summer but can easily be worn year-round.
Sold by Amazon
Thanks to notes of rose, jasmine, cattleya, and orange blossom, Flowerbomb lives up to its unique name. In addition to an enticing array of floral notes, it has light notes of vanilla and patchouli that add a touch of warmth. The interesting scent is likely to become a go-to favorite of anyone who's lucky enough to receive it as a gift.
Sold by Sephora, Amazon, Ulta, and Kohl's
The idea behind designer Marc Jacobs' Perfect perfume is to love one's true self. This concept is reflected by the unique notes of almond milk, cedarwood, rhubarb, and cashmeran that are combined with delightful floral notes. It's a feminine and flirty scent that's fun to wear.
Sold by Sephora, Ulta and Kohl's
One of Chanel's contemporary perfumes, Coco Mademoiselle is a dramatic combination of floral and fruity notes. Hints of amber and orange add touches of spice and citrus. It's a long-wearing fragrance that's lovely for any season of the year.
If you're shopping for someone who prefers a traditional floral-based perfume, Ralph Lauren's Romance won't disappoint your giftee. Classic notes of lily, rose, and jasmine are ultra-feminine, while notes of pink pepper, musk, and patchouli add warmth and sweetness. It's a long-wearing scent, too.
Sold by Sephora, Ulta and Kohl's
Your favorite perfume lover who can't get enough Prada will appreciate Paradoxe's pretty bottle that's designed to replicate the Prada logo. What's more, the alluring scent is warm and sensual, as it features floral, musk, and amber notes that make it appropriate for fall and winter.
Sold by Sephora, Kohl's, and Ulta
Pacifica can make anyone who prefers natural products feel beautiful. It smells fantastic yet it's formulated without chemicals such as phthalates. This clean perfume is also cruelty-free and vegan. It's available in a choice of several delightful scents.
Blossoms, musk, amber, and pomegranate are the notes that give Bright Crystal a unique scent. The fresh fragrance is light and pleasant, which makes it a suitable perfume for everyday wear.
Sold by Sephora, Ulta, and Kohl's
The One gets its name from a collection of notes that include fruit, florals, musk, and spice. Additionally, peach, plum, jasmine, bergamot, and amber add to its mysterious scent. It makes a nice fall or winter perfume.
Sold by Ulta, Sephora, and Amazon
If you're shopping for someone who loves perfume with top notes of fruit, Ari is a great choice. It combines raspberry, pear, and pink grapefruit with light florals and a hint of spice and marshmallow for a memorable fragrance. The gift-worthy bottle is fun to display on a vanity.
Sold by Ulta
Good Girl is a magical fragrance that can easily be worn for special events or nights on the town. Tonka bean, jasmine, cocoa, and tuberose notes go nicely together and create a rich, bold scent. Any perfume enthusiast will be thrilled with the unique stiletto-shaped bottle.
Sold by Sephora, Kohl's, and Ulta
Bergamot is the top note of Philosophy's Amazing Grace perfume that's been popular for decades. It's a refreshing fragrance that doesn't overpower and pairs nicely with other products by the brand.
Sold by Amazon, Ulta, and Kohl's
Floral notes combined with vanilla and citrus have made this iconic perfume a top seller for decades. It's a versatile fragrance that's great for any season. It's a thoughtful gift for anyone who already loves the perfume or is looking for a new signature fragrance.
Other top perfume deals
Best colognes
This spicy cologne is highlighted by sweet mandarin and has top notes of Sichuan pepper and Calabrian bergamot as well as Sri Lankan sandalwood, making it suited for summer wear.
Sold by Sephora
This Versace fragrance offers intense freshness and contains a blend of mint leaves, Italian lemon zest, and green apple. It has pleasant enveloping notes of tonka beans, amber, geranium flower, and woods, as well as subtle notes of oak moss and cedarwood.
Sold by Sephora
If you want to gift someone a timeless fragrance, Acqua Di Gio is an excellent pick. It has a splash of woody marine freshness and warm Indonesian patchouli to create a fresh and sensual scent with hints of green tangerine, Calabrian bergamot, and neroli.
Sold by Kohl's
This is a citrus woody fragrance with heart notes of sweet grapefruit. It's an excellent gift choice for those who want a versatile cologne that's suitable for all occasions. It contains top notes of vetiver and pink pepper and base notes of ginger and sandalwood.
This eco-conscious cologne has a fresh and spicy blend of nutmeg and salted fig and musky notes such as amber and sandalwood. It offers a spicy, sensual fragrance that's ideal for warm summer days and nights and is suitable for men and women.
Sold by Sephora
Tom Ford Private Blend Oud Wood
If you know someone who appreciates a fragrance with an earthy and woody scent, this cologne is a top choice. Its signature notes include Chinese pepper, rosewood, and sandalwood blended for a rich, smoky scent, and the bottle has the build of an oversized chess piece.
This woody and magnetic fragrance is sure to captivate those who catch a whiff, making it a fantastic men's cologne to gift someone. Its top notes include mandarin and pine needle, and the base notes include benzoin crystals and ironwood.
Sold by Sephora
Kilian Paris Roses on Ice Eau de Parfum
Cool and atmospheric, Roses on Ice has botanical notes of juniper, cucumber, and florals with a musky base of sandalwood. In keeping with Kilian's connection to Hennessy cognac, the fragrance is inspired by the feeling of sipping a fine gin.
Sold by Sephora
Ralph Lauren Polo Cologne Intense
For those who like colognes with citrus and woody scents, the Ralph Lauren Polo Intense cologne is an excellent pick, thanks to its combination of fresh grapefruit, cooling sage, and patchouli. The bottle has a modern design and a striking gunmetal cap.
Sold by Kohl's
This unique fragrance is excellent for both day and night wear. Sensual with a whiff of masculine citrus tones, it also includes violet leaves, lavender, and leather top notes, and amber, mandarin orange, apple, cedarwood, and geranium heart notes.
Sold by Amazon
This bold and woody winter cologne is infused with sage and geranium notes and is rounded out with a sensual wood tone. The bottle has an elegant look with a squared-shoulder design and a striking silver Y across the front.
Sold by Kohl's
This cologne has a masculine fragrance consisting of spice, lavender, and amber notes and a blend of wood and citrus tones. It's lightweight enough to wear daily and combines with each person's unique chemistry to create a pleasant and appealing scent.
Sold by Amazon
This cologne boasts a masculine floral fragrance made from ginger ale, cyclamen, cedarwood, rose geranium, and sheer woods. It mixes with human pheromones to create a unique scent, and the bottle has a low-profile design.
Sold by Amazon
Drakkar Noir by Guy Laroche is a timeless fragrance thanks to its versatility and intense, long-lasting scent. It features a blend of citrus top notes, juniper and coriander heart notes and a pine, patchouli, and balsam finish.
Sold by Amazon
This popular cologne has notes of lavender, amber apple, spearmint, citrus, cinnamon, and cranberry. Its fragrance is powerful but subtle and long-lasting, and it works with personal body chemistry to create a unique scent.
Sold by Amazon
Other top cologne deals
Best fragrance gift sets
Dolce & Gabbana Light Blue for Women 3-Piece Set
Experience the invigorating, fruity Light Blue fragrance in an eau de toilette and a body lotion. The scent features notes of citrus and cedar as well as green apple, jasmine, and rose.
Sold by Amazon
Yves Saint Laurent Y Eau de Toilette Gift Set
This eau de toilette has a fresh, masculine scent made from notes of geranium, lavender, and incense. This gift set comes in a stylish box and includes full-size spray and a travel-size spray.
Sold by Ulta Beauty
Hermes Mini Fragrance Discovery Set
This gift set includes four bestselling miniature Hermes fragrances, allowing users to choose their favorite before buying a full-size bottle or try a new perfume each day. One scent includes candied orange and woody amber notes, while another is floral with ginger notes.
Sold by Sephora
Giorgio Armani Variety 5-Piece Mini Gift Set
From a refreshing, woody scent to notes of orange blossom, jasmine, and ginger, this set of popular Armani perfumes has an option for everyone. These popular fragrances come in mini sizes that are perfect for traveling or for the person who wants to try them all.
Sold by Amazon
Versace Miniatures Collection Fragrance Set
This set comes with five bestselling Versace perfumes, each containing 0.17 ounces. Included in this set are two fragrances for men, including Eros Pour Homme and Dylan Blue Pour Homme. The three perfumes for women include Bright Crystal, Eros, and Dylan Blue Pour Femme.
Sold by Amazon
Viktor & Rolf Mini Good Fortune & Flowerbomb Perfume Set
Securely packaged in a gorgeous gift box are two couture Viktor & Rolf fragrances, bold floral Flowerbomb and bright, luxurious Good Fortune. Each mini-pour is modeled after the full-size bottles and features the same chic design. The size of each perfume is 0.23 ounces.
Sold by Sephora
Sephora Favorites Perfume Sampler Set
Opt for this deluxe sampler set to try out several fragrances from different niche brands. It includes seven sample-size perfumes from Clean Reserve, Juliette Has A Gun, and more. After finding the best scent, take the included certificate into the store to redeem it for one free full-size bottle.
Sold by Sephora
Yves Saint Laurent Libre Eau de Parfum Set
Included in this set are full-size and travel-size bottles of Libre Eau de Parfum, plus a body lotion. Libre is a floral scent with notes of lavender, Moroccan orange blossom, and musk.
Sold by Sephora
Marc Jacobs Mini Daisy Perfume Gift Set
Those who prefer floral scents will love this Marc Jacobs perfume set, which includes two sizes of the bestselling fragrance Daisy. Daisy is infused with wild berries, soft white violets, and sandalwood, and the set includes a 1-ounce signature bottle plus a travel spray.
Sold by Sephora
Valentino Mini Born In Roma Perfume Set
Pick up this set for the elegant and edgy bottles featuring the iconic Valentino rockstud, and stay for the intoxicating fragrance. This set comes with two mini sizes of the brand's couture scents. Voce Vida is feminine and floral, while woodsy Born in Roma features vanilla.
Sold by Sephora
Whether their preference is floral or fresh, this set includes two fragrances that showcase a unique hue of each scent. Included in this duo is My Way, inspired by ingredients from around the world, and Acqua di Gioia, which is bursting with the energy of the sea.
Sold by Sephora
Skylar Eau de Parfum Discovery Set
With this single set that comes with five scents, anyone can experience the salty air, an island breeze, and more. Plus, the fragrances are hypoallergenic and gentle enough for sensitive skin. They also follow the strictest global regulatory standards and are free of harmful ingredients.
Sold by Sephora
Ariana Grande God Is A Woman Deluxe Travel Set
Discover Ariana Grande's newest fragrance with this gift set. God is a Woman is a vegan fragrance that features notes of pear, Turkish rose, vanilla, and cedarwood. The set includes a durable travel case with two refill bottles.
Sold by Ulta Beauty
Sephora Favorites Cologne Sampler Set
This set comes with 12 mini bottles of men's cologne in various brands and unique scents, including Maison Margiela Replica Jazz Club, Armani Acqua di Gio, Baco Rabanne Invictus Platinum, and more. It also includes a certificate for a free full-size bottle of your favorite scent from the set.
Sold by Sephora
Carolina Herrera Good Girl 3-Piece Mini Gift Set
Not only are these fragrances addicting, but they also come in feminine heel-shaped bottles that can be displayed long after the perfume is gone. Good Girl, Very Good Girl, and Very Good Girl Glam are floral with notes of cocoa, lychee, and bitter almond respectively.
Sold by Ulta
This gift set includes a 1.7-ounce Miss Dior perfume bottle and a refillable travel spray. Plus, the set comes in a romantic box ready for gifting.
Sold by Ulta Beauty and Sephora
Clinique Hints Of Happy Fragrance Set
From bright and floral to romantic and fresh, this set comes with four Clinique scents that are made for everyone. The fragrances include Happy Perfume Spray, Happy Heart, Happy in Bloom, and Happy in Hint of Citrus, and each bottle holds 0.24 ounces.
Sold by Amazon
Victoria's Secret Fragrance Mist Collection
This set includes four of Victoria's Secret's body mists, including Love Spell, Pure Seduction, Velvet Petals, and Bare Vanilla. Each uniquely colored bottle is 2.5 ounces, and each scent is designed to last all day.
Sold by Amazon
Burberry Mini Her Perfume Trio Set
This collection comes with three mini bottles of Burberry Her Eau de Parfum, Her London Dream, and Her Elixir de Parfum, which is a more intense reimagining of the original Her gourmand and floral scent.
Dolce & Gabbana Light Blue Pour Homme Gift Set
This set is excellent for those who want to gift an elegant box set. It comes with a 2.5-ounce bottle of the fresh aquatic scent Light Blue cologne plus a tube of aftershave balm, and the box has a dazzling blue and white design.
Sold by Kohl's
Other top fragrance gift sets

Contributing authors: Jennifer Manfrin, Kevin Luna, Bre Richey, and Laura Duerr.
Want to shop the best products at the best prices? Check out Daily Deals from BestReviews.
Sign up here to receive the BestReviews weekly newsletter for useful advice on new products and noteworthy deals.
BestReviews spends thousands of hours researching, analyzing, and testing products to recommend the best picks for most consumers.