Office Chair Buying Guide
If you are a working professional, you will likely find yourself spending one third or more of your work day sitting. Remaining sedentary for long stretches is not the healthiest thing you can do, but finding a chair that fits can play a key role in not just your health but also your productivity and job satisfaction.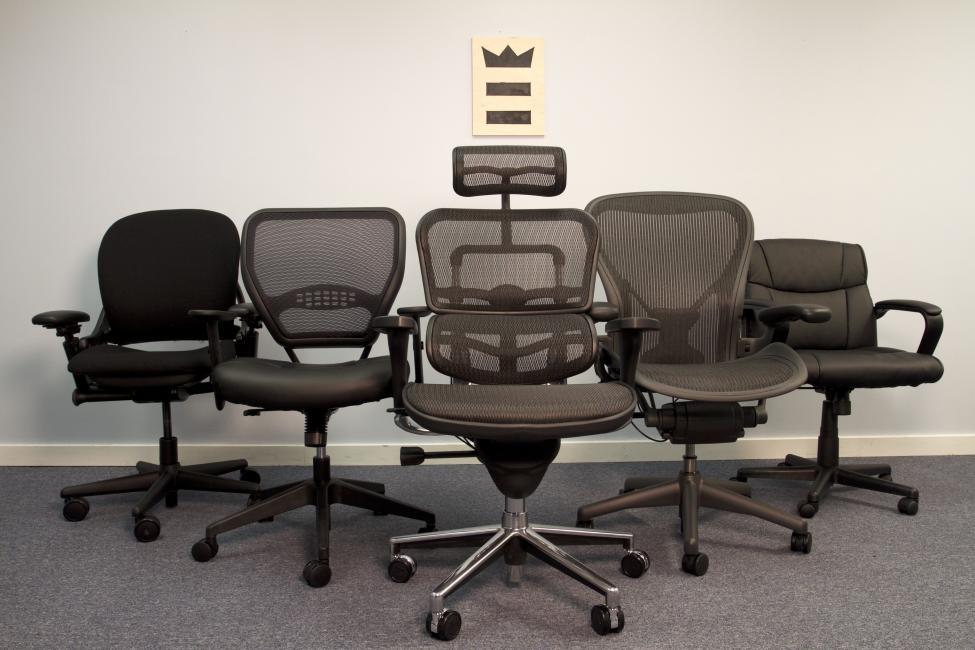 We selected five of the market's top-rated chairs for this review. These highly popular chairs range in quality and feature offerings. Priced between $69 and $938, there's a chair in this roundup for just about everyone.
How We Tested
Comfort
Comfort is the most important factor when buying an office chair. You could buy a chair with a myriad of cool attachments, but if it's not comfortable, it doesn't matter what you're sitting on. You won't like it, and your productivity will suffer. Because comfort is a subjective test, we had five testers of different shapes and sizes sit on each chair for a full work day. The testers took thorough notes on how each chair molded to his or her body throughout the day.
Some of the chairs we tested had traditional upholstery: cloth or leather (or synthetic leather) over padding. Others featured a stretched synthetic mesh material over a rigid frame. The purported benefit of mesh is airflow; you won't overheat or get sweaty due to retained heat between your body and the chair. Two of our test chairs were traditional and two were mesh. The fifth chair split the difference with an upholstered seat and a mesh back.
We note that if you're going for a high-tech look in your workspace, mesh is the best choice. But traditionally padded chairs can be just as comfortable, if not more so.
Features
Some office chairs come with a ton of adjustable accessories (mobile armrests, adjustable seat recline, seat slide, seat tilt, adjustable lumbar support, neck rests, casters, and so on). Some include no adjustable accessories whatsoever. We tested chairs with a variety of adjustment options (see chart: Chair Specs).
Dr. Natasha Withers, a family medicine physician in Manhattan, suggested we look at adjustable support features that help keep the spine's curve natural. At her suggestion, we paid special attention to each chair's lumbar (lower back) support.
Dr. Withers also recommends that people keep their chairs and workspaces configured correctly. Computer screens should sit at eye level, feet should be flat on the floor, and arms should extend forward while typing. She stresses that workers should get up from their chair frequently and move around, as sitting for long periods is detrimental to health.
Setup
Although assembly isn't usually the top concern when it comes to choosing an office chair, it's still something to think about. Some chairs come fully assembled and can be used immediately. Others take more than an hour to put together. Our team members unpacked and assembled each chair using only the tools and manuals provided by the manufacturer.
Value
Office chairs range in price from under one hundred dollars to over one thousand dollars. But does high price always equal high quality? And will high quality feel comfortable for your body?
In this review, we also look for information on how "green" each product is. Data for one of the chairs (the Leap) was provided. If sustainability is important to you, you should consider products like that that tell where their pieces came from, and where they will go when you're done with them.
Products in Depth
Aeron Task Chair by Herman Miller
Every one of our testers agreed that the Aeron was comfortable to sit on for the entire work day. We heard no complaints about back pain with this model. Some taller consumers have commented that even when adjusted to the highest seat and armrest settings, the chair was not tall enough for them. However, our testers, who range from 5-foot-5 to 6-foot-1, had no problems with the chair's height. (The Aeron is available in three sizes. We tested the largest "C" model. Concerns from taller consumers were also focused on this model.)
With a mesh seat and backrest, the Aeron is a flashy chair. However, one of our testers deemed the mesh "unnecessary." Said the tester, "What's the big deal about the mesh back and seat? My butt doesn't need to be constantly ventilated. I work in San Francisco, not New Orleans." Regardless, the mesh feature didn't detract from comfort for any of our testers.
The armrests, adjustable both vertically and horizontally, provided good support for our testers. However, some online reviewers have taken issue with the fact that they can't be moved completely out of the way. Another problem: though the product manual claims that the armrests lock in place, this only applies to their vertical positioning. They also pivot left and right without locking, and they're easily knocked out of position, which can be annoying.
Most of our testers found the multitude of adjustment knobs and levers easy enough to understand and use. One tester had an issue deciphering what some of the knobs actually did. He looked up the online instruction manual to determine their use but ended up reading about a version of the Aeron that had different types of adjustments (he later found a more up-to-date online manual). Online reviewers did not complain about the chair's controls.
Our testers found the Aeron to be quite user-friendly, with labeled features that were easy to use. The only fly in the ointment was the seat back tension knob. Its purpose is to increase or decrease the tension while leaning back so the user can have some middle ground between lying down and sitting upright. We found this adjustment to be either nonexistent or too subtle to notice.
Our Aeron required assembly, one step of which necessitated a call to the helpline. In order to assemble the lower back lumbar support, there is a wire that must be fit through the mesh of the backrest. We were worried about poking a hole in the fabric. User reviews suggest a similar frustration while assembling this chair. (The helpline rep cleared up that it was possible to push the wire through the mesh without damaging it.)
The Aeron has been an expensive chair since its introduction in 1994. It's been updated since then and is currently available in multiple configurations from about $600 to over $1,000. The version we tested is priced at $938. It's pricey, but we consider it to be an excellent chair.
AmazonBasics Mid-Back Office Chair
All five BestReviews testers really liked the AmazonBasics Mid-Back Office Chair. It's easy to use and comfortable to sit on. Many online purchasers agree that this chair, for its price, is incredibly comfortable and durable. The adjustments, though quite basic, met the needs of all of our testers. Little touches, like soft leatherette pads on the armrests, help the chair feel cushy and upscale.
There are only three adjustments you can make on this chair, two of which are controlled by the same lever: seat height and recline lock. (Notably, only one of our testers realized that the lever has more than one purpose, because he Googled it. The included instructions aren't very clear.) There's also a tilt tension knob below the seat cushion which is very hard to twist. None of our testers used it.
The armrests don't adjust, which is a negative, but they are comfortable, and our testers loved their soft, synthetic leather upholstery and padding.
There is no lumbar adjustment in this chair.
The AmazonBasics' plastic frame looks a bit cheap, but one of our testers saw that as a benefit, saying, "I don't like the feeling of being in something fancy where I have to worry about damaging it." (He's the one who gets to keep this chair after testing.) Although this chair may not have the best materials or be a lot to look at, our testers enjoyed the experience of sitting on it.
The only real complaint our testers had was the chair's back height. It's low, and there's no neck rest. Some owners have also complained that the backrest isn't big enough. Keep in mind that this is a "mid back" chair, so if you're taller than six feet, it may not fit your needs. It certainly felt odd to move from the high-tech embrace of the high-back Ergohuman to this much smaller-backed chair. But Amazon also sells high-back desk chair as well as one with a mesh back.
In summary, this chair is incredibly basic, but it's easy to adapt to because it's so simple. Unlike more expensive chairs with lots of adjustments, the AmazonBasics chair is configured and padded well enough to be comfortable without much fiddling. Likewise, it was the easiest of the five chairs we tested to put together. One buyer reported that his 12-year-old son quickly assembled the chair without any adult help.
At $69, the AmazonBasics Mid-Back Office Chair is a great bargain. If you're looking for a reliable, no-frills chair, this could be the one for you. Unlike in fancier chairs, you can sink into this chair and be comfortable working in seconds. Notably, the owners who are most impressed with this product are those who didn't have any preexisting back pain. If you do suffer from back problems, you might want a chair with more support features and adjustability.
Space Seating Professional AirGrid
Our testers found the Space Seating Professional AirGrid comfortable when first settling into it. Most held that opinion throughout the day, but one complained of lower back pain after an hour. We attribute this to the chair's lack of adjustable lumbar support. However, there are many online reviews highlighting the lasting positive effects of sitting on this chair for the full work day.
The AirGrid sports a traditional padded seat and mesh backrest. We appreciate this unique pairing of comfort and breathability. Like other upholstered chairs, the seat bottom retains heat. In hot or humid climates, this could be an issue. That being said, the springy mesh back allows plenty of air to circulate through it.
The well-padded armrests are comfortable, but they're only adjustable for height. Some owners complain about this. One of our testers noted that his arms were forced into an uncomfortable position when typing. If the armrests could be moved from side to side, the chair would definitely be more comfortable.
In addition to the vertical adjustment for the armrests, there's a vertical adjustment lever for the seat. The AirGrid's seat back has non-adjustable recline tension. It's fairly firm, which worked for our testers. It can also be locked so the chair stays mostly upright. (When locked, it allows a few degrees of recline.) It's easy settling into this chair, as it has a small number of simple controls. Some consumers might wish for more controls, but considering the chair's middle-of-the-road price, it's not a bad deal at all.
Our chair fit all five of our testers, from a large-framed, six-foot-tall man to a much smaller five-foot-five woman. However, some owners under five-foot-nine have stated that the chair is too big for them.
Putting the chair together was simple, as well. (It requires 13 screws.) The manual is clear and offered our testers good tips for smooth assembly.
The Space Seating Pro AirGrid sells for $149. It's a top-quality chair that's about as comfortable as the AmazonBasics.
The mesh back gives it a high-tech look for the workplace. The lack of lumbar support may be a factor for some people, however. Also, the AmazonBasics line offers a mesh-backed chair.
Ergohuman Black Mesh Hi Swivel Chair
The Ergohuman is an intense chair. It looks cool, like an alien exoskeleton, and offers a lot of different adjustments. Not all of our testers found it comfortable when they first sat down, but after tweaking the position of its numerous components, almost everybody ended up liking it. For some, it was their favorite chair. Online reviewers express a similar experience. As one owner stated, "When you adjust everything correctly, it's a very comfortable chair."
The Ergohuman has a lot of extra features, including an adjustable lumbar support and a neck rest. It also had the most adjustable armrests: they could be moved left to right as well as front to back- and of course, raised and lowered.
Although a nice feature, some testers felt the lumbar support wasn't firm enough. The neck rest ended up not being used by most of our testers during work. When lounging back in the chair, however, it added a level of comfort when adjusted correctly.
For our testers, the issue with having so many moving parts was that it was hard to find the perfect seating position. Each time the chair was handed off to a new tester in our lab, that person had to spend a lot of time trying to get comfortable. This wasn't the case with more basic chairs, some of which were comfortable without any adjustments at all. Nevertheless, this is a cool-looking, functional chair. (We do recommend that new owners remove the giant upholstery tag tacked onto the bottom, though.)
The Ergohuman was difficult to assemble. The trouble started with an excess of packing material; unboxing alone took about 10 minutes. The assembly directions consisted of one page with poorly drawn pictures and no words. In addition, the parts were heavy. Because of the weight and the precise way the pieces fit together, we strongly suggest that buyers make Ergohuman assembly a two-person project.
The Ergohuman is expensive at $586. One of our testers found it to be his favorite, but the other four were not impressed by its flashy appearance and moving parts, especially not at first. Over time, this chair did tend to grow on its users.
The chair comes with a lifetime warranty, and a lot of owners say they appreciate this gesture from the manufacturer. Fortunately, not many have had to take advantage of it.
Steelcase Leap Fabric Chair
There are a lot of levers and knobs on the Leap chair, and it took our testers time to adjust it to their optimum comfort level. Even once adjusted, the testers found this chair to be less comfortable than others. The fabric material was "scratchy," according to a female tester who was wearing a skirt. (Steelcase does offer Leap chairs with other finishes.) Both testers and online reviewers have complained about the minimal amount of padding on the armrests.
Nevertheless, there are many who like the feel of this chair. One online reviewer said he loved the fabric seating, and he appreciated how it covered the plastic frame so the circulation wasn't cut off from his legs.
This chair is so adjustable, it's distracting. The user can adjust the upper back force, back slope limit, seat height, armrest height, seat depth, and more. Each lever and knob on the Leap is labeled – a big plus – but even so, our testers were confused by what some of the adjusters actually did. For example, turning the upper back force adjuster didn't seem to make a difference in how the back felt. Our testers did appreciate the four-position back slope adjuster, however, as it allowed them to set a comfortable lean-back angle.
The seat depth adjuster changes where your body meets the lumbar support. That's a good adjustment to dial in. Unfortunately, the seat itself felt overly firm, and it did not conform to our testers' bodies. One tester described the feeling as "knowing you're in an office chair," which is not really a good thing.
The fabric cushion and backrest do retain heat, unlike mesh chairs such as the Aeron that dissipate heat immediately. Many owners suggest sitting on this chair before purchasing it, if possible.
The Leap was the only chair we tested that arrived assembled, which made getting started easy. However, our product arrived without a manual. For this particular chair, that's an unfortunate omission.
The Leap costs $827 on Amazon. While many buyers have been satisfied with it, it was not a favorite among our lab testers. However, it could be worth the investment for people who require a multitude of adjustment options to get comfortable. A great plus: Steelcase allows buyers to choose from a menu of customizable options, including the material on the outer frame (plastic/stainless steel), the seat material (cloth/leather), and the chair's color.
Many buyers found that over time, the Leap was not only comfortable, it was also durable. As an added "green" bonus, Steelcase tells us that the chair is made from 30-percent recycled material. When you no longer need it, it's 98-percent recyclable.
Best Of The Best
Our Top Choice:
Herman Miller
Aeron $938 Buy on Amazon All the testers in the BestReviews lab loved sitting in the Herman Miller Aeron. It's easier to get comfortable in the Aeron than most high-end adjustable chairs. This product can be customized with several different finishes and options. You can also get it in three different sizes.
It's an expensive chair, but it's a winning contender and the Best of the Best.
Two other good chairs were in the running for this award: The Ergohuman Black Mesh Hi Swivel Chair and the Steelcase Leap. The Ergohuman took time to adjust to our testers' physiques, but it was comfortable once set up. And while we confess that our testers were not big fans of the Leap, online buyers report high satisfaction with it.
Best Bang For The Buck
Best Value:
Space Seating
Professional $149 Buy on Amazon The reasonably priced Space Seating Professional AirGrid offers little in the way of adjustment options or high-tech style. It's just a comfortable, well-padded chair that our testers found easy to use for longs stretches of desk work.
It is an extremely good value.
Amazon also sells a high-back desk chair as well as one with a mesh back. Buyers agree that these models are comfortable and a very good value. But in this value-driven category, it's very hard to beat the Space Seating Professional.
Chair Specs