Gift Guides
A gift for every occasion, reviewed by BestReviews experts and testers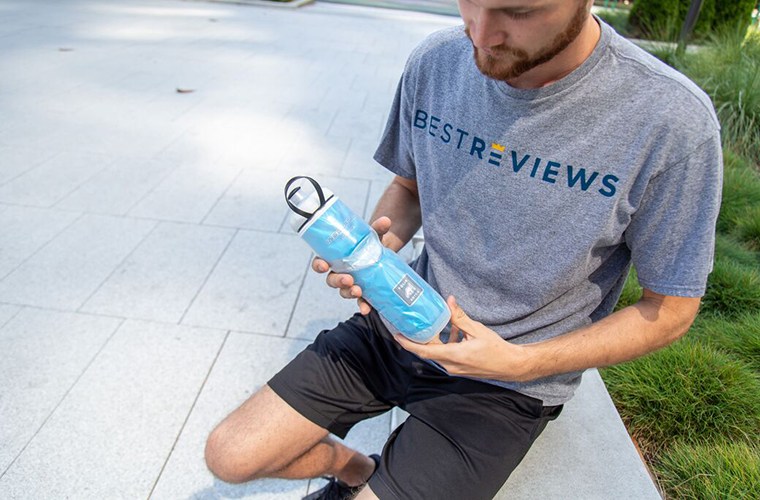 July 5, 2022
The best cheap gifts of 2022
You don't have to spend a lot to make your loved ones feel special
Inexpensive gifts can be just as thoughtful as those big-ticket items. Whether you're looking for something for a partner or a coworker, we've compiled a list of the best cheap yet enviable gifts anyone on your list would love to receive.
 
Everything on our list is under $30, and many items are closer to $10 — the perfect price range for finding something for everyone you need to give a gift to.
For home chefs
 
This compact waffle maker is perfect for single servings of a much-loved breakfast treat and comfort food. It has nonstick hot plates that offer easy waffle retrieval, not to mention they're easy to clean once the device cools down. Sold by Amazon
These natural wood wraps can infuse food with a rich, smoky flavor. Each set comes with eight wraps and works on the grill or in the oven. The set also includes a roll of twine to secure the wraps. Sold by Uncommon Goods
Gustus Vitae Fiery Flavors Gourmet Seasoning Collection
These non-GMO, sustainably sourced seasoning mixes can provide just the right amount of heat to any recipe. They're crafted in small batches to ensure high quality and come in magnetic tins that can stick to most metal kitchen surfaces. Sold by Amazon
OTOTO Red the Crab Silicone Utensil Rest
This adorable crab-shaped utensil rest can save home cooks from spills and messes in the kitchen. The silicone is non-slip and heat-resistant, so it can hold spoons, tongs, ladles, and more right after being in a hot pot or pan. Sold by Amazon
Oceanstar Bamboo Cooking Utensil Set
This seven-piece utensil set includes a spatula, fork, several spoons, and a convenient holder to organize all the pieces. The utensils are made of fast-growing bamboo for a more eco-friendly option and are easy to clean with soap and water. Sold by Home Depot, Amazon, Kohl's, and Wayfair
Other top home chef gift deals
For coffee and tea lovers
Made by a beloved kitchen brand, this mug stands the test of time with a chip-resistant finish. Like other Le Creuset stoneware, it offers superior thermal retention so that coffee, tea, and hot cocoa stay warm as long as possible. Sold by Amazon
Campfire Roasted Coffee Sampler Set
These coffee beans are roasted over an open fire with wood from the Pacific Northwest to give them a rich, delicious flavor. Each sampler set includes three varieties that can be brewed using any method you prefer. Sold by Uncommon Goods
Tea drinkers will appreciate this striking clear glass teapot that's safe for use on the stovetop and in the microwave. It can hold up to 40 ounces or five cups of tea and includes an infuser for loose-leaf teas. The wide handle makes it easy to grip. Sold by Amazon
Make sure your coffee- or tea-loving friend never sips a cold cup again with this handy mug warmer. It's lightweight and has a long power cord, so you can use it anywhere, and the surface easily wipes clean. Sold by Amazon
Primula Burke Deluxe Cold Brew Iced Coffee Maker
This convenient coffee maker helps prepare delicious cold brew at home. It can make up to six cups at a time and comes with a removable filter to keep the grounds out of your coffee. It's also dishwasher-safe. Sold by Amazon
Other top coffee and tea lover gift deals
For beauty junkies
Burt's Bees Superfruit Lip Balm 4-Pack
These nourishing lip balms hydrate and smooth lips, plus the set includes fun flavors like mango and pink grapefruit. To boot, they're responsibly made with 100% natural ingredients that are rich in vitamins C and E. Sold by Amazon and Ulta
Bed Head Curlipops Clamp-Free Curling Wand
This curling wand lets users create soft, bouncy curls without dreaded clamp indentations. The barrel is made with tourmaline-ceramic technology that leaves hair smooth and shiny. The wand comes with a heat-protective glove for safe styling. Sold by Amazon and Ulta
ColourPop Truly Madly Deeply Pressed Powder Eyeshadow Palette
With 16 shades, this eyeshadow palette contains a mix of mauve, peach, and pink tones perfect for everyday wear. It also has pressed glitter shades that provide maximum sparkle on the lids for an evening out. Sold by Ulta
Pat McGrath Labs Major Mini Lip Trio
This set of mini lip products from a makeup artist-created beauty brand contains a long-wearing lipstick, lip liner, and lip gloss, giving you everything you need for a complete look. It's available in pink and red shade options. Sold by Sephora
Clinique 3-Step Introduction Kit for Drier Skin
This trial-size kit contains a three-step skincare routine to help hydrate and smooth dry skin. It includes a facial soap, toner, and moisturizing lotion, all of which are dermatologist-tested and paraben-, phthalate-, and fragrance-free. Sold by Ulta
Other top deals for beauty junkies
For gardeners
This floral-patterned tool set has everything a gardener needs to keep their garden in shape. The hand tools are made of durable aluminum, while the shears feature carbon steel to maintain their edge. The handles have a non-slip grip. Sold by Amazon
With this kit, your favorite gardener can easily add beautiful sunflowers to their garden. The set includes seeds for six sunflower varieties, which can grow nine to 12 feet in height. The recycled carton container is designed to provide a place for the sunflowers to sprout. Sold by Uncommon Goods
Back to the Roots Organic Mini Mushroom Grow Kit
This indoor mushroom growing kit makes it easy to grow mushrooms year-round, no matter your climate. Each box can produce three to four servings of mushrooms and two crops. It also comes with a mister to keep the mushrooms moist and healthy. Sold by Amazon
Floral-Printed Weeder Glove Spa Gift Set
These floral gardening gloves keep your hands clean and protected no matter how many hours you spend in the garden. The palms have a waterproof nitrile coating, but the backs of the gloves are uncoated, allowing your skin to breathe. Sold by Uncommon Goods
XXXFlower Plant Terrarium with Wooden Stand
Featuring a sturdy wooden frame, this set has three bulb terrariums made of heat-resistant glass. It can grow all types of hydroponic plants, including flowers like tulips and roses and herbs like mint and dill. Sold by Amazon
Other top gardening gift deals
For practical-minded loved ones
Levi's Adult All-Season Classic Knit Beanie
Everyone can use a cozy hat for the winter, and this one is lined with fleece for added warmth. It's available in several colors and stays put even when you're skiing, snowboarding, or running in cold weather. Sold by Amazon
Stasher Reusable Silicone Snack Storage Bags
These reusable BPA-free silicone snack bags are the perfect eco-friendly gift. They're dishwasher-safe and suitable for use in the microwave, oven, or a boiling pot. Sold by Amazon
Contigo Jackson 2.0 Tritan Water Bottle
A convenient design in many ways, this reusable water bottle offers one-handed drinking and has a wide mouth so users can add ice cubes or fruit slices. It also has a pop-up lid that allows for easy sipping and seals shut to prevent leaks. Sold by Amazon
This convenient pouch can span the arm of your couch or between your mattress and box spring for added storage. It's the perfect spot to keep remotes, books, glasses, or a tablet, so you can quickly grab what you need. Sold by Uncommon Goods
BeeGreen Reusable Grocery Bags
Eco-minded friends will appreciate these reusable grocery bags decorated with fun patterns. Each bag can hold up to 40 pounds and is made of a durable, lightweight material. The bags fold into a compact square, so they won't take up much space in your backpack, purse, or glove compartment. Sold by Amazon
Other practical gift deals
For kids
Lego Creator Mighty Dinosaurs 3-in-1 Set
Build a pterodactyl, triceratops, and Tyrannosaurus rex with this versatile Lego Creator set. It contains 174 pieces, some of which allow the prehistoric creatures to wiggle their legs, tails, or wings. Sold by Amazon and Kohl's
Encourage your little ones to eat healthy with this fun construction-themed plate. It's dishwasher- and microwave-safe and doesn't contain any BPA or phthalates. The plate is also lightweight and has easy-to-grip handles that make it easy for little hands to grab. Sold by Uncommon Goods
Baketivity Cake Pop Kit for Kids
This baking kit allows children to make their own delicious cake pops. It includes all the pre-measured dry ingredients, a shopping list for wet ingredients, and detailed instructions. It can be a fun activity for the whole family. Sold by Amazon
Just Play Harry Potter Hedwig Large Plush
Harry Potter fans will love cuddling with this adorable Hedwig plush. It's extremely soft and has sparkling glitter eyes for added fun. It's easy to spot clean stains from the material. Sold by Kohl's
National Geographic Mega Fossil Dig Kit
Give your child the experience of digging up prehistoric fossils with this fun activity set. It includes a 16-page learning guide as well as a chisel, brush, and magnifying glass to reveal dinosaurs, sharks, and more. Sold by Amazon
Other top gift deals for kids
For pets
A perennial favorite for its near-indestructible design, this rubber dog toy lends itself to plenty of play. According to many dog owners, it's a constructive toy that may support physical, emotional, and behavioral development. Sold by Amazon and Chewy
Learn what your dog wants and needs with these canine communication cards. They can help you understand your pet's barking, expressions, and body language with illustrated tips designed to improve your relationship with your pup. Sold by Uncommon Goods
Frisco Bird Teaser with Feathers Cat Toy
With its colorful feathers and crinkle material, this teaser toy will keep your cat entertained at playtime. It's infused with catnip to further boost your cat's interest and helps encourage your pet's natural hunting instincts. Sold by Chewy
SmartBones SmartSticks Peanut Butter Dog Treats
These long-lasting chews contain real chicken and vegetables and give your dog plenty of chewing exercise. They're rawhide-free and easily digestible. They also have a peanut flavor that dogs love. Sold by Chewy
Other top pet gift deals
For TV and movie lovers
Amazon Fire TV Stick Lite with Alexa Voice Remote
Give the gift of streaming with this Fire Stick that allows users to access top streaming platforms like Netflix, Hulu, Disney+, and more. The voice-activated remote makes finding movies and TV shows a breeze. Sold by Amazon and Home Depot
The Mandalorian The Child Stand for Amazon Echo Dot
It's hard to beat the cute silhouette of this Echo Dot that resembles the galaxy's cutest sidekick. Manufactured by none other than OtterBox, it's durably made and is covered by the company's limited lifetime warranty. Sold by Amazon
Movie lovers will love this poster that lets them keep track of the classic movies they've seen. It contains plenty of bucket list films, including The Godfather, The Notebook, and E.T. For each movie watched, you can scratch off the square to reveal the poster art. Sold by Uncommon Goods and Amazon
This fun cookbook recreates recipes from food scenes in beloved movies, so cinema fans can make the foods on movie night. It includes recipes like hazelnut gelato from Roman Holiday, French toast sticks from Kramer vs. Kramer, and New York-style pizza from Saturday Night Fever. Sold by Amazon and Uncommon Goods
Other top TV and movie lover gift deals
For everyone
What Do You Meme? Adult Party Game
A big hit for game nights or parties, this meme-themed card game keeps players on their toes — and in stitches. Players win rounds by coming up with the funniest caption card to match the meme. Sold by Amazon
Godiva Milk Chocolate Hot Cocoa Canister
Made by the world-famous chocolatier, this milk chocolate mix creates rich and velvety cups of hot cocoa. The mix is presented in a collectible canister with an airtight lid that seals in flavor and freshness. Sold by Amazon
These handmade shower steamers contain essential oils that turn your shower into an aromatherapy experience. Each set includes three steamers, including a formula for stress relief with eucalyptus, sleep with lavender essence, and waking up with spearmint and citrus. Sold by Uncommon Goods
RiteSune Rustic Trifold Picture Frame
This shabby chic photo frame features three panels in different colors. It can hold three four-by-six-inch pictures. Because of the hinges, you can set up the frame in several configurations to fit on any tabletop or shelf. Sold by Amazon
Other top gift deals for everyone
Sign up here to receive the BestReviews weekly newsletter for useful advice on new products and noteworthy deals.
 
Jennifer Blair writes for BestReviews. BestReviews has helped millions of consumers simplify their purchasing decisions, saving them time and money.
 
BestReviews spends thousands of hours researching, analyzing, and testing products to recommend the best picks for most consumers.