Best gifts for someone who loves gardening
July 23, 2022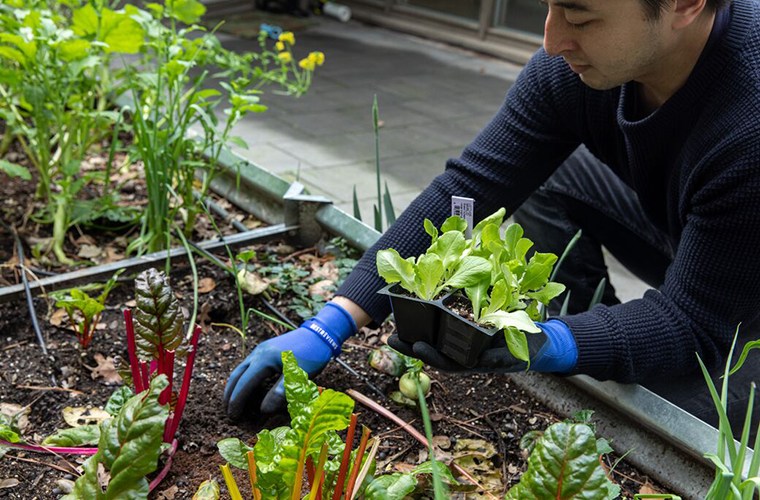 The most difficult part of shopping for a gardener is weeding through the wide selection of possible gifts. From seeds to tools to decorative items, there are thousands of products on the market that any gardener would love to own.
Whether your favorite planting enthusiast enjoys a large vegetable garden or just a few flowers in pots, this roundup can help you find the perfect gift that's sure to appeal to anyone with a green thumb.
Best practical gifts for gardeners
Magid Bella Women's Pro Rose Garden Glove
These heavy-duty gardening gloves fit up to the elbow to protect their arms and hands from thorny plants. They're made from synthetic leather and spandex that offers an optimal fit. The fingertips are also reinforced for extra protection.
Sold by Amazon
Durable and versatile enough for avid gardeners, these gloves are perfect for any gardening task, from weeding to planting. Made from genuine leather with elastic wrists, they have a secure, flexible fit. They're also thick and puncture-resistant, so gardeners can work outside without fear of getting poked.
Sold by Amazon
Gorilla Carts Heavy-Duty Steel Utility Cart With Removable Sides
Designed for serious gardeners, this utility cart boasts high-quality steel craftsmanship, removable mesh sides and a sturdy steel bed. It also has a two-in-one convertible handle and balanced wheels so it can be maneuvered easily, even if it's fully loaded. It's a great alternative to your typical wheelbarrow.
Sold by Amazon
This 11-piece garden tool set is the perfect starter kit for any gardener. It includes pruning shears, a small trowel and hand rake, 100 feet of gardening rope, gardening gloves with claws, pruning snips, and a handy tool bag. The tools are rust-resistant, durable, and have ergonomic handles that reduce hand and wrist strain.
Sold by Amazon
Ideal for those dealing with succulents and other small or delicate indoor plants, this tool set includes everything they will need to transplant, dig, aerate, prune, and more. It includes 13 tools, such as a cleaning brush, curved tweezers, a spade and a leaf trimmer.
Sold by Amazon
StoreYourBoard Tool Storage Rack
If the gardener in your life has a lot of gardening tools, this mounted storage rack is the perfect solution to keep them all organized and within easy reach. It can hold up to 300 pounds of gear, including shovels, rakes, ladders, and canvas bags. Plus, it comes with six attachments in different sizes for a more custom fit.
Sold by Amazon
Spider Farmer SF-4000 LED Grow Light
For heavy-duty or commercial gardening, this energy-efficient grow light is perfect for growing plants at any stage. It features several adjustable settings and a uniform design that distributes light evenly across multiple plants. Plus, it's easy for newer gardeners to use.
Cosyland Garden Kneeler and Seat
Affordable and versatile, this garden kneeler has a sturdy frame and cushioned, water-resistant foam pad for their knees or rear. It also works great as a stool, which is useful for tasks such as weeding and aerating soil. The kneeler comes with two tool pouches with a total of seven detachable pockets.
Sold by Amazon
K.I. Store Extra-Thick Garden Kneeling Pad
For extra knee support, this high-density memory foam kneeling pad will keep them comfortable while handling any gardening task. The pad is 2 inches thick and resistant to moisture.
Sold by Amazon
Although it's surprisingly lightweight, this garden hoe is rather durable and can cut through thick weeds with minimal effort. It has a long, well-balanced handle, so they don't have to bend over to use it. The unique shape and sharp edges also make it easy to dig through dirt and weeds.
Sold by Amazon
Vivosun Outdoor Tumbling Composter
For those who like to do composting at home, this rotating composter is a great gift. It has two chambers so they can create batches of compost. It's also designed to easily break up and decompose clumps for high-quality compost.
Sold by Home Depot and Amazon
This 100-foot-long garden hose is highly resistant to kinks, mold, abrasion, and other environmental factors. It comes reinforced and has an inner tube that produces clean drinking water. The O-ring helps prevent leaks, regardless of which hose nozzle they use.
Sold by Home Depot and Amazon
EZ Travel Collection Heavy-Duty Foldable Rake
With adjustable handle lengths from 32 to 62 inches and an adjustable rake head, this foldable telescoping rake is lightweight and well-balanced. It has a locking switch and is durable enough for anything from raking up mulch and leaves to leveling out the soil around garden beds. Plus, it has an ergonomic handle for maximum comfort while handling general yard or gardening maintenance.
Sold by Amazon
Garden Guru Hori Hori Gardening Knife
Whether they need it for digging around in the dirt, pruning back small plants or getting rid of stubborn weeds, this gardening knife can do it all. The blade is stainless steel and is marked so they can measure exactly how deep they need it to go. It comes with a durable nylon sheath.
Simplicity Wide-Brim Straw Sun Hat With Lanyard
This large sun hat is angled in the front and on the sides to keep out harsh ultraviolet light while outside on sunny days. It's adjustable to fit nearly any head size. And it has a sweatband to keep perspiration away from their eyes. Not only is it stylish, but it's also easy to fold and pack away.
Sold by Amazon
Similar to Crocs, these large, lightweight clogs are designed for hot days spent out in the garden. They're easy to slip on and off. They also have comfortable soles for long-term use. Even better, they're versatile enough for gardening, walking along the beach and other indoor or outdoor activities.
Sold by Amazon
This soil-testing kit comes with everything any gardener needs to accurately determine the nutrient levels and pH balance of the soil. It's great for the lawn, flower beds, vegetables, fruits, trees, and herb gardens. It also works for compost piles and hydroponic garden systems. After testing, results come back within eight days with tailored fertilizer recommendations.
Sold by Amazon
Homarden 81-Ounce Copper Watering Can
With a removable spout and easy-to-use design, this rustic-looking watering can is functional and works great as garden decor. It consists of high-quality galvanized steel that's resistant to rust. Overall, it's the perfect gift for gardeners with a small indoor or outdoor garden of potted plants.
Sold by Amazon
Best Choice Outdoor Mobile Garden Workstation
This workstation is made from food-grade, nontoxic materials that keep soil safe for planting seedlings and mature plants. It has four removable wheels that rotate 360 degrees and make it easy to move the table. Plus, it has two shelves for holding small gardening tools and larger equipment.
Sold by Amazon
Other top deals in this space
Best garden decor gifts
Upper Deck Cast Iron Rabbit Garden Figure
Real rabbits aren't particularly welcome in most gardens, but this sturdy cast-iron rabbit looks adorable and won't eat any plants. The petite statue is 6.5 inches long and 5 inches tall and features a dark red-brown finish.
Sold by Amazon
This metal sculpture can rotate to face the wind and put on a colorful display no matter which way the breeze is blowing. The metal flower design features a brushed blue and copper finish and measures nearly 25 inches across.
Sold by Amazon
Danmu Garden Décor Four-Piece Ceramic Mushroom Ornaments
These cute, colorful mushrooms can liven up a container garden arrangement or add charm to tree roots or ferns. They're hand-painted so no two are the same. Each mushroom measures approximately 5 inches long and 2 inches across.
Sold by Amazon
Barbara MgO Elf Gnome Garden Statue
If they're not a fan of the traditional garden gnome, maybe this minimalist interpretation will make them smile. It's made from weather-resistant magnesium oxide, a lightweight cement-like material, with a dark bronze-colored finish. It stands nearly 30 inches tall. Even though it only weighs 7.8 pounds, it has enough heft to withstand wind.
Sold by Wayfair
Position this cute flock of quail in a garden bed or window box. They're individually cut from bronze-finish, 16-gauge steel. The largest is 9 inches tall and the smaller quail measure 3 inches tall.
Sold by Uncommon Goods
Outdoor Essentials 28- By 20-Inch Cedar Raised Garden Bed Planter
This rustic raised cedar planter is perfect for growing an easily accessible herb garden or annuals. Cedar is naturally rot-resistant, making it a great material for durable planter boxes.
Sold by Home Depot
17 Stories Naohan Two-Tier Metal Plant Stand
The elegant design of this plant stand will look beautiful on a deck, in a greenhouse or by the front door. It has two shelves and can support up to three plants per shelf. The powder-coated steel can be used indoors or outside.
Sold by Wayfair
Kante Set of Three Round Charcoal Concrete Modern Outdoor Planters
These modern round planters come in a set of three, all featuring a sleek charcoal-gray finish and drainage holes with rubber plugs. They're made from concrete and weather-resistant fiberglass, so they're durable but still lightweight.
Sold by Amazon and Home Depot
Cotswold Homeware Co. Plant Watering Globes
These four handblown glass watering globes help keep plants watered if the gardener is also a frequent traveler. Simply fill the bulbs with water and slide the stake end into the soil. The set also comes with a soil moisture and pH meter to closely monitor plants' health.
Sold by Amazon
Southern Patio Westlake Galvanized Round Planter
Get the look of rustic metal planters in a flower pot that's durable yet lightweight and easy to move around. Its galvanized steel appearance is created from textured, weather-resistant resin, and it's coated for extra UV protection so it won't crack or fade.
Sold by Amazon and Home Depot
Crafted from epoxy-coated steel, this sturdy metal arbor looks delicate but can support climbing plants and even lightweight hanging basket arrangements. It measures 4.5 feet across and nearly 7 feet tall, with a top trellis that measures more than 6 feet across.
Sold by Wayfair
Cape Cod, French, English countryside — whatever style of garden they have, this white trellised arbor is the perfect focal point. It's made from vinyl that can resist UV rays, weather, fading, cracking, and more, and it comes with a 20-year warranty. It stands a little more than 7 feet tall and is nearly 5 feet wide.
Sold by Wayfair
Best Choice Products 28-Inch Polyresin Vintage Garden Bird Bath
It looks like it's made from weathered metal, but this bird bath is composed of weatherproof, easy-to-clean polyresin. It also features modern conveniences such as a fillable weighted base and a self-draining edge that won't accumulate standing water. It comes in three antique-finish color choices.
Sold by Amazon and Home Depot
Perello Distressed Gray Cement Solar Birdbath Fountain
Both birds and humans will enjoy the relaxing bubbling fountain in this solar-powered bird bath. The light cement bowl has an engraved design that doubles as a place for birds to land, and the powder-coated black steel frame makes it easy to level the bowl.
Sold by Home Depot
Mount this cedar birdhouse on a wall or fence post to welcome birds to the garden. It may have a no-frills design, but it's just what birds want, particularly bluebirds. Features such as ventilation gaps and a drainage hole make it a cozy home for visiting birds.
Sold by Wayfair
Audubon Deluxe Gazebo Bird Feeder
Made from sturdy plastic in a detailed gazebo shape, this bird feeder offers six feeding ports and can hold up to 10 pounds of birdseed. It can be hung or pole-mounted.
Sold by Home Depot
Brightown Outdoor String Lights
Hang this 100-foot strand of Edison-style bulbs along a fence, pergola or between trees to add party-ready charm. They're dimmable, waterproof and rugged enough to deter squirrels or other critters that could cause damage. It comes with 100 bulbs, plus four spares.
Sold by Amazon
Hampton Bay Eight-Piece Low-Voltage Bronze Outdoor LED Landscape Path Light and Flood Light Kit
Illuminate their garden's paths and features with this kit, which includes eight cast aluminum lights (six path lights and two flood lights). They feature maintenance-free LED bulbs, weatherproof electronics and a powder-coat finish. These low-voltage lights use more than 80% less energy than standard halogen flood lamps.
Sold by Home Depot
Other top deals in this space
Best garden gifts for planting
Black Duck Brand Set of 50 Flower Seed Packets
The avid flower gardener will love exploring the numerous options that are included in this huge collection of flower seeds that arrive in individual envelopes that are sealed to keep the seeds fresh until it's time to plant. The 50 packets include marigold, zinnias, sweet peas, daisies, and more.
Sold by Amazon
Open Seed Vault Survival Garden Heirloom Seeds
Many gardening enthusiasts love growing and harvesting their own vegetables. With 32 different types of non-GMO seeds, this huge collection is well-stocked for growing an impressive vegetable garden. It comes with a bonus growing guide that includes tips for growing strong, healthy plants.
Sold by Amazon
Daylily Nursery Stargazer Lily Bulbs
Once the gardener in your life plants these Stargazer lily bulbs, they'll enjoy beautiful blooms for years to come. Not only are the flowers beautiful, but they emit a pleasant scent that any gardener will love.
Sold by Home Depot
Home Grown 15 Culinary Herb Seed Vault
Gardeners and home cooks will enjoy planting their own herbs, then using them to season their culinary creations. This set includes 15 different varieties, including popular favorites such as chives, basil, cilantro, dill, rosemary and more. They'll get more than 4,500 non-GMO seeds.
Sold by Amazon
Beauty Beyond Belief Wildflower Seeds and Ebooks
Wildflowers attract pollinators, which makes this collection of 100,000-plus seeds an ideal gift for garden enthusiasts. It comes with access to seven ebooks that are packed with tips and tricks for growing beautiful wildflowers.
Sold by Amazon
Rebel Gardens Organic Heirloom Vegetable Seeds
Organic garden enthusiasts will appreciate that these heirloom seeds are certified USDA organic and non-GMO. The set of 13 varieties includes both popular and rare vegetables that any gardener will be proud to cultivate.
Sold by Amazon
Burpee 72-Cell Seed Starter Kit
For the gardener who doesn't want to wait until after the last spring frost to plant, this seed starter kit is a must-have. In addition to 72 slots and growing pellets, it comes with a cover to promote germination. It's great for starting plants indoors so they are ready to put into the soil as soon as the spring weather permits.
Sold by Home Depot and Amazon
With 100 packets of flowers, veggies, and herbs, garden gloves, and an instructional guide, this kit makes a thoughtful gift for diverse gardeners. The items come in an attractive wood box that can be used for multiple planting seasons.
Sold by Amazon
Other top deals in this space
Best container gardening gifts
Latitude Run Kenyen Plastic Elevated Planter
Although this elevated planter provides ample space for herbs, vegetables, or flowers, it doesn't take up an extreme amount of space. The woven-look plastic material resists the elements and has an attractive design that looks great in any outdoor space.
Sold by Wayfair
Emsco Group City Pickers Raised Bed
Durable casters, a built-in watering system, and a space-saving design make this raised bed a good choice for container gardeners. The plastic material is made without BPA, which means it won't leach into the soil.
Sold by Amazon and Home Depot
Trendspot 12-inch Blue Rivage Ceramic Planter
This planter is crafted of blue ceramic that pops on a patio, porch, or deck. The 12-inch diameter size provides ample space to display large, blooming plants. It includes a saucer to keep water contained and provide hydration to delicate plant roots.
Sold by Home Depot
Container Gardening Paperback Guide
From novices to pros, a guide will come in handy for anyone who gardens in a container. This little book is packed with tips and tricks that will lead to healthy plants, big blooms, and a fruitful harvest. It's a nice gift to pair with a pot or raised bed.
Sold by Amazon
A rain barrel is the ultimate gift for any type of gardener. Not only does this model capture and store up to 50 gallons of water, but it also features a reversible lid that's designed for planting flowers directly on top of the unit. It's a thoughtful gift for the gardener who is also eco-minded and likes the idea of using rainwater to keep plants hydrated.
Sold by Home Depot
Greenes Fence Elevated Cedar Garden Bed
Constructed of cedar wood, this raised garden bed is both durable and attractive. The wood is untreated and naturally resists pests. The spacious design is large enough to plant a small vegetable garden on a balcony or patio.
Sold by Home Depot
Rubbermaid Weather-Resistant Deck Box
Storing garden tools, potting soil, and planters is easy with a deck box. This attractive model is made of strong resin and is just the right size for outdoor living areas with limited space. It's an attractive piece of outdoor furniture that pairs nicely with other pieces such as lounge chairs or bistro sets.
Sold by Amazon
Other top deals in this space
Contributing authors: Angela Watson, Laura Duerr, and Jennifer Manfrin.
Sign up here to receive the BestReviews weekly newsletter for useful advice on new products and noteworthy deals.
BestReviews spends thousands of hours researching, analyzing, and testing products to recommend the best picks for most consumers.